Rated PG - Parental Guidance Suggested

This article is rated PG, meaning it contains content that may be inappropriate for users the age of 7 and under.
Objectionable content includes: Rude Humor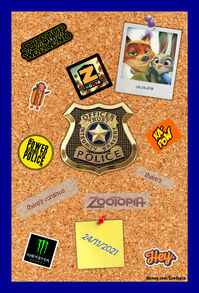 Zootopia 2 is an upcoming American CGI-animated comedy action/adventure, sequel to the 2016 film Zootopia, to be released on November 24, 2021. The film is produced by Walt Disney Pictures and Walt Disney Animation Studios. The film is directed by George Stone and Byron Howard.
The first "Zootopia" film with a male protagonist.
Plot/Synopsis
Now that Nick and Judy are both cops in Zootopia, they both fight crimes. However sinister spy Tadashi Gorki decides to steal from a secret factory secret sample with powers and also Bellwether from jail, he's must become a rightful mayor of Zootopia, but later his helpers and Bellwether will want to grab Tadashi, to take possession to reign, will be Nick and Judy save Tadashi and grab villains from taking possession of samples?
Nick, Judy and Tadashi are sent to capital city - Charmingtown, to track down the remaining bandits to any samples, and defeat Ferb Dogfalusi, Bellwether and their minions. While Ferb is not disguised Nick.
Ferb Dogfalusi will make a evil potion to turn herbivores into violent predators.
Cast
Cast (uncredited)
Gallery
Transcript
Trailers
Commercials
Soundtrack
Score
Trivia
Slogans based in poster:

1st theme slogan - "There's continue, There's Zootopia".
2nd theme slogan - "There's continue, Nick and Judy are returning".
3rd theme slogan - "New Adventure, New Places and New Friends".

The new character Tadashi Gorki resembles the actor - Mark Wahlberg.
Charmingtown has remarkable resemblance to Los-Angeles, U.S.A. and Sydney, Australia.
This is the 2nd feature film of "Zootopia" franchise.
Sting recorded the song "I Wish For You" for this film, the gift for "Zootopia" creators.
In the animated film contains many references to well-known trademarks, restaurant and company logos:

Prime - Time
Playbun - Playboy
ZYX Channel - ABC Channel
Carrot Inc. - Apple Inc.
DuckDonald's - McDonald's
Catpa Chups - Chupa Chups
Human Energy - Monster Energy
Snarlbucks - Starbucks
ITube - YouTube
aWey - eBay
Pony - Sony
Pumba - Puma
Tweeter - Twitter
Facemoo - Facebook
Tumblaa - Tumblr
Rabbidas - Adidas
Merchipes-Benz - Mercedes-Benz
Lionmart - Walmart

The first Zootopia franchise's film with a male protagonist.
The Tucker's response "Nick! Where Are You!" was a parody to Shaggy's response "Scooby Doo, Where Are You?", "Scooby Doo".
In the program "The Max Headroom Show" was shown a film about the film "Zootopia 2".
Some operators in Walt Disney Animation Stufdios mades different sizes and movements for the screens, including about this film. So it's easy for someone to see on TV and on DVD.
First look and teaser poster of this film appeared in theaters after the filming on December 7th, 2020. The teaser was frustrated cop Nick Wilde with a siren on his head.
Tadashi was Mike Myers' third favourite character, not to mention also Shrek and Austin Powers.
And also
External links
Community content is available under
CC-BY-SA
unless otherwise noted.