WARNING:

This article is a non-fanon page. Non-fanon means if it is not fanmade or it is also canon.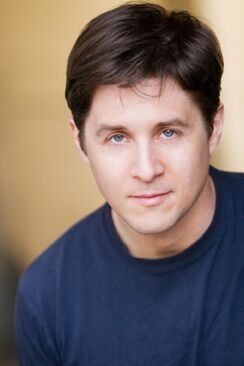 Yuri Jason Lowenthal (born March 5, 1971 in Alliance, Ohio, USA) is an American actor, comedian, screenwriter, producer, and voice actor known chiefly for his work in television and film animation. Some of his prominent roles in anime and cartoons include Sasuke Uchiha in the Naruto series, the teenage Ben Tennyson in the Ben 10 series, Shinra Kishitani in Durarara!!, Jinnosuke in Afro Samurai, Suzaku Kururugi in Code Geass, Superman in Legion of Superheroes and Simon in Gurren Lagann. In video games, he voices The Prince in Ubisoft's Prince of Persia series produced in the 2000s, The Player in Insomniac Games' Sunset Overdrive, Sandal in the Dragon Age series, Alucard in the Castlevania series, Haseo in the .hack series, Hayate/Ein in Dead or Alive, Matt Miller in Saints Row, the protagonist (Makoto Yuki) in Persona 3, Yosuke Hanamura in Persona 4, Marth in the Fire Emblem series, and recently, Spider-Man in Insomniac's Spider-Man 2018 video game, and its 2020 sequel Spider-Man: Miles Morales.
Voices in Idea Wiki
Crystal Universe 3 - Prince Michael
Soul Calibur VI - Marth
Future of the Scooby-Doo franchise - Fred Jones
Justice League: Knights of Rao - Alpha-Wolf
Marvel's The Avenging Spider-Man - Peter Parker / Spider-Man
Space Monsters series - Axl Jet
Psonic X Touhou - Axl Jet, Beck, Sonic the Hedgehog (Modern)
Superboy: Superman The Movie (2019) - Danny Swan, Superboy (Kon-El)
Livin' the Life with the Stereotypes - Alexander Combs
Terrytitans - Maximus Mouse
The Outback Animals - Jake Kangaroo
One Piece (Redub) - Sanji
Chrono Crusade: Reincarnation - Colt Robinson
Shinzo (2015 Anime) - Goryu
Psychic Force Remix, 2015 and Justice Keepers - Emilio Michaelov(succeeded by Todd Haberkorn)
Psychic Force Next Generation - Burn Griffiths(succeeding Matthew Mercer)
Bloody Roar 5, Revelations, 6 and 7 - Xion the Unborn
Eternal Champions 5 - Morpheus
Tales of Asteria: Grand Voyage - Luke fon Fabre, Asch Bloody
Nora Universe- Pearl, Yellow Pearl, Blue Pearl, Pink Pearl, Lonely Pearl, Aubergine Pearl
Colour Buds- Green
Nano Battlers - Tyson
Infinite Forest - fox
Known for:
The voice of Teenage Ben Tennyson
The voice of Radar in Minecraft Story Mode
The voice of Sasuke Uchiha
The voice of Suzaku Kururugi
The voice of Shinra Kishitani
The voice of Simon
The voice of Yosuke Hanamura
The voice of Prince Arthur in Sprucia and Gilli
The voice of Spider-Man in Insomniac's Spider-Man (2018)
Community content is available under
CC-BY-SA
unless otherwise noted.