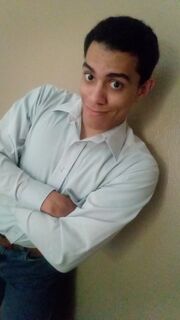 Xavier Shaquille Mosley (born March 31, 2001) is an American artist and YouTuber born autistic and with Asperger syndrome. He is the creator of Millvale.
YouTube career
The LEGO Guy Channel
Shaquille had started out on YouTube on March 20, 2013 as The LEGO Guy Channel, a stop-motion channel consisting of Lego animations of Superman, Spider-Man, and The Three Stooges. He then decided to make a long-running stop-motion series entitled The Five Boys, which debut in August 2014. The latter series ended at the seventh episode in 2015.
He then re-branded his channel and removed all his content on New Years 2017 as Two Best Buds, a successor series to The Five Boys. Although that hadn't gotten off the ground, either. The channel was then modified as his personal channel, which is currently inactive and lacking videos and content. His channel is currently at 113 subscribers.
SmashupMashups
SmashupMashups existed on April 25, 2014, which became Shaquille's signature account on other sites.
Shaquille had found a way to make a second channel by creating a fake account. It was originally supposed to be a behind the scenes type channel for The LEGO Guy Channel. The channel was used for posting fan-made content and mostly trailer mashups; hence the word "Mashups" in the name. The channel had reached 1,000 subscribers on August 21, 2017, with a trailer mashup of Ice Age: Collision Course with The Angry Birds Movie. His channel then reached 2,000 subscribers on May 10, 2018, with a video to celebrate entitled "Celebratory Dance!".
His most viewed video to date is his mashup of the opening sequence of The Epic Tales of Captain Underpants with Captain Underpants: The First Epic Movie, at 1,000,000 views, which is his first ever video to hit that mark since June 2020. His other Captain Underpants videos are also the most popular on his channel. He had revealed a caricature of himself and named after the latter (formerly by the name of S.M), a stick figure character, inspired by his caricature from 2015, omitting the flesh skin and hair. His favorite YouTube animators Shgurr, TheOdd1sOut, and Jaiden Animations had given him the inspiration to create his own, as to give him more recognition. Shaquille's caricature lasted until September 2019 when he decided to make an original character named Sam Mashup (reminiscent to his current account).
External links
Community content is available under
CC-BY-SA
unless otherwise noted.