Rated PG - Parental Guidance Suggested

This article is rated PG, meaning it contains content that may be inappropriate for users the age of 7 and under.

Woody Woodpecker 2 - Woody In Love is a 2022 American live-action/computer-animated family comedy romance drama film directed by Alex Zamm, it's the sequel of the live-action/computer-animated Brazilian-American 2017 film, with the protagonist character created by Walter Lantz. and the live-action/computer-animated Nicaraguan-American 2021 film Chilly Willy. The Film Released Date Is August 25, 2022. This is the third live action/animated film made by Illumination.
Plot
Two Years After The Events Of Chilly Willy Woody Woodpecker (Eric Bauza) and His Best Friend Tommy Walters (Graham Verchere) who is now at college. participating at a Comic Con Expo, where a rival challenges them for a competitive video game match, and pays a embarassing price underestimating Woody's surprising expertise on video games. while playing Woody falls in love with a female woodpecker named Winnie (Selena Gomez)
Cast
Human Characters:
Graham Verchere As Tommy Walters - A young musician college student and best friend of Woody.
Timothy Omudson As Lance Walters - Father of Tommy.
Emily Holmes As Linda Walters - Mother of Tommy.
Chelsea Miller As Jill Ferguson - A young musician girl and friend of Tommy.
Jakob Davis As Lyle - A young boy, a drummer and friend of Tommy
Navia Robinson As Leni - An african-american young girl, that become Jill's New Friend.
Jordana Largy As Samantha Barlett - A Ranger of the park of Pine Groove.
Zackary Levi As Carl Benson: A new Ranger of the park and new boyfriend of Samantha.
Sadie Stanley As Veronica Walker - A young girl with make friendship with Chilly.
Jason Ritter As Darren Walker - Father of Veronica and Katie
Cobie Smulders As Alice Walker - Mother of Veronica and Katie
JoJo Siwa As Kate Walker - Sister of Veronica and Smedley's owner.
Robert Downey Jr. As Amos McLean - An evil TV presenter who wants to capture Winnie, Knothead and Splinter, helped by Buzz.
Emma Stone As Isabella McLean - Wife of Amos, Ladylike, vain and wicked like him.
Aidan Gallagher As Ronnie McLean - Putative son of Amos and Isabella, but he's not like they, he will betray them, he will go to the good side, and fall in love with Leni.
Tori Kelly As Hannah Campbell - Maid of the McLean's family, she's not wicked like they too.
CGI Characters:
Eric Bauza as Woody Woodpecker
Selena Gomez as Winnie Woodpecker
Tara Strong as Splinter Woodpecker
Nika Futterman as Knothead Woodpecker
Kevin Michael Richardson as Buzz Buzzard
Callum Shoniker as Chilly Willy
Blake Shelton as Smedley the Dog
Production
Filming
Principal Photography Begin In June 24, 2021 Los Angeles California.
Filming Took Place In Vancouver British Columbia Canada
Principal Photography Wrapped September 14, 2021 In New York City.
Animation
The visual effects, animation and CGI characters were made by Illumination Mac Guff.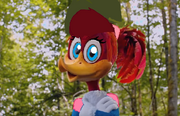 Community content is available under
CC-BY-SA
unless otherwise noted.