WARNING:

This article is a non-fanon page. Non-fanon means if it is not fanmade or it is also canon.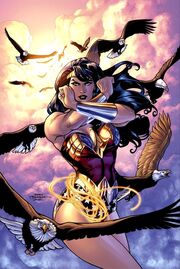 | | | |
| --- | --- | --- |
| " | Of all people you know who I am. Who the world needs me to be, I'm Wonder Woman. | " |
| | ~ Wonder Woman | |
| | | |
| --- | --- | --- |
| " | She was once the servant of the gods, sent to teach mankind to worship them...but she learned to be human, instead. She's the Defender of Truth and Life in the struggle between heaven and humanity--between the mortal and the mythological...and she's me. I am Wonder Woman...and this is only the beginning. | " |
| | ~ Wonder Woman | |
| | | |
| --- | --- | --- |
| " | For there is at least one truth, and both of us know it. It's one of the things that calls us to each other, despite everything. Because someday our battles will end. And there would be no greater tragedy... than facing that end alone. | " |
| | ~ Prime-Earth Wonder Woman | |
Wonder Woman is a fictional superheroine appearing in American comic books published by DC Comics. The character is a founding member of the Justice League. The character first appeared in All Star Comics #8 in October 1941 with her first feature in Sensation Comics #1 in January 1942. The Wonder Woman title has been published by DC Comics almost continuously except for a brief hiatus in 1986. In her homeland, the island nation of Themyscira, her official title is Princess Diana of Themyscira. When blending into the society outside of her homeland, she sometimes adopts her civilian identity Diana Prince.
Wonder Woman was created by the American psychologist and writer William Moulton Marston (pen name: Charles Moulton), and artist Harry G. Peter. Marston's wife, Elizabeth, and their life partner, Olive Byrne, are credited as being his inspiration for the character's appearance. Marston's comics featured his ideas on DISC theory, and the character drew a great deal of inspiration from early feminists, and especially from birth control pioneer Margaret Sanger; in particular, her piece "Woman and the New Race".
Wonder Woman's Bronze Age origin story relates that she was sculpted from clay by her mother Queen Hippolyta and was given a life to live, from Zeus, as an Amazon, along with superhuman powers as gifts by the Greek gods. In recent years, DC changed her background with the retcon that she is the daughter of Zeus and Hippolyta, jointly raised by her mother and her aunts Antiope and Menalippe. The character has changed in depiction over the decades, including briefly losing her powers entirely in the late 1960s; by the 1980s, artist George Perez gave her an athletic look and emphasized her Amazonian heritage. She possesses an arsenal of magical items, including the Lasso of Truth, a pair of indestructible bracelets, a tiara which serves as a projectile, and, in older stories, a range of devices based on Amazon technology.
Wonder Woman's character was created during World War II; the character in the story was initially depicted fighting Axis military forces as well as an assortment of colorful supervillains, although over time her stories came to place greater emphasis on characters, deities, and monsters from Greek mythology. Many stories depicted Wonder Woman rescuing herself from bondage, which defeated the "damsels in distress" trope that was common in comics during the 1940s. In the decades since her debut, Wonder Woman has gained a cast of enemies bent on eliminating the Amazon, including classic villains such as Ares, Cheetah, Doctor Poison, Circe, Doctor Psycho, and Giganta, along with more recent adversaries such as Veronica Cale and the First Born. Wonder Woman has also regularly appeared in comic books featuring the superhero teams Justice Society (from 1941) and Justice League (from 1960), along with Superman and Batman.
The character is an iconic figure in popular culture that has been adapted to various media. October 21 is Wonder Woman Day, commemorating the release of her first appearance in All Star Comics #8 (with the exception of 2017 which held the day on June 3 to tie in with the release of the film of the same name).
Wonder Woman has been featured in various media from radio to television and film, and appears in merchandise sold around the world, such as apparel, toys, dolls, jewelry, and video games. Shannon Farnon, Susan Eisenberg, Maggie Q, Lucy Lawless, Keri Russell, Rosario Dawson, Cobie Smulders, and Stana Katic among others, have provided the character's voice for animated adaptations. Wonder Woman has been depicted in both film and television by Cathy Lee Crosby, Lynda Carter, and in the DC Extended Universe films by Gal Gadot.
Powers and Abilities
Powers
Wonder Woman posses a different ability from a select few of the Greek gods and goddesses. Originally, Wonder Woman used an invisible plane that responded to her voice and only one of Amazon descent could see, but she was later gifted with flight. Her patron goddess is Hera, queen of Olympus, goddess of marriage and wife to Zeus, who freed the Amazons from the clutches of the war god, Ares, and gave them a home on an unplottable Paradise Island. Her blessing from the gods give her the physicality far above Superman and Captain Marvel/Shazam.
Superhuman Strength: Diana has superhuman strength that is near limitless. She has been even strong enough to incapacitate a blood-lusted Superman with a kick, it should be noted that she held back. She can physically outmatch Kryptonians, once restraining Supergirl. It should be noted that in all of her fights against Kryptonians, she usually comes out the victor. This also is impressive because she has resisted Superman who was near the sun in strength, she even holds back. This just proves her unrivaled strength. In fact, the bracelets weakened her, this means that without her bracelets Wonder Woman has overpowered Super doom (who is far stronger than Superman), making her strength increase tenfold.
Superhuman Durability: Though bullets and knives can pierce her, they cannot be life threatening to her. In more recent years, Diana says that only god-like weapons can hurt her. She can easily survive at the core of the Sun, being punched from the Sun into the planet, point blank planetary explosions, and punches from beings like Darkseid and Superman, all of these coming out unscathed.
Superhuman Speed: Diana has been stated by Batman to be faster then Superman. She has the speed of Hermes the messenger.
Superhuman Stamina and Super Endurance: Wonder Woman can last a infinite amount of time in any fight and with virtually anyone. She has held her own in combat with foes as powerful as a Doomsday clone. She doesn't tire out, as her body produces no lactic acids in her muscles.
Enhanced Healing Factor: Like the Earth, Diana is constantly renewing herself, allowing her to quickly heal mild to moderate injuries at an amazing rate. Her normal regenerative abilities allow her to recover from injury within seconds to minutes. She possesses an incredible immunity from poisons, toxins, as well as disease.
Oneness With Fire
Empathy: Diana can often detects others' emotions, and is now so fully immune to Doctor Psycho's illusions that she usually is not even aware of what illusions he is attempting to project.
Superhuman Senses: Eyesight, hearing, taste, touch and smell.
Flight
Dimensional Teleportation: On occasion, Wonder Woman can literally leave the planet through meditation. She did this to rescue Artemis when she was in hell, and has even conversed with the Greek Gods on occasion.
Immortality: Diana cannot age, wither, or degrade and can live indefinitely, being around 5018 years old. High-Tier beings like Kryptonians can cause her great distress and pain.
Abilities
Hand-to-Hand Combat (Advanced): Diana is the finest warrior ever born among the Amazons of Themyscira. She is a master of armed and unarmed combat, proficient with nearly every weapon ever made (especially the bow and the javelin) and the exotic martial arts styles of the Amazons. Batman once remarked that Wonder Woman is the best melee fighter in the world.
Wisdom of Athena: Granted by Athena (Goddess of Wisdom). Diana possesses great wisdom and intelligence, though the degree varies from author to author. She is among the smartest and wisest members of the Justice League of America, along with the Martian Manhunter, Superman, and Batman.
Multilingualism: Diana has exhibited heightened proficiency with languages, being able to speak her native Themysciran, Ancient and Modern Greek, English, Spanish, Portuguese, French, Mandarin Chinese (she expressed "difficulty" with the tones of Cantonese during an interview with Lois Lane), Russian and Hindi. Plus, through precise muscle control, she can mimic other people's voices for short conversations (on the telephone). It is more difficult, for her to mimic a man's voice than another woman's voice.
Master Tactician and Strategist: Granted by Athena (Goddess of Wisdom). Diana is an accomplished strategist and tactician, trained in the arts of leadership, persuasion and diplomacy, and possesses a great deal of courage as well. She is a gifted leader.
Occultism: Diana possesses knowledge and understanding of magic. She has used her magical knowledge to use an alchemical spell to create a portal.
Weapons and Equipment
Lasso of Truth: Diana's trademark item. The Lasso of Truth is a magical golden lariat which forces anyone captured within it to obey the wielder's commands, and tell the truth.
Tiara: Not only is Diana's tiara a clothing piece, but also a long-range weapon, which she can throw at her enemies like a boomerang.
Weaknesses
Appearances in Idea Wiki
Wonder Woman is a main character in DC: Unlimited Rebirth, voiced by Jennifer Hale. Along with being a founding member of the Justice League, Wonder Woman is also the mother of Cassie Trevor / Wonder Girl and the adoptive mother of the "Daughters of Wonder Woman", consisting of Courtney Whitmore / Stargirl, Smith twins Andrea and Maria / Fire and Ice, Artemis, Tara Markov / Terra, and Catherine Faulkner / Rampage.
Joint ideas
Wonder Woman is a playable character in DC vs. Sega, voiced by Olivia Olson. She is also a main character in the story mode. In her Arcade ending, Diana returns to Themyscira after being informed it was time to take her mother Hyppolita's place as queen of the Amazons. She genuinely and willingly accepts while taking Bayonetta as her protégée.
Wonder Woman appears in DC Friends, voiced by Kristen Schaal.
Gallery
Community content is available under
CC-BY-SA
unless otherwise noted.