WARNING:

This article is a non-fanon page. Non-fanon means if it is not fanmade or it is also canon.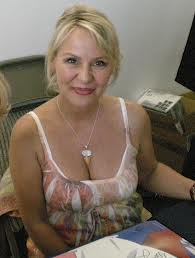 Wendee Lee (born February 20, 1960) is an American voice actress, singer, impressionist and musician known for her prolific work in the anime industry and video games. Her most notable roles include Faye Valentine on Cowboy Bebop, Takeru "T.K." Takaishi on the Digimon franchise, Haruhi Suzumiya on The Melancholy of Haruhi Suzumiya and Konata Izumi on Lucky ☆ Star.
Voices
Jak 4: The Darkness Within - Tami
Jak 5: The Full Moon - Tami
Jak 6 - Tami
Crossover Universe - Additional Voices
Soul Calibur VI - Lyndis
Future Super Smash Bros. titles (Beginning with Ultimate) - Lyndis
Future Star Wars based Video Games and Animated Media - Princess Leia Organa
Psonic X Touhou - Marisa Kirisame, Asagi
Inazuma Eleven (Full English Dub) - Isabella Trick "Bellatrix"
Fairy Tail (Full English Dub Cast) - Lyon Vastia (young), Kagura Mikazuchi, Pisces White
Family Guy (Full English Dub Cast) - Lois Griffin, Lindsey, Carol Pewterschmidt/West, Barbara Pewterschmidt, Marguerite pewterschmidt, Lois Laura Bush Lynne Cheney Pewterschmidt
The LEGO Batman Movie 2017 (Bang Zoom! / Funimation Redub) - Barbara Gordon / Batgirl
Chrono Crusade: Reincarnation - Artemis
Shinzo (2015 Anime) - Izanami
Tales of Asteria: Grand Voyage - Victoria Braus, Additional Voices
Puyo Puyo Tetris - Jay & Elle, Draco Centauros, and Ms. Accord
Puyo Puyo: Magical Story - Draco Centauros and Ms. Accord
Captain Planet - Gaia
Community content is available under
CC-BY-SA
unless otherwise noted.