WARNING:

This article is a non-fanon page. Non-fanon means if it is not fanmade or it is also canon.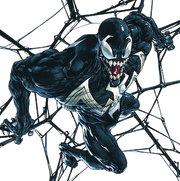 | | | |
| --- | --- | --- |
| " | We are Venom! | " |
| | ~ Eddie Brock / Venom | |
| | | |
| --- | --- | --- |
| " | Eyes, lungs, pancreas. So many snacks, so little time. | " |
| | ~ Venom | |
Venom is a fictional character appearing in American comic books published by Marvel Comics, commonly in association with Spider-Man. The character is a sentient alien symbiote with an amorphous, liquid-like form, who survives by bonding with a host, usually human. This dual-life form receives enhanced powers and usually refers to itself as "Venom". The symbiote was originally introduced as a living alien costume in The Amazing Spider-Man #252 (May 1984), with a full first appearance as Venom in The Amazing Spider-Man #300 (May 1988).
The Venom symbiote's first human host was Spider-Man, who eventually discovered its true nefarious nature and separated himself from the creature in The Amazing Spider-Man #258 (November 1984) — with a brief rejoining five months later in Web of Spider-Man #1. The symbiote went on to merge with other hosts, most notably Eddie Brock, its second and most infamous host, with whom it first became Venom. As one of Spider-Man's most enduring villains, Venom quickly established himself as one of his arch-enemies, with many regarding him as a dark reflection of Spider-Man. The character later became an anti-hero, working both with and against superheroes. Other notable hosts of the Venom symbiote include the villain Mac Gargan, formerly known as Scorpion, and Flash Thompson, who became the superhero Agent Venom.
The character has been featured in various other media, including animated series, films, and video games. Most notably, he was portrayed by Topher Grace as one of the main antagonists of the film Spider-Man 3 (2007), and by Tom Hardy as the titular protagonist and antihero of the Sony Pictures Universe of Marvel Characters film Venom (2018) and its upcoming sequel, Venom: Let There Be Carnage (2021). The Eddie Brock incarnation of Venom was rated 33rd on Empire's 50 Greatest Comic Book Characters, and was the 22nd Greatest Villain on IGN's 100 Greatest Comic Villains of All Time. Comics journalist and historian Mike Conroy writes of the character: "What started out as a replacement costume for Spider-Man turned into one of the Marvel web-slinger's greatest nightmares".
Known hosts
Eddie Brock
Mac Gargan / Scorpion
Flash Thompson (also known for the alterego Agent Venom)
Appearances in Idea Wiki
The Eddie Brock version of Venom appears in Venom vs. Morbius, with Tom Hardy reprising his role.
The Eddie Brock version of Venom appears in Marvel's Spider-Man: Webbed Champion, with Brock voiced by Ben Pronsky, and the Symbiote voiced by Benjamin Diskin. Appearing in "On the Tiger's Claw", Brock (as in the canon version of the series) becomes Venom's host in his attempt to get pictures of the V-252 out of jealousy of Peter, although he does it after Jameson fires him for getting Peter to quit from the Daily Bugle to join Stark Industries as a intern. Brock and Venom eventually seek to ambush Peter during his date night with Mary Jane Watson, but ends up getting in a fight against Scorpion (who was at the time hired by J. Jonah Jameson to capture Peter and force him back to the Bugle), before coming face-to-face with Spider-Man and his comrades while Peter and Mary Jane (actually Skrull scouts Amon and Jade in disguise) infiltrate the Bugle to expose Jameson.
The Eddie Brock version of Venom appears in Marvel: All New, All Different Chronicles, with Brock voiced by Crispin Freeman, and the Symbiote voiced by Kevin Michael Richardson.
The Eddie Brock version of Venom appears in Iago PUC's Avengers Animated Trilogy, with Brock voiced by Troy Baker (albeit uncredited) in the Forces from the Infinity and Jerry O'Connell in the sequels The Symbiote War and Inhumans Unleashed. The Venom Symbiote is voiced by Tony Todd.
Joint ideas
Gallery
Images
Videos
Community content is available under
CC-BY-SA
unless otherwise noted.