WARNING:

This article is a non-fanon page. Non-fanon means if it is not fanmade or it is also canon. Fanon information is allowed only in individual paragraphs with words "Idea Wiki" and/or "Fanon" in them.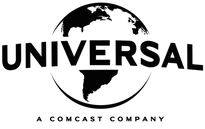 Universal Pictures is an American film production and distribution company.
Not to be confused with The Universal Company.
Films
Film series
 
Title
Release date
Notes
Universal Monsters
1923–1956
Woody Woodpecker
1940-present
Ma and Pa Kettle
1947-1957
Airport
1970-1979
Jaws
1975–1987
Slap Shot
1977-2008
Smokey and the Bandit
1978-1983
The Thing
1982-2011
Back to the Future
1985–1990
co-production with Amblin Entertainment
An American Tail
1986-1999
co-production with Amblin Entertainment
The Land Before Time
1988-present
co-production with Amblin Entertainment
Tremors
1990–present
Darkman
1990-1996
co-production with

Renaissance Pictures

Beethoven
1992–present
Jurassic Park
1993–present
co-production with Amblin Entertainment and Legendary Pictures
Timecop
1994-2003
Casper
1995-2000
co-production with Amblin Entertainment,

Harvey Comics

, and

DreamWorks Classics

Dragonheart
1996–present
The Mummy
1999–2008
co-production with Relativity Media,

Sommers Company

and Alphaville Films
American Pie
1999–present
2000–2013
co-production with

One Race Films

, Interscope Communications,

Radar Pictures

and PolyGram Filmed Entertainment
Bring It On
2000-2009
The Fast and the Furious
2001–present
co-production with Original Film, Relativity Media,

One Race Films

, Legendary Pictures and Media Rights Capital

Bongo Gets Grounded

2001-present
The Scorpion King
2002-2015
Bourne
2002–present
co-production with The Kennedy/Marshall Company and Relativity Media
The Incredible Hulk
2003-2008
co-production with Marvel Studios; rights now owned by The Walt Disney Company
Jarhead
2005–present
Curious George
2006–present
co-production with Universal Animation Studios and Imagine Entertainment
Death Race
2008-2013
Despicable Me
2010-2023

co-production with Illumination Entertainment and Universal Animation Studios

Ted
2012-present
co-production with Media Rights Capital and Fuzzy Door Productions
Pitch Perfect
2012-present
co-production with

Gold Circle Films

The Purge
2013–present
co-production with

Blumhouse Productions

, Platinum Dunes and

Why Not Productions

Universal Monsters Cinematic Universe
2014–present
co-production with Legendary Pictures
Ouija
2014-present
co-production with

Blumhouse Productions

, Hasbro and Platinum Dunes
Fifty Shades of Grey
2015-2018
Unfriended
2015-present
co-production with

Blumhouse Productions

Tina Nelson
2018-present
co-production with Illumination Entertainment
2016-2017–present

co-production with Illumination Entertainment and Universal ANIMATION Studios

Annoying Orange: Supremely Annoying

2017—2021
co-production with Illumination Entertainment and Universal Animation Studios
Daddy's Girl (film)
2019 present-
co-production with Warner Bros. Pictures and Regency Enterprises & |-
Mr. Bored
2019-

present

co-production with

Bossy Bunny Pictures

and Universal Animation Studios

The Purge 2
The Purge 3
| A Fish's Tale | 2035-present | co-production with Logan Works Movies Inc and Illumination Entertainment | |
| --- | --- | --- | --- |
Fanon Variations
Gallery
Variations
Videos