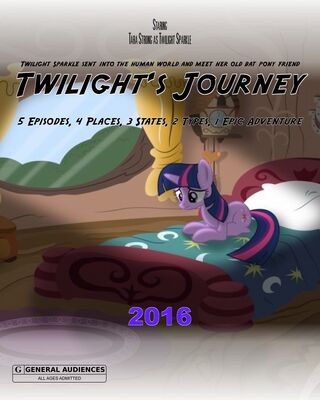 Twilight's Journey: The Game is a Episodic Video Game and a Prequel to Cillian Darcy: The Game.
Summary
After being betrayed by her friends, Twilight Sparkle is given a chance that sent herself by one strange dream to enter the human world. She soon teams up with her lost bat pony friend Moondrop, and his human friends to get out of the woods before a villain accomplishes a revenge of his.
Characters
Twilight Sparkle: One of My Little Pony: Friendship is Magic main Characters and the Main Protagonist of the Game.
Moondrop: the Protagonist, He is Ammesic since he was three but he can able to help Twilight back home to Equestria.
Vin Moosk: the former accountant who joins Moondrop on a Journey to Canterlot along with Lorcan and Lilly
Windsor: the son of moosk's former boss (the game's first-half primary antagonist) who joined Moondrop's group to venture to Canterlot.
Froggy McDougal: the comrades of Vin Moosks and Moondrop's Group to get to Canterlot
Lorcan Tredwell: Lilly's Older Twin Brother, Kino's Half Brother, and Moondrop's Best Pal who knows how to get to canterlot.
Lilly Tredwell: Lorcan's Younger Twin Sister and Kino's Half-Sister who also knows how to get to Canterlot
Alaxander:  King Sombra's human form and the Main Antagonist of the Game.
Episodes
Chapter
Episode Release Date
Episode 1 - "Day of the Woods"
January 17, 2016[2]
Notes:

After been Betrayed by her friends, Twilight transported into the human world and came across from an old friend from the past with his group.

Episode 2 - "Night Be Love Time"
Febuary 1, 2016[7]
Notes:

  The group travelled into the mountains due to the arch enemy threathen to kill Twilight.

Episode 3 - "Friendship of Love"
March 20, 2016
Notes:

Twilight actually have feeling with Moondrop after escaping from Windsor's father. 

Episode 4 - "For with the Closing Door"
April 11, 2016

Notes:

Moondrop and the others almost turn on each other and Twilight have manage to talk to them to keep moving to the ski lodge

Episode 5 - "I hope that You Remember Me"
May 25, 2014

Notes:

 Twilight's ending her adventure at the ski lodge and promise to keep her relationship with Moondrop, she jumped into the portal back to equestria but she want to regain Moondrop's memories. Moondrop manage to keep moving on to canterlot without his friends.
Twilight Sparkle leaves the game in the near the end of the game and Moondrop took her places as the playable protagonist
Community content is available under
CC-BY-SA
unless otherwise noted.