WARNING:

This article is a non-fanon page. Non-fanon means if it is not fanmade or it is also canon.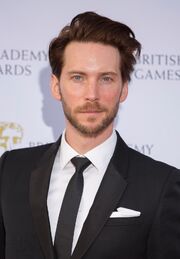 Troy Edward Baker (born April 1, 1976 in Dallas, Texas, USA) is a former American Funimation voice-actor and musician who works in Los Angeles, best known for his roles in Anime, Western Animated films and television series and Video Games. He is now the current voice for the DC Comics villain, The Joker after Mark Hamill temporarily retired from the role. He also voiced Espio the Chameleon in the Sonic the Hedgehog video game series succeeding David Wills in 2010 and is later succeeded by Matthew Mercer in 2016.
Voices in Idea Wiki
Doctor Who: Animated - The Doctor
The Titans - Dick Grayson/Nightwing
Justice Leage International - Bruce Wanye/Batman
Sherlock Holmes - Sherlock Holmes
Justice League: Injustice - Dick Grayson/Nightwing, The Joker
Jak and Daxter: The Great Seas - Pyro
Jak and Daxter x Aldnoah.Zero - Rehm
Future Crash Bandicoot titles - Nitros Oxide
Futuristic Heroes - Buckethead
Psonic X Touhou - Buckethead
Final Fantasy series - Snow Villiers
Sonic the Hedgehog franchise - Espio the Chameleon (2010-2016; succeeded by Matthew Mercer)
Fox/20th Century Studios animated media (alternately) - Superintendent Gary Chalmers, Sheriff, Alec Baldwin, Brian Griffin
The LEGO Batman Movie 2017 (Bang Zoom! / Funimation Redub) - The Joker, Green Arrow/Oliver Queen
The Fairly OddParents (Full English Dub Cast) - Foop, Catman, Gene Simmons
Fairy Tail (Full English Dub Cast) - Jose Porla, Kama, Capricorn, Weisslogia
Toy Story (Full English Dub Cast), Future Toy Story Merchandise - Buzz Lightyear
Gravity Falls (Full English Dub Cast) - Various
Max's Extremely Goofy College Life, Max and Roxanne: A Goofy Romantic Video Game, future Mickey Mouse Universe related projects such as the Kingdom Hearts series - Arizona Goof, Zaiyendo "Zayne" Kennedy, Additional voices
Guilty Gear series - Sol Badguy
Starlaxite: Omnivespell Maxtreme - TBD, Marco Rossi, Additional voices
Star vs. the Forces of Evil (Full English Dub Cast) - Mewman Guards, additional voices
Marvel's Spider-Man: Webbed Champion - Hawkeye / Clint Barton, Casey Jones, Kraven the Hunter, Electro / Max Dillon
Cars (Bang Zoom! / Funimation Redub) - Lighting McQueen
Yu-Gi-Oh! 5DS (Full English Dub Cast)  - Jack Atlas
Saint Seiya (Full English Dub Cast)  - Capricorn Shura (Sanctuary arc succeeded by Matthew Mercer), Sea Horse Baian
My Little Pony: Friendship Is Magic (Full English Dub Cast) - Fancy Pants, Svengallop, Additional voices
Mickey Mouse (Studiopolis / Bang Zoom! Redub) - Mortimer Mouse
Looney Tunes (Studiopolis / Bang Zoom! Redub) - Rocky, Bobby, The Brain, Stoney, Ringmaster
LEGO Dimensions (Viz Media / Bang Zoom! / Funimation Redub) - Emmet, Owen Grady, Michael Knight
Assassin's Journey - Capricorn (Replaces Michael Johnson)
Tales of Asteria: Grand Voyage - Yuri Lowell
Disney Legends: Final Wars of Weirdmageddon - Grime, Snow Villiers, Sol Badguy
Amphibia - Grime
Known for:
The voice of Lego Bruce Wayne/Batman in the LEGO DC Universe Series
The voice of Joel in The Last of Us and The Last of Us Part II
The voice of Booker DeWitt in BioShock Infinite
The voice of Kanji Tatsumi in Persona 4 (2008-2012)
The voice of Delsin Rowe in Infamous Second Son
The voice of The Joker in Batman: Arkham Origins and Batman: Assault on Arkham
The voice of Vincent Brooks in Catherine
The voice of Snow Villiers in Final Fantasy XIII
The voice of Talion in Middle-Earth: Shadow of Mordor
The voice of Jin Kariya in Bleach
The voice of Jack Mitchell in Call of Duty: Advanced Warfare
The voice of Yuri Lowell in Tales of Vesperia
The voice of Espio the Chameleon (2010-2016) in Sonic the Hedgehog video game series
The voice of Greed in Fullmetal Alchemist: Brotherhood
The voice of Yamato and Pain (2009-2014) in Naruto: Shippuden
The voice of Rhys in Tales from the Borderlands
The voice of Samuel Drake in Uncharted 4: A Thief's End and Uncharted: The Lost Legacy
The voice of Baki Hanma in the 2018 version of Baki
The voice of Geo-Force in Young Justice: Outsiders
The voice of Higgs Monaghan in Death Stranding
Community content is available under
CC-BY-SA
unless otherwise noted.