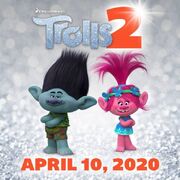 Trolls: Crazy Party Forest!
 is the second installment of the Trolls fanmade film series. It premiered on June 10th, 2017. Many of the cast members reprise their roles, and the film introduces new characters. It takes place after the events of the first film.
Summary
It's been a year since Poppy became the new queen of the Trolls, Branch has his true colors and became the new hero of the Trolls, and the two made peace between Trolls and Bergens. And now, a new surprise arrives for Branch as his family arrive at Troll Village. Plus, the Trolls are having a special music party. But what happens when a mean Bergen plans to stop the party? Join the Trolls on a brand new adventure!
Full Plot
Cast
Transcript
Music
Trivia
This is the first Trolls film created by Universal Pictures. The first film was created by 20th Century Fox.
It is based on the mobile game of the same name.
Branch is in his true colors like in the first film.
Branch's younger sister Panna, and his mother Willow will make their debut in the film.
This is the first time DJ Suki talks since she only has one line in the first film. Plus, she has a bigger part in this film.
A few deleted characters from the first film join the movie.
There is another town of Trolls called Troll Town.
Mystical Trolls, like the Trollimals and Cooper, live in Troll Forest.
Troll Village, Troll Town and Troll Forest were united together into Harmony Village, home of the Pop Trolls, with Aspen as Poppy's lieutenant, and Woody as her third-in-command.
Community content is available under
CC-BY-SA
unless otherwise noted.