WARNING:

This article is a non-fanon page. Non-fanon means if it is not fanmade or it is also canon.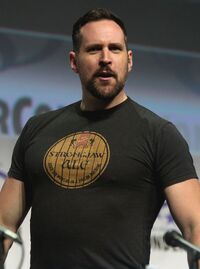 Travis Hampton Willingham (born August 3, 1981 in Dallas, Texas, U.S.A) is an American stand-up comedian, actor, voice actor, singer, musician and impressionist who has worked for various anime series and video games at Funimation/OkraTron 5000 and Viz Media/Studiopolis. He is well known his roles include Roy Mustang in Fullmetal Alchemist, Portgas D. Ace in One Piece, Takashi Morinozuka in Ouran High School Host Club, Yu Kanda in the first half of D.Gray-man, King Roland II in Disney's Sofia the First, Cameron Campbell in Rooster Teeth's Camp Camp, Reggie Rowe in Infamous Second Son, Guile in the Street Fighter video game series, Zetsu and Jugo in Naruto Shippuden, and voiced Knuckles the Echidna in the Sonic the Hedgehog Video Game series replacing Dan Green from 2010-2018/2020 and is later succeeded by Matthew Mercer, as well as Thor in a variety of Marvel cartoons and video games since 2012 and Superman in the Lego Batman series.
He married fellow voice actress, Laura Bailey on September 25, 2011, alongside Bailey, are cast members of Critical Role. 
They both currently reside in Los Angeles and are now focused on video games and western animation, but will voice in anime if produced by Studiopolis.
Voice Roles in Idea Wiki
Jak and Daxter: The Great Seas - Bartender
Street Fist series - Guerrilla Gorill
Space Monsters - Various
Psonic X Touhou - Guerrilla Gorill
Justice League: Knights of Rao - Aquaman
Teen Titans (Alternate Season 2) - Aquaman, Etrigan the Demon
Marvel: All New, All Different Chronicles - Thor, Groot, Demolition Fist / Flint Marko, Soto, Beast / Dr. Hank McCoy
Sonic the Hedgehog Video Game Series - Knuckles the Echidna (2010-2018/2020 succeeded by Matthew Mercer), Storm the Albatross (2010-2018/2020 succeeded by Mike Dobson), Zavok (2010-present)
Sonic Boom - Knuckles the Echidna, Soar the Eagle, many other voices
Dragon Ball Z series - Cell
Time Crisis 4 - Evan Bernard
Saint Seiya (Full English Dub Cast) - Phoenix Ikki
Saint Seiya Omega: Ryusei (Full English Dub Cast) - Phoenix Ikki
Assassin's Journey - Demon 16A (Ch16), Devilman 18A (Ch18)
Tales of Asteria: Grand Voyage - Hirgon West
Attack on Vampire - Kureto Hiragi (Replaces Garrett Storms)
Tales of Heroes - Gaius
Yu-Gi-Oh! Starlight Heroes - Michael Summers, Alco
Skylanders series - Buzz
Community content is available under
CC-BY-SA
unless otherwise noted.