Titans Unlimited is an American superhero television series created by WallyGoat7, Akiva Goldsman, Geoff Johns, and Greg Berlanti for the streaming service HBO Max. Based on the DC Comics team Teen Titans, the series depicts a group of young heroes who join forces in their fight against evil, taking place within the continuity of the DCMU. Featured as members of the Teen Titans are Dick Grayson (Nick Robinson), Wally West (Ty Simpkins), Donna Troy (Courtney Eaton), Roy Harper (Tye Sheridan), Garth (Drew Van Acker), Victor Stone (Eli Goree), Karen Beecher (Yara Shahidi), Koriand'r (Laura Harrier), and more.
Taking place weeks after the events of Project AMAZO, Titans Unlimited sees the sidekicks of the Justice League form their own team, one where they can save the world how they see fit. Two seasons have been ordered for the show prior to the release of Emerald Knights Season 1, coinciding with the Slate 2 reveal. The first season is scheduled to release sometime in early to mid 2025.
Cast
The prodigal adopted son of the Bat, Robin seeks to leave Batman's shadow by forming his own team of heroes: the Teen Titans. Unused to playing in a team setting, Robin needs to learn to lead while learning to fit in a team.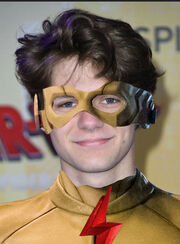 Robin and Red Arrow's best friend and the heart of the team, Wally seeks to save lives that the Justice League can't, with the Titans. He is a founding member of the team, and secondary leader.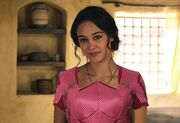 Wonder Woman's protégé, the mysterious Donna Troy helps the Titans save the world and fight crime. As Wonder Girl, she protects the Earth and follows in the footsteps of her sister, Wonder Woman.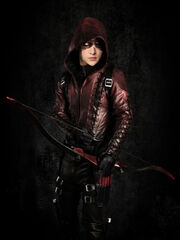 Green Arrow's partner in crime, Red Arrow joins his friends Dick and Wally in creating the Teen Titans. He has temperament and anger issues, but he always means to do the right thing.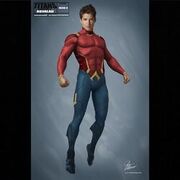 The orphaned ward of Aquaman, Garth became the Aqualad after saving Arthur Curry's life. As Aqualad, he protects the surface world, while Aquaman rules the oceans.
Arguably the most dangerous man on the planet, Slade Wilson is a ruthless mercenary hired by Queen Bee's HIVE organization to eliminate foreign opponents, and eventually the Teen Titans.
Garcelle Beauvais as Queen Bee
The Queen of Bialya and the Covert leader of the HIVE organization, Queen Bee posseses mystical brainwashing abilities and often uses them to her advantage. She is set on eliminating the Teen Titans and any threat to her plans of dominating the entire region of the Middle East.
Eli Goree as Cyborg/Victor Stone
Laura Harrier as Starfire/Koriand'r
Amandla Stenberg as Bumblebe/Karen Beecher
Florian Munteanu as KGBeast/Anatoli Knyazev
Brianne Tju as Ravager/Rose Wilson
Dominique McElligott as Lady Vic/Elaine Marsh-Morton
Samira Wiley as Jinx
Warwick Davis as Gizmo/Mikron O'Jeneus
Episodes
Season 1 (2024)
| No. Overall | No. In Season | Title | Directed By | Written By | Original Release Date |
| --- | --- | --- | --- | --- | --- |
| 1 | 1 | Who Needs The League? | Greg Berlanti | WallyGoat7 | September 20th, 2024 |
| 2 | 2 | Foundations | Greg Berlanti | WallyGoat7 | September 27th. 2024 |
| 3 | 3 | Alien Princess | Akiva Goldsman | WallyGoat7 | October 4th, 2024 |
| 4 | 4 | Doom Patrol | Akiva Goldsman | WallyGoat7 | October 11th, 2024 |
| 5 | 5 | Heart of the Bee Part 1 | Greg Berlanti | WallyGoat7 | October 18th, 2024 |
| 6 | 6 | Heart of the Bee Part 2 | Akiva Goldsman | WallyGoat7 | October 25th, 2024 |
| 7 | 7 | Titans Together | Greg Berlanti | WallyGoat7 | November 1st, 2024 |
| 8 | 8 | Hierarchy of International Vengeance and Extermination | Akiva Goldsman | WallyGoat7 | November 8th, 2024 |
| 9 | 9 | Deathstroke the Terminator Part 1 | Greg Berlanti | WallyGoat7 | November 15th, 2024 |
| 10 | 10 | Deathstroke the Terminator Part 2 | Greg Berlanti | WallyGoat7 | November 22th, 2024 |