The Super Dreams Adventures of Chicken Little was a 2015 American CGI animated Crossover film released on October/2/2015 and it was Loosely based on fable with it same name and it was Directed by Mark Dindal and Stephen J Anderson and Produced By Randy Fullmer and Dorothy Mckim and Produced By Walt Disney Animation studios and produced by Walt Disney Pictures and it reserves Negative Reviews from critics and Grossed at $150 million and Grossed at 314.4 million at the Box office and it was a Box office Success.
Plot
Cast
Zach Braff as Chicken Little
Joan Cusack as Abby
Steve Zahn as Runt the Litter
Dan Molina as Fish out of water
Bret Iwan as Mickey mouse
Tony Anselmo as Donald Duck
Bill Farmer as Goofy
Katherine Von Till as Snow white
Jennifer Hale as Cinderella
Mae Whitman as Tinkerbell (Speaking)
Paige O 'Hara as Belle
Scott Weinger as Aladdin
Tom Hanks as Woody
Tim Allen as Buzzlightyear
Dave Foley as Flik
John Goodman as James P. Sullivan
Billy Crystal as Mike
Owen Wilson as Lighting McQueen
Larry the cable guy as Mater
Daniel Hansen and Jordan Fry as Lewis Robinson
Wesley Singerman as Wilbur Robinson
Ty Burrell as Mr. Peabody
Max Charles as Sherman Peabody
Ariel Winter as Penny Peterson
Amy Poehler as Joy
Phyllis Smith as Sadness
Lewis Black as Anger
Mindy Kaling as Disgust
Bill Hader as Fear
Kaitlyn Dias as Riley Anderson
Tara Strong as Leslie Andrews
Adam West as Hollywood Chicken little
Production
Box office
Rotten Tomatoes
Trivia
Movie Release
DVD and Blu-Ray Release
The DVD and Blu-Ray will Release on March/22/2016.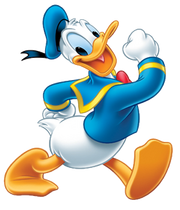 Community content is available under
CC-BY-SA
unless otherwise noted.