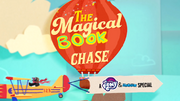 The Magical Book Chase
 is an American-Canadian crossover special/movie that aired on Discovery Family and Cartoon Network on April 9, 2019. 
Summary
The Mane 6, Unikitty and Puppycorn are sad that Katie accidentally forgot a book but Twilight cheers them up by using her spellbook to make it real and the gang travel in hot air balloons but get lost and Twilight loses control and an bird has stolen her spellbook. So the gang travel to Chinatown, and New York to find people to help them find the bird.
Home media
The Magical Book Chase was released on DVD, On Demand, Blu-Ray, and digital on the day Dora And The Lost City of Gold was released (August 2, 2019). 
Deleted scenes
1. The first deleted scene was the scene where Katie tried to find the book, but she couldn't.
2. The final deleted scene was the scene where Unikitty accidentally pokes the balloon and her and Puppycorn go all the way down and find a PPG version of David Hasselhoff.
Community content is available under
CC-BY-SA
unless otherwise noted.