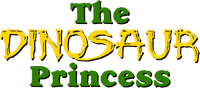 The Dinosaur Princess is an American action-adventure-fantasy video game series co-created by María Alejandra Botín and Lawrence Christensen, being developed by Infogrames Lyon House (1999-2002), Eurocom (2005-2012) and Traveller's Tales (since 2013) and published by Infogrames (1999-2002) and Warner Bros. Interactive Entertainment (since 2005) since September 7th, 1999.
Synopsis
A girl raised in a world where dinosaurs and humans co-exist and is the princess of both species, heading for adventure and fun.
Games
The Dinosaur Princess (1999)
The Dinosaur Princess 2 (2002)

The Dinosaur Princess and the Ancient Gem

(2012)

The Dinosaur Princess: Corruption

(2015)

The Dinosaur Princess and the Extinction Wars

(2017)

The Dinosaur Princess: Land of the Dragons

(2021)
Spin-offs
Saurus (2013)

The Dinosaur Princess: Party Blast

(2015)

Saurus 2

 (2018)

Lego The Dinosaur Princess: A Brick-tastic Journey

(2020)
Characters
Main
Kitrina (voiced by Mae Whitman) - a witty princess who is out for adventure as she goes on a quest to discover her true purpose in life.

Terry (vocal effects by Tara Strong) - Kitrina's pet triceratops who follows her in her adventures, being very close of her.

Gayle (voiced by Kath Soucie) - Kitrina's friendly but ditzy best friend who follows her around and helps her out, often ending up in situations like TBD.
Supporting
Antagonists
Reception
Critical response
The franchise received generally positive reviews, being praised for its TBD.
As the series progressed and the characters became older, the franchise became TBD.
In other media
Television
Animated
Specials
The Dinosaur Princess: Clone Madness

(Cartoon Network, 2013)
Film
Direct-to-video
The Dinosaur Princess: Back to the Shark Realm

 (2015)

The Dinosaur Princess and WWE All-Star Slam!

(2016)
Theatrical
Books
Comic books
The Ballad of the Dinosaur Princess

(DC Comics, 2003-present)
Merchandise
Tropes
Gallery
Trivia
Despite the setting of the series, vehicles such as bicycles, cars and motorbikes and modern technology such as television, computers, telephones and video games exist as well, implying that the events of the series are set in the 20th/21st century.
The creators of the game opted for age up Kitrina due to her voice actress growing up as well as a way to develop her character and allowing her to face even more dangerous threats.

For the first two games, she was 12 years old.
She turned 14 on The Shark Prince.
She was aged up to 16 for The Ancient Gem.
As of Forever, she's now 17, becoming her definitive age for future installments.

The universe is known for having several different areas, including the Saurus Kingdom, the Shark Realm, the Iron Lands, the Fire Realm, the Icelands, the Dark Realm, the Land of the Dragons, etc.
The only game that doesn't have two endings is The Dinosaur Princess 2.