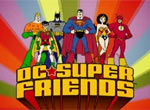 The DC Superfriends Show is an Upcoming Animated series based on the DC Superfriends Toyline & Franchise by Mattel. The Show will be run by Ciro Nieil, Ben Jones, Brandon Auman and Derrick J. Wyatt. The Show is a cross Between Marvel Super Hero Squad, Batman: The Brave and the Bold, and Transformers: Rescue Bots. The Show will be aimed at DC fans for all ages, but mostly to younger fans. The Series' Tone is loosey based off of Hanna-Barbera's Superfriends Franchise.
Overview
The Superfriends Team (Consisting of Superman, Batman, Green Lantern, The Flash, Hawkman, Plastic Man and the rookie Cyborg) are based at the Hall Of Justice in Washington D.C. to Protect the World from the Legion of Doom. They even come get help from The Justice League, Teen Titans, JL International, and Much More. The first Season revolves around Lex Luthor as the main villian, the second revolves around Darkseid, and the final season revolves around Sinestro. The show will have no Character Deaths through out it's run.
Tom Kenny provides the Narration of the series.
Opening Titles
In the great Hall of the Justice League, there comes world's greatest heroes. Created from the cosmic legends of the Universe, Superman, Batman, Green Lantern, Hawkman, The Flash, Plastic Man and the junior superfriend, Cyborg. Their mission, to fight Injustice & to Serve all man kind.
Superfriends, Up Up & Away.
Voice Cast & Characters
Superfriends Team
David Kaye - Superman, Hawkman
Daran Norris - Batman (Team Leader)
Steven Blum - Green Lantern/Hal Jordan
Bumper Robinson - Cyborg
Eric Bauza - The Flash
Tom Kenny - Plastic Man
Other Heroes
Grey DeLisle - Catwoman, Fire, Huntress, Arisia Rrab, Indigo-1, Beautiful Dreamer
Neal McDonough - Green Arrow
Keri Russell - Wonder Woman
Josh Keaton - Green Lantern/Kyle Rayner
Travis Willingham - Captian Marvel, Mark Moonrider, Dove
Brian Bloom - Iron, Rip Hunter, Commander Steel
Vanessa Marshall - Black Canary
Jennifer Hale - Zatanna, Ice, Starfire
Crispin Freeman - Booster Gold, Guardian
Kari Wahlgren - Hawkgirl, Wonder Girl, Enchantress, Element Woman, Bombshell
LeVar Burton - Black Lightning
Yuri Lowenthal - Mr. Miracle, Tempest, Lagoon Boy
Julianne Grossman - Big Barda
Henry Winkler - Ambush Bug
Phil LaMarr - Static Shock, Aquaman, Zauriel
Cedric Yarbrough - Firestorm
Steven Blum - Blue Beetle II, Lightray, G.I. Robot, Shade the Changing Man
Peter Lurie - Red Rocket
Nolan North - Superboy, Animal Man, Deadman
Michael Jai White - Green Lantern/John Stewart
Dave Wittenberg - Negative Man
Jeff Bennett - OMAC, Jonah Hex, The Creeper, Red Tornado
Gina Torres - Vixen
Lex Lang - Orion, Arkkis Chummuck, Gold, Blue Devil
Kevin Michael Richardson - Martian Manhunter, Kilowog, Detective Chimp, Vykin, Herald, Mogo
James Arnold Taylor - Tomar-Re, Geo-Force
Cam Clarke - Saint Walker, Metamorpho
Summer Glau - Supergirl
Jason Spisak - Kid Flash
Jason Marsden - Speedy, Impulse
Danica McKellar - Miss Martian
Troy Baker - Robin
Katie Higgins - Batgirl
Quinton Flynn - Nightwing
John DiMaggio - Lobo
April Stewart - Maxima
Michael T. Wiess - Etrigan The Demon
Michael Trucco - Adam Strange
Tricia Helfer - Boodikka
Kim Mai Guest - Katma Tui, Katana
John Kassir - Mindwarp
David L. Lander - Ch'p
Rene Auberjonois - Galius Zed
Tom Kenny - Salakk, Mazing Man, Dr. Magnus
James Horan - Dr. Fate
Cree Summer - Madame Xanadu, Aquagirl, Bumblebee
Gary Cole - The Spectre
Khary Payton - B'wana Beast, Aqualad II
Jeremey Piven - Elongated Man
Corey Burton - The Atom, Mercury, Forager, Uncle Marvel
Dee Bradley Baker - Tin, Serifan, The Haunted Tank, Gnarrk, Kid Devil
Terri Hawkes - Platinum, Flamebird, Lilith, Moon Maiden
Bill Faggerbakke - Lead, Big Bear
Clancy Brown - Phantom Stranger
Keith Szarabajka - The Question
Tara Strong - Mary Marvel, Raven, Spolier, Kole
John DeVito - Captian Marvel Jr.
Sam Riegel - Hawk
Richard McGonagle - Highfather, The Chief
Carlos Alazaraqui - Ragman, Blue Beetle III, Vibe
Johnny Yong Bosch - Beast Boy
April Winchell - Batwoman
Xander Berkeley - Mento, Captain Atom
Olivia d'Abo - Elastic-Girl
Henry Rollins - Robotman
Michael Dorn - Steel
Diedrich Bader - Green Lantern/Guy Gardner
Fred Tatasciore - Sgt. Rock
Tony Todd - Icon
Kail Troy - Rocket
Lauren Tom - Dr. Light II
Roger Craig Smith - Obsidian
Colleen O'Shaughnessey - Terra, Jade
Alison Mack - Power Girl
Daran Norris - Supernova
Juliet Landau - Black Orchid
Maurice LaMarche - Space Ghost
Gary Owens - Green Lantern/Alan Scott
Kyle Hebert - August General in Iron
Moira Quirk - Godiva
Supporting Characters
Dana Delany - Lois Lane
John DiMaggio - Bibbo Bibbowski
Martin Jarvis - Alfred Pennyworth
Sam Riegel - Jimmy Olsen/Mr. Action
Kari Wahlgren - Vicki Vale, Sayd, Martha Wayne
Terri Hawkes - Cat Grant
James Horan - Jack Ryder, Emil Hamilton
Richard McGonagle - Shazam, Abin Sur
David Kaye - Commissoner Gordon, Jor-El
Steven Blum - Sam Lane, Ranakar, Thomas Wayne
Lex Lang - Steve Trevor, Rick Flag
Fred Tatasciore - Det. Harvey Bullock
Julianne Grossman - Etta Candy
Stana Katic - Talia Al Ghul
Kim Mai Guest - Linda Park
Vicki Lewis - Iris West
Kevin Michael Richardson - Lucis Fox, Steve Lombard, Talky Tawny
Tom Kenny - Skeets, Dan Turpin
Lynda Carter - Hyppolyta
Jennifer Hale - Ramona, Inza, Maggie Sawyer
Roger Craig Smith - Marvin White
Colleen O'Shaughnessey - Wendy Harris
Dee Bradley Baker - Brother Eye, Oberon
Larry Drake - Ganthet
Brian George - Appa Ali Apsa, The Mayor
Cathy Cavadani - Alanna Strange
Edward Asner - Perry White
Stephen Root - Woozy Winks
Zach Callison - Billy Bastion
Cree Summer - My'ria'h, Natasha Irons
Jason Marsden - Snapper Carr
Tricia Helfer - Sue Dinby
Tom Kane - Quincy Sharp
Grey DeLisle - Catherine Cobert, Artemis of Bana-Mighdall
Frances Conroy - Martha Kent
George Coe - Jonathan Kent
Clancy Brown - King Faraday
Nolan North - I-Ching
Julie Bowen - Fury
Vanessa Marshall - Mala
Khary Payton - Ron Troupe
Jodi Benson - Queen Mera
David Ogden Stiers - Solovar
Olivia d'Abo - Carol Ferris
James Sie - Thomas Kalmaku
Corey Burton - Hamilton Hill
Tim Curry - G. Gordon Godfrey
Supervillians
Corey Burton - Braniac, Solomon Grundy, Hugo Strange, Metallo, Weather Wizard, Killer Moth, Icicle Sr., The Brain, Kanto, General Zahl, Nitrogen, Dr. Light, Steppenwolf, Cleric Loran
John DiMaggio - Darkseid, Black Adam, Toyman, Captain Boomerang, Ocean Master, Starro, Maxwell Lord, Brother Blood, Ma'alefa'ak, Hellgrammite, Hector Hammond, The Shade, Ares
Steven Blum - Count Vertigo, The Joker, Captain Cold, Jack, Kobra, Amon Sur, Faceless Hunter, Virman Vundabar, Joe Chill, White Martians, Parasite, Ragnar, Batzarro
Jeff Bennett - Ultra-Humanite, Killer Croc, Abra-Kadabra, T.O. Morrow, Red Volcano, Red Torpedo, Krona
David Kaye - Bizzaro, Evil Star, Kite Man, Felix Faust, Deathstroke
Dee Bradley Baker - Ra's Al Ghul, Dessad, Chemo, Top, Clock King, Skallox
Fred Tatasciore - Major Force, AMAZO, Animal-Vegetable-Mineral Man, Manhunters, Ubu
Tom Kenny - Mirror Master, Zillus Zox, Chloroform, Scarface, Byth Rok, Anti-Monitor
Nolan North - The Penguin, Black Mask, Gentleman Ghost, Cyborg Superman, Black Hand, Veon
Edward Asner - Granny Goodness
Mark Rolston - Lex Luthor, Firefly
Carlos Alazaraqui - Bane, The Key
Jennifer Hale - Killer Frost, Giganta, Bernadeth
Olivia d'Abo - Star Sapphire, Ten, Morgaine le Fey
Claudia Black - Cheetah
Keith Szarabajka - Mr. Freeze
Kari Wahlgren - Harley Quinn, Gilotina, Tigress, Huntress
Diedrich Bader - Shadow Thief, Ace, Gorilla Boss
John Kassir - Scarecrow, Heatwave, Klarion the Witch Boy
Wally Wingert - The Riddler
Mark Hamill - The Trickster, Nekron
Gary Anthony Williams - Mongul, Mongal
Troy Baker - Two-Face, King, Monsieur Mallah, Sinestro, Helium
Rick D. Wasserman - Clayface
Phil LaMarr - Maxie Zeus, Atrocitus
Crispin Freeman - Deadshot, Oxygen, The Ventriloquist
Michael Dorn - Vandal Savage, Kailbak
Lex Lang - Dr. Polaris, Atomic Skull, Hydrogen
Clancy Brown - Parallax, Hades
Daran Norris - Hush, Larfleeze, Wotan, Prometheus
Yuri Lowenthal - Icicle Jr.
Keith David - Black Manta
Travis Willingham - Gorilla Grodd, The Wizard
Rene Auberjonois - Kanjar Ro, General Zod
Grey DeLisle - Queen, Red Inferno, Mad Harriet, Lyssa Drak, Bleez
James Arnold Taylor - Major Disaster, The Prankster
Alan Tudyk - Reverse Flash
Michael Jai White - Tatooed Man
Tasia Valenza - Poison Ivy
John Di Lancie - Mr. Twister
Terri Hawkes - Queen Bee, Carbon Dioxide
Dwight Schultz - Professor Ivo, Dr. Sivana, Eclipso
Kim Mai Guest - Silver Banshee, Lady Shiva
J.K. Simmons - General Wade Eiling, Mantis
Peter MacNicol - Chronos, Mad Hatter
Eliza Schneider - Baroness Paula Von Gunther, Stompa
Tom Kane - Blackbriar Thorn
Maurice LaMarche - Calendar Man
Tara Strong - Lashina
April Winchell - Tresha
Josh Keaton - Black Spider
Thomas F. Wilson - Catman, Sportsmaster
Katie Higgins - Golden Glider, Chersire
Dave Wittenberg - Pied Piper
Juilet Landau - Tala, Plastique
Cam Clarke - Razer, Hook
George Takei - Sensei
Other Characters
Rob Paulsen - Riddler Henchman Enigma
Robert Englund - Riddler Henchman Puzzle
Roger Rose - Mayor Wyatt
Crew
Collette Sunderman - Casting and Voice Director
Kristopher Carter - Composer
William Anderson - Theme Composer
Derrick J. Wyatt - Lead Character Designer
Dan Krall - Art Director
Ciro Nieil - Supervising Director, Character Designer
Sam Liu - Supervising Producer
Mitch Watson - Producer
Episodes
Season One:
| Episode Name | Plot | Title Card Homage |
| --- | --- | --- |
| The World's Greatest Heroes: Part One | The Justice League, are being Honred at Metropolis, for thier heroic Deeds over the Years. But Lex Luthor, The Joker, and Brainiac comes by and Invade the City. Meanwhile, a young Superhero name Cyborg attemps to help them. | New Teen Titans Vol 1 1 |
| The World's Greatest Heroes: Part Two | While facing Luthor and Joker, Wonder Woman is being held Hostage by Metallo, and Cheetah. Only Superman, Batman, and Cyborg must Rescue Her. | World's Finest Vol 1 129 |
| The Joker's Playhouse | While Overseeing Construction at the Hall of Justice, Superman and Batman encounter The Joker's Girlfriend, Harley Quinn who is planning to rescue Joker. Cyborg and Flash goes to Central City and faces Gorilla Grodd. | Batman 1 (Spring 1940) |
| A Royal Flush | The Superfriends Encounter The Royal Flush Gang in Las Vegas Nevada. | Justice League of America Vol 1 43 |
| The Fastest Man Alive | Superman and The Flash has a Contest to see who is the Fastest Man Alive, by a race around the world. | Action Comics 340 |
| A System Shock | Static Shock meets up with the Team. Telling them that Dakota's finest Icon & Rocket are held tight by Black Spider & members of the League of Shadows. | Static: Rebirth of the Cool 1 |
| International Leagues | The Justice League International ask the team's help with Maxwell Lord and his deal with Major Force. | Captain Atom 83 |
| When Rogues Attack | The Flash's Rogues Gallery are going to war with Batman's Rogues Gallery on each other. | Justice League of America 1 |
| Time for a Riddle | The Team Face a series of Riddles by The Riddler with the help of General Zod. | Detective Comics Vol 1 140 |
| A Wonder to Behold | Wonder Woman finally achieves a certain consistency between her fame, Steve Trevor, and her Mother. But all goes well when Baroness Paula Von Gunther and Cheetah puts Steve Trevor, Superman, and Batman in danger. | Wonder Woman (Volume 2) 1 (February 1987) |
| Cold Front | Mr. Freeze, Captian Cold, Killer Frost, and the Icicles plans to freeze the World. | Batman 121 (1959) |
| O For OMAC | OMAC goes on a Brawl with Killer Croc, and Solomon Grundy. | OMAC 6 |
| Ivy's Kiss | Poison Ivy makes all the World's Male Heroes in love with her. | Batman 181 (June 1966) |
| Wrong Side | Superman and Batman are Being Framed by Bizzaro and Batzarro. Later the duo revealed that Clayface was behind it. | All-Star Squadron 23 |
| The Green Light | Hal Jordan, John Stewart, Guy Gardner, and Kyle Rainer are Being Called to Oa about Sinestro, Kanjar Ro and Mongul on a all out attack. While Alan Scott is starring a ceremony for his honor. | Justice League Unlimited Vol 1 46 |
| Under the City's Sewers | Killer Croc finds a way into the Hall of Justice Underground but Batman has his sights on Him. Meanwhile Sportsmaster & his family starts a sport theme disaster to Metropolis. | All-Star Comics Vol 1 73 |
| The Living Island | The Immortal Ra's Al Ghul plans to destroy all of Coast City. Only Batman, Superman, Flash, and Green Arrow can stop him and Rescue Talia Al Ghul. | Batman 232 (June, 1971) |
| The Injustice League | Count Vertigo assembles an Injustice League (Consisting of Bane, Metallo, Mirror Master, Dr. Polaris, Shadow Thief, Silver Banshee, and Himself) to face the Superfriends. | Justice League of America Vol 1 111 |
| The Magic Beholded | Abra-Kadabra, Klairon the Witch Boy, and Wotan are under orders for Morgane Le Fay to send the world back to the dark ages. Only Dr. Fate, Zatanna, Etrigan the Demon and Madame Xanadu can stop them. | Justice League Unlimited Vol 1 40 |
| The Jungle Queens | Poison Ivy and Queen Bee turn all of Paradise Island into a Deadly Island for Men. Only Wonder Woman and the Female Superheroes must save her home. | Justice League of America 23 November 1963 |
| Scoop of the Century | Vicki Vale and Jack Ryder are in compeition with Jimmy Olsen and Cat Grant for the "Scoop of the Century". But they are interuptted by The Prankster. | JLA: The Nail 1 |
| Ambush! | Ambush Bug meets up with the Team to save their world from Wotan's Reallity Warping and the Brain's Experiments. | Action Comics 565 |
| Space Case | After stopping Evil Star and Amon Sur with Blue Devil, Superman gets an unwelcome visit by Lobo and his Girlfriend Maxima. | Omega Men 3 June 1983 |
| The Legion of Doom | Lex Luthor, The Joker, And Cheetah Assmeble The Legion of Doom from Count Vertigo's Injustice League, The Rogues and any Supervillian the Team had face before. | JLA Secret Files 2004 1 |
| If This Be Crisis: Part One | Billons of years ago, Krona had Created a Machine on the Planet Maltus, as he Calls it The Monitor, but it was corruppted by Negative Energy and was called the "Anti-Monitor". Now in the present He plans to conquer earth. | Infinite Crisis 1 |
| If This Be Crisis: Part Two | The Team makes a Deal with the Legion of Doom to face the Anti-Monitor. | Crisis on Infinite Earths 1 |
Season Two:
| Episode Name | Plot | Title Card Homage |
| --- | --- | --- |
| The 4th World: Part One | After the world was saved from the Anti Monitor, Darksied and his forces comes to invade the earth. | The New Gods 1 (March 1971) |
| The 4th World: Part Two | Orion, Darksied's "other" son, helps the team by fighting agianst Darksied's forces. Then they get help by Mr. Miracle and Big Barda. | Death of the New Gods 1 |
| Gorilla Warfare | Gorrila Grodd teams up with Gorrila Boss, and Monsieur Mallah to convert the Human Race to Apes. Meanwhile Decetive Chimp solves cases with Red Tornado. | Showcase 34 1961 |
| Hush Like A Baby | Bruce Wayne Is being framed by a person called Hush, and Ragman can Investigate. | Batman Confidential 15 |
| The Ultra-Humanite Strikes | The Ultra-Humanite declares War with the Superfriends Team. Meanwhile, the Flash comes down with a cold. The Atom plans to cure him. | Justice League of America 196 (Nov 1981) |
| The Sea of all Evil | Superman and Batman goes to Atlantis to Investigate a series of problems with Aquaman. Black Manta and Ocean Master has a plan to overthrow Aquaman from his Throne. | Adventure Comics 443 (Jan. 1976) |
| Toyman's Funtime | Toyman, Trickster and The Joker goes on a Crime Spree in Metropolis, Only Superman and Aspiring Kids Wendy Harris and Marvin White can stop them. | Batman 251 (Sept. 1973) |
| The Red Family | Today is Red Tornado's Birthday, and all he wants is to see his "Father", T.O. Morrow. But things get worse when Mister Twister and Tornado's "Siblings" ruins the fun. | Showcase 4 |
| A Major Disaster | Darksied hires Major Disaster to cause Destruction in Star City, Green Lantern must thwart this. Meanwhile the rest of Earth's lanterns & the team thwart the Red Lanterns. | Green Lantern Vol 2 43 |
| Kurse of the Kobra | Kobra and his Forces makes a deal with Bane about his drug, Venom. Batman and Cyborg intervines the deal. | Kobra 1 |
| When the Creeper Leaps | The Joker makes Reporter Jack Ryder falls into a vat of Toxic Wast and Becomes The Creeper. Batman and Catwoman must help him with his condition. | Mister Miracle 22 |
| Where is Warworld? | Mongul hosts his intergalatic tornament, Warworld. And he has Kidnapped the Superfriends Team to participate. | DC Comics Presents 28 |
| Tales from the Scarecrow | Three tales told from The Scarecrow. The first part tells Batman's Origins, then the second part tells Abin Sur's last Moments, and third part tells The Joker's Backstory. | Batman 373 (July 1984) |
| The Lonley Martian | Being the last Martian of Mars is not well for the Martian Manhunter, after losing his wife, My'ria'h from the White Martians. But things get a lot turn for the worse when his brother Ma'alefa'ak comes and fight him. | Infinity, Inc. 49 |
| Brainiac's Brainpower | Darksied calls the team help in order to defeat a common enemy Brainiac, who has come to Apokolips and to download all knowledge of the planet, then destroy it. But it was all a trick by both Brainiac and Darksied. | Action Comics 242 |
| Wings of a Hawk | Hawkman learns that both he and Hawkgirl have an Ancient Past. But their Vacation in Egypt goes wrong by both Shadow Thief and Gentleman Ghost. | Hawkman 3 (August–September 1964) |
| A Wonderful Mother | Wonder Woman goes back to Paradise Island for Mother's Day, but she is attacked by Hades and his Nephew, Ares. | All Star Comics #8 |
| Grundy's Big Comeback | The Penguin hires Felix Faust and Ra's al Ghul to ressurect Solomon Grundy after his fight with OMAC and Batman. | Superman vol. 2, 21 |
| The Streching Law | Plastic Man and fellow Streching superheroes, Elongated Man, and Metomorpho must stop Kite-Man and The Clock King from Kidnapping Plastic Man's Family. | Plastic Man 17 (May 1949) |
| Paradise Lost | Professor Ivo and his android AMAZO, plans to end The Superfriends team with thier own powers. | Birds of Prey: Blood and Circuits (2007) |
| The Immortal Named Savage | After stopping Tatooed Man, Superman and Booster Gold encounters Vandal Savage and Chronos in time. Only Rip Hunter can stop them. | Green Lantern vol. 1 10 |
| Superman's Pal | Jimmy Olsen garners unwanted attention after news reporters Cat Grant and Vicki Vale dubs him "Superman's Pal". In light of this, Jimmy creates a Superhero persona called, "Mr. Action". Batman thinks Jimmy is not worthy to join the team. | Superman's Pal, Jimmy Olsen Vol 1 1 |
| Zatanna's Trick | Zatanna's father Zatara, has been missing for days. Only to wind up in the hands of The Wizard and Blackbriar Thorn. The Justice League: Dark helps Batman's friend. | Green Lantern Vol 2 42 |
| Metal Mania | After a fight with Chemo, The team introduces themseleves to the Metal Men. Later, rescue Dr. Magnus from the Gas Gang. | Showcase 37 (March–April 1962) |
| The Strange Doctor: Part One | Bruce Wayne has been kiddnapped by Professor Hugo Strange and Darkseid only to know about his Batman persona. Alfred Pennyworth tells Catwoman and Superman to find him before things really get out of hand. | Detective Comics #36 |
| The Strange Doctor: Part Two | Hugo Strange and Darkseid begins Protocol 12, a strike on Metorpolis. After Batman has been rescued, they and the team go on a last ditch effort to save the world. In the end Darksied and his Forces were sent to the Neagtive Zone, and Strange is now in Arkham Asylum. | Detective Comics #46 |
Season Three:
| Episode Name | Plot | Title Card Homage |
| --- | --- | --- |
| Color Spectrums: Part One | The Martian Manhunter celebrates his birthday with the team, but Hal Jordan recieves a distress call from Oa when Sinestro and his corps declares war with the other Lanterns. | Blackest Night # 1 |
| Color Spectrums: Part Two | During the Universal Color war with the Other Lantern Corps, Martian Manhunter has been chosen to be the New Guardian the Green Lantern Corps. Other New Guardians features The Atom, The Flash, Wonder Woman, Mera, Lex Luthor, and The Scarecrow agianst Black Hand. In the end, Martian Manhunter celebrates his birthday with the heroes. | Brightest Day # 1 |
| The Bat Family | After Batman gets injured by Kanjar Ro and His Forces, the team hires Batwoman and the rest of The Bat Family to replace him during his recovery. Catwoman and Alfred Pennyworth helps Batman recover. | |
| Captain Marvel's Black Sheep | Captain Marvel proves his worthiness to join the Team when Dr. Sivana hires Black Adam to re-aquire the power of Shazam. Meanwhile Mirror Master does a series of robberies to outwit the Flash. | The Power of Shazam! 10 1995 |
| Killer Moth Strikes The Batman | It's Halloween and Killer Moth Does His Crime Spree, While Dressing up as Batman. Geo-Force Investigates Moth's Activites. It was revealed that Catman was behind the ruse with Killer Moth framing Batman. | Batman: Legends of the Dark Knight 46 |
| Starro Wars | Starro starts taking over heroes' minds turning them into his clones, and the only one who can stop him is Space Ghost. | Brave and the Bold Vol 1 28 |
| Super Best Friends Forever | Supergirl, Batgirl and Wonder Girl forms an aliiance to fight crime such as The Key who has been comminting a series of crimes for attention. | |
| Golden Fame | Booster Gold's fame goes on to the top of his head, when his best friend, the second Blue Beetle and his girlfriend Fire were kidnapped by Dr. Polaris. Then he asks Batman to rescue them. | Green Lantern Vol 2 47 |
| Saving Sidekicks | Cyborg learns that a group of Teenage Superheroes formed The Teen Titans, and he wants to join in. But things get to wrong when Brother Blood declares war on Cyborg. Red Tornado and Martian Manhunter intervines. | Superman Family 217 April 1982 |
| What Goes Around Comes Around | The Doom Patrol are under attack by a new Brotherhood of Evil. The Chief makes a partnership with the Team to stop them. | New Teen Titans Vol 1 15 |
| Three Times the Fun | Superman, Batman, and Wonder Woman faces Lex Luthor, The Joker, and Cheetah in a Trimuntive of terror. | Trinity # 52 |
| When Sinestro Strikes | Sinestro asks the Green Lantern Corps about the return of Kanjar Ro, Anti-Monitor, and the Cyborg Superman. But in the End, The Spectere ends it all, stating the last fight is coming. | Green Lantern vol 3 50 |
| The Final Battle | The Team faces Parallax and the Anti-Monitor in a last ditch effort to save the Universe. As a result, Cyborg Superman has been chosen to represent the Parallax. In The End, the heroes of the DC Universe were praised for thier heroics. | Green Lantern 18 |
Pop Culture Trivia
In Saving Sidekicks, Brother Blood says he would've gotten away with his plan, if it werent for the Teen Titans as he calls them "Meddling Kids", as a nod to the Scooby-Doo! Franchise.
Black Lighting says that his Kids watches a show called Reading Rainbow. In which LeVar Burton (His Voice Actor) was the host.
In Gorilla Warfare, Gorilla Grodd would call his Earth the "Planet of the Apes".
Tales from the Scarecrow is a Paradoy of Tales from the Crypt.
Ra's al Ghul utters his Famous line from Batman Begins in The Living Island.
Zatanna states once knew someone that looked liked "The English Kid with the Glasses & Scar".
Ambush Bug always says that "Everyday is a Happy Day".
Lobo states that he Knew a Robot called "Bender". A Refrence to the Futurama Character, Bender.
Solomon Grundy is Nicknamed, "The Walking Dead".
Community content is available under
CC-BY-SA
unless otherwise noted.