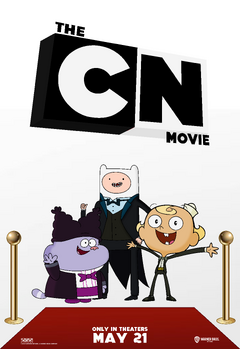 "Ever wonder what your life is like when you're living life as a television star? Well, I have. I'm Finn, the guy in the funny white lookin' hat. I came to CN Studios way back in April 2010. When I first came to the studio, I really felt like I fit in. And who knows what it would have been like if I got aired on Nickel... Nickelback...? Nicholas? The company that aired my pilot. That was when I met my two best friends. It was Chowder and Flapjack."
– Finn, narrating the opening scene
The CN Movie is a 2021 live-action/animated film, based on the Cartoon Network network, directed by James Bobin (The Muppets, Muppets Most Wanted). This serves as another film with hand-drawn animated characters in a live-action setting. And surprisingly enough, it's produced by Warner Bros., making it the second franchise centered around a row of cartoon characters in the real world after Looney Tunes. The movie depicts the network's characters as actors that interact with each other outside their universes.
After eight long years, Finn decides to reunite with his old friends Chowder and Flapjack. After a good reunion, Finn suggests on getting the two a movie to bring them back to the public (which they were torn down unfortunately). As the three set off to return home, they end up on the other sides of the world, so their old friends (who are outside their shows) go out to find them. Jeremy Shada and Thurop Van Orman reprise their roles as Finn and Flapjack while Raymond Ochoa voices Chowder, in favor of Nicky Jones; accompanied by Linda Cardellini as CJ, Kate Micucci as Sadie Miller, Sean Giambrone as Jeff Randell, Sean Marquette as Mac, Keith Ferguson as Bloo, and Grey Griffin as Yumi Yoshimura.
This film is meant to re-introduce the old Cartoon Network shows that have been taken off the air, concluded happily, or just been ignored by the studio. The film is followed by a adult mockumentary series aires on TBS, then Adult Swim titled The CN Show, in July 2022. A sequel to the film was planned to follow the series, until it was scrapped.
The CN Movie contains examples of:
Community content is available under
CC-BY-SA
unless otherwise noted.