The Amazing Brawl of Gumball
is a spin-off game of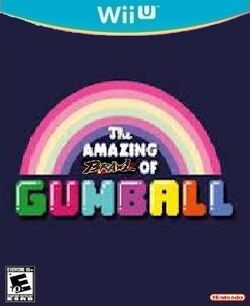 Super Smash Bros. Brawl,
and
Playstation All Stars Battle Royale
. It is expected to come out summer 2016. It will be made for the Wii U, 3DS, PS3, PS Vita, XBOX 360, Xbox One and PlayStation 4.
Characters
Original Characters
Third Party Characters
Guest Characters
Gumball
Finn
Mario(Wii U/3DS)
Darwin
Jake
Donkey Kong(Wii U/3DS)
Anais
Ice King
Link(Wii U/3DS)
Nicole
Marceline
Samus(Wii U/3DS)
Richard
Flame Princess
Yoshi(Wii U/3DS)
Penny
The Lich
Kirby(Wii U/3DS)
Mr. Fitzgerald
Fiona
Fox(Wii U/3DS)
Tobias
Cake
Pikachu(Wii U/3DS)
Rachel
Ice Queen
Toro(PS3/PS Vita)
Ocho
Marshall Lee
Parapapa(PS3/PS Vita)
Clayton
Mordecai
Sora(PS3/PS Vita)
Anton
Rigby
Riku(PS3/PS Vita)
Egg Heads
Benson
Sackboy(PS3/PS Vita)
Jamie
Skips
Nathan Drake(PS3/PS Vita)
Bobert
Pops
Cole MacGrath(PS3/PS Vita)
Carrie
Muscle Man
Evil Cole MacGrath(PS3/PS Vita)
Bananna Joe
High Five Ghost
Dante(XBOX 360)
Idaho
Thomas
Banjo&Kazooie(XBOX 360)
Sal
Gary
Cloud(XBOX 360)
Jealousy
Death
Sephiroth(XBOX 360)
Gi Gumball
Techmo
Zack(XBOX 360)
Evil Darwin
Garret Bobby Fergunson Jr.
Snake(XBOX 360)
Young Nicole
Negative Rigby
Grey Fox(XBOX 360)
Young Richard
Darthon
Raiden(XBOX360)
Young Sal
Young Mordecai
Mega Man(All Versions)
Spiderman
Venom
Scorpion (All Versions)
Darknerous
Young Rigby
Ezio Auditore(All Versions)

File:News Will Carnage Appear in the Venom Movie?

File:Spider-Man 2 Theme Song by Up at Noon

Bane Enemy to Bats MAD Cartoon Network

File:Peter Parker, The Amazing Spider-Man.png

File:The Amazing Spider-Man Trailer
Community content is available under
CC-BY-SA
unless otherwise noted.