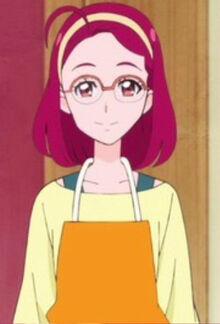 Hoshina Terumi (Teri Hoshina In Glitter Force Star☆Twinkle) (星奈 輝美, Hoshina Terumi?)is a minor character who appears in Star☆Twinkle Pretty Cure. She is the mother of Hoshina Hikaru.
Appearance
Terumi has short magenta hair with a yellow hairband. She wears a light yellow crop top, a white dress with a brown belt, and pink slippers.
Personality
Terumi seems overwhelmed by her daughter's adrenaline. She often stays up late at night.
Etymology
Hoshina (星奈, Hoshina?) - Hoshi (星, 'Hoshi'?)means "star", while Na (奈, 'Na'?) has no meaning when it is by itself.
Terumi (輝美, Terumi?) - Teru (輝, 'Teru'?) is a verb meaning "to shine, illuminate, sparkle", while Mi (美, 'Mi'?) means "beautiful".
History
In episode 1, Terumi appeared with her parents to greet Hikaru in the morning.
Relationships
Hoshina Hikaru - Her daughter. 
Hoshina Harukichi - Her father. 
Hoshina Youko - Her mother.
Trivia
Terumi shares her voice actress with Masuko Miyo, a minor character from Happiness Charge Pretty Cure!.
Community content is available under
CC-BY-SA
unless otherwise noted.