WARNING:

This article is a non-fanon page. Non-fanon means if it is not fanmade or it is also canon.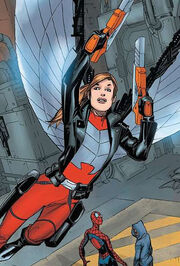 Teresa Parker (also called Teresa Durand) is a fictional character from Marvel Comics, appearing as a supporting characters in the Spider-Man comics. The character, first appearing in Amazing Spider-Man: Family Business #1 (April 2014), is the long lost younger sister of Peter Parker / Spider-Man. After the death of their parents, Peter was sent to live with their Aunt May and Uncle Ben, while Teresa, whose birth had been kept a secret, was adopted. Many years following the deaths of Richard and Mary, Teresa was personally recruited into the C.I.A. by Nick Fury. Teresa's parentage became a mystery, even for her.
Appearances in Idea Wiki media
Comics
A version of Teresa Parker appears in The Amazing Avengers as a main character. She was born one year after Richard and Mary Parker left their son Peter to live with their uncle Ben and aunt May. After a long journey to solve the secrets of her past, Teresa joined S.H.I.E.L.D. as a highly trained spy. After being accidentally infused with a Hydra serum created by Red Skull which would grant his subjects with Crimson Spider's duplicated powers, Teresa gained spider-like attributes and became the Black Widow. Shortly after the Avengers' first team up, Teresa started a new romantic relationship with Mary Jane Watson's half-brother Kevin Quill and, three months after Peter and Mary Jane's wedding, married him and had a son named Richard.
Teresa appears in Ultimate Marvel: Earth-2. On the wake of her parents' death by the hands of terrorists working for Obadiah Stane, Teresa took up her father's secret project, which includes technology resources from both Stark Industries and the Kree Empire and serums with Owl DNA. Soon after, she donned a new Owl-shaped flight armor suit (which includes the same functions of Tony Stark's Iron Man suit, as well as camouflage and phasing functions) and begun to operate as the new superheroine Iron Owl in hopes of bringing the murderers of her parents to final justice and reuniting with her brother Peter. Successful after Stane was defeated by her (with help from Spider-Man and Iron Man), Teresa begun living a new life with Peter, Aunt May and Felicia.
TV Series and Films
Joint ideas
Gallery
Community content is available under
CC-BY-SA
unless otherwise noted.