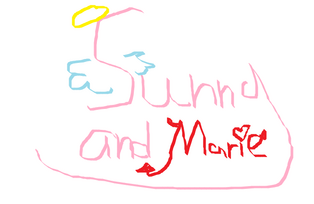 Sunny and Marie: The Series (known as Sunny and Marie) is a TV series that aired on 2015.
Summary
Sunny and Marie are sisters with a different age who transfer to different schools and grades.
Characters
Sunny Lawson (voiced by Linda Cardellini), a troubled 13-year-old girl who is in eighth grade. With the help of true love of a hot guy, she juggles school, friends and romance.
Marie Lawson (voiced by Grace Kaufman), Sunny's 11-year-old sister who is in sixth grade
Steve Lawson (voiced by Jackson Brundage), Sunny's 8-year-old brother who goes to elementary school
James Lawson (voiced by Dee Bradley Baker), Sunny and Marie's father
Kristen Lawson (voiced by Molly Quinn), Sunny and Marie's mother
Holland Miller (voiced by Piper Mackenzie Harris), a cheerleader and a friend of Sunny who describes her "Cheer Captain". She is a seventh grader.
Daisy Nicole Smith (voiced by Kari Wahlgren), Marie's friend who is also twelve years old just like Marie. She is a fifth grader.
Daniel Cooper (voiced by Sean Giambrone), Sunny's boyfriend who describes him "rad".
Ivey McGregor (voiced by Nikki Hahn), Sunny and Marie's next door neighbor and friend. She's a little girl who lives with the McGregors.
Episodes
Community content is available under
CC-BY-SA
unless otherwise noted.