WARNING:

This article is a non-fanon page. Non-fanon means if it is not fanmade or it is also canon.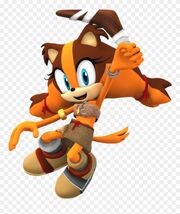 Sticks the Badger
is a fictional character appearing in the
Sonic the Hedgehog
franchise, first introduced as a main character in the animated
Sonic Boom
television series.
She is an orange and brown badger skilled in the use of boomerangs who comes from the jungle. Sticks is a paranoid individual of wild habits, who enjoys digging through garbage and looking at shiny objects, and is a force of nature in every way. While she may at times seem insane, her madness does occasionally stray into genius, allowing her to find solutions which no one else could have thought of.
Appearances in Idea Wiki
Joint ideas
Personality
Portrait
Name: Sticks
Nickname:
Gender: Female
Age: 14
Alignment: Good
Birthday:
Favorite food:
Friends: Amy Rose (best friend), Sonic the Hedgehog, Miles "Tails" Prower, Knuckles the Echidna, Sally Acorn, Cream the Rabbit, Nicole the Holo-Lynx, Bunnie Rabbot, Antoine D'Coolette, Rotor the Walrus, Princess Elise III, Chip, Michelle Jones / Wave (Marvel's Spider-Man: Webbed Champion)
Allies: Team Chaotix (Vector the Crocodile, Espio the Chameleon, Charmy Bee), Big the Cat, Rouge the Bat, Shadow the Hedgehog (sometimes), Blaze the Cat, Silver the Hedgehog, Justice League (Justice League: Rings of the Force), Avengers (Marvel's Spider-Man: Webbed Champion), Spider-Man and the Champions (Marvel's Spider-Man: Webbed Champion)
Enemies: Dr. Eggman, Fiona Fox, Metal Sonic, Chaos (formally), Eggman Nega, Black Doom, Dark Gaia (Sonic Unleashed), Time Eater (Sonic Generations), The Deadly Six, Infinite, Augustus Roman / Regent (Marvel's Spider-Man: Webbed Champion)
Voice actors
Official media
Fanon projects
Gallery
Trivia
Canon
Idea Wiki-exclusive
In Iago PUC's ideas, Sticks is voiced by the same voice actresses who voiced Marvel's Squirrel Girl in the Ultimate Spider-Man animated series and the Marvel Rising franchise respectively.
Community content is available under
CC-BY-SA
unless otherwise noted.