WARNING:

This article is a non-fanon page. Non-fanon means if it is not fanmade or it is also canon.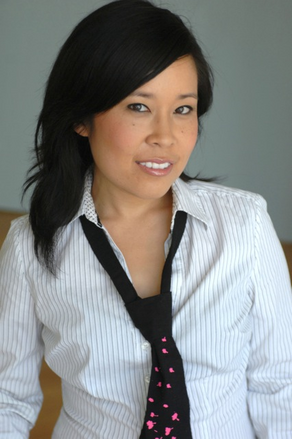 Stephanie Ru-Phan Sheh (born April 10, 1977), who also goes by the alias Jennifer Sekiguchi, is an American comedian, voice actress, ADR writer, director, singer, musician, impressionist and producer. She has worked for several major companies, including Cartoon Network and Sony. She is often involved with doing voice over work in anime, original animation, video games, dubbing, commercials, and TV shows. Her notable voice roles include Orihime Inoue in Bleach, Hinata Hyuga in the Naruto series (her most notable and recognizable role), Eureka in Eureka Seven, Mikuru Asahina in The Melancholy of Haruhi Suzumiya, Yui in Sword Art Online, and Aria in Saint Seiya Omega. In 2014, she became the voice of Usagi Tsukino, the title character in the Viz Media dub of Sailor Moon.
Voices
Jak: Shadows of Darkness - Rayn
Jak: Rise of the Dawn - Rayn
Psonic X Touhou - Tsubasa Hanekawa
Saint Seiya (Full English Dub Cast) - Freya, Aria
Spruce and Gimli - TBA
Just Dance - Jane
Balto IV: Northern Howl - Rosy
Assassin's Journey - Orihime Inoue, Aries (Replaces Didi Duron)
My Hero's Moon Justice - Usagi Tsukuno/Sailor Moon, Female Announcer
Tekken X Disney Universe - Asian-American Female News Reporter
Yu-Gi-Oh! Starlight Heroes - Lilybeth, Shade
Kingdom Hearts vs. Sword Art Online - Yui, Rosy
Shinzo (2015 Anime) - Bastet
Beverly Hills Teens - Bianca Dupree
NASCAR: The Animated Series - Addison Lansing
Digimon All Star Party - Labramon and Minami Uehara
Palace Pets - Treasure, Petit, Blossom
Palace Pets Party - Treasure, Petit, Blossom
Palace Pets (film) - Treasure, Petit, Blossom
Palace Pets: Legends of Animalia - Treasure, Petit, Blossom
Known for
Yui Hirasawa from K-ON!
Hinata Hyuga from Naruto
Usagi Tsukino/Sailor Moon from Sailor Moon
Yui from Sword Art Online
Treasure, Petit, and Blossom from Disney Princess Palace Pets
Lotte Jansson from Little Witch Academia
M from Haruhi
Roles gallery
Community content is available under
CC-BY-SA
unless otherwise noted.