WARNING:

This article is a non-fanon page. Non-fanon means if it is not fanmade or it is also canon.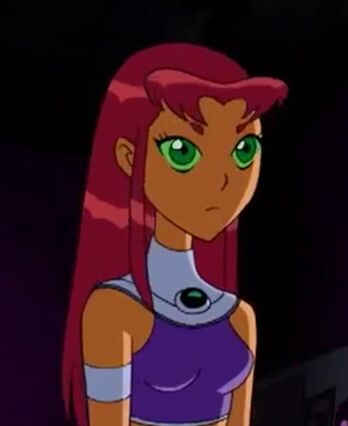 Starfire (Princess Koriand'r) is a fictional superhero appearing in books published by DC Comics. She debuted in a preview story inserted within DC Comics Presents #26 (October 1980) and was created by Marv Wolfman and George Pérez. The name "Starfire" first appeared (for an unrelated character) in a DC Comic in the story "The Answer Man of Space," in Mystery in Space #73, February 1962, written by Gardner Fox.
In 2013, Starfire placed 21st on IGN's "Top 25 Heroes of DC Comics."
Starfire has appeared in numerous cartoon television shows and films, including as a member of the Teen Titans in Cartoon Network's eponymous series, voiced by Hynden Walch. Koriand'r makes her live adaptation debut in the DC Universe and HBO Max series Titans, played by Anna Diop.
Biography
Canon Media
Koriand'r, Starfire's given name, is a princess of the fictional planet Tamaran in the Vega system, and was in line to rule the planet as queen. Komand'r (also known as Blackfire), her older sister, developed a bitter rivalry with her after suffering a disease in infancy that robbed her of the ability to harness solar energy to allow her to fly, and by extension, her right to the throne. This rivalry continued and intensified when the siblings were sent for warrior training with the Warlords of Okaara. Things came to a head during a sparring exercise in which Komand'r attempted to kill her sister. As a result, Komand'r was expelled and she swore vengeance.
That revenge came in a plot where Komand'r betrayed her planet by supplying detailed information about Tamaran's defenses to their enemies, the Citadel. They conquered Tamaran with ease, and the surrender conditions included the enslavement of Koriand'r, who was never permitted to return, since that would mean the Citadel would devastate the planet for abrogating the treaty. To her horror, Koriand'r learned that Komand'r was her master; her own older sister made the most of her sibling's years of horrific servitude. When Koriand'r killed one of her captors, Komand'r decided to execute her as punishment, but the sisters were attacked and captured by the Psions, a group of sadistic alien scientists. While performing deadly experiments on the sisters to test their energy absorbtion limits, the Psion were attacked by Komand'r's forces. Koriand'r broke free using her newly developed starbolts, destructive blasts of ultraviolet energy which were a result of the experiment. Out of familial loyalty, she freed Komand'r, who was still absorbing more amounts of ultraviolet energy. Far from grateful, Komand'r contemptuously struck her sister down with the same, but with more intensity and power and had her restrained for later execution.
Koriand'r escaped by stealing a spacecraft to flee to the nearest planet, Earth, where she met the first Robin and his compatriots; she joined them in forming the Teen Titans. She became a charter member of this team and remained a member for years, finding work as a professional model using the name Kory Anders.
In Idea Wiki media
Joint ideas
Starfire appears as a DLC playable character in DC vs. Sega, voiced by Olivia Hack. In her Arcade Ending, following Blackseid's defeat, Starfire has decided to explore other planets "beyond both Earth and Tamaran" with an interest in forming new friendships. She eventually makes new friends with the Wisps on their planet.
Character
Personality
Despite her beauty, Starfire is cheerful, naive, and somewhat insecure, but her naivete is not to be mistaken for stupidity. An alien and an outsider, she is still rather new to Earth and its customs. (For example, she did not understand what a boy meant when he asked if she was "diggin' the scene" when she was at a party, and stated, confused, "I did not know we were supposed to bring shovels.") This leads to much confusion for her and others, such as the awkwardness in casually drinking mustard as a beverage, and thinking cotton candy and cotton balls are the same thing. She takes friendship very seriously, and is easily distressed when others, especially her friends, argue or fight. Starfire is particularly indignant to the point of snubbing her teammates when she believes they do not care for her friendship or company. She is arguably the most social of the Titans, regularly meditating with Raven, or lifting weights with Cyborg.
Appearance
Starfire is shown to be very beautiful. Her eyes, hair, skin, and outfit view her as colorful in comparison to Raven. Her long fiery-red hair is down to her waist and straight with bangs. She has small eyebrows, and green eyes with light-green scleras (or in other words, the whites of her eyes are colored light-green). She is tall, with bright orange skin, (or it seems to have a yellowish skin tone in the comic strip above), and her outfit is mostly violet with a belt, her neck and gauntlets being silver. She also wears an armband on her right arm, which is also silver. She wears a violet sleeveless crop top showing her midriff, a violet mini-skirt, and violet thigh-high boots with white stockings. As a Tamaranean, she has alien physiology which includes a long purple tongue and nine stomachs, (probably for storing food during meager times). She also seems to resemble some Japanese girls, inheriting similar eyebrows and very shiny hair.
Relationships
Galfore
Cyro
Wildfire
History
Quotes
See also: Starfire/Quotes
Appearances in Idea Wiki media
Gallery
Trivia
Her hair color is different from Teen Titans (2003-2006) and Teen Titans Go!. In the original, her hair is red. In the spinoff, her hair is hot pink.