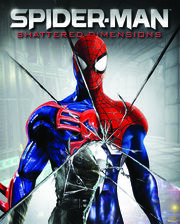 #Developed by Ubisoft
Published by Marvel
Platforms: Xbox Two, PlayStation 5, Wii U, 3DS, PlayStation Vita
Genres: Beat 'em Up, Stealth, Action-Adventure, Platformer, Hack 'n Slash, First-Person Shooter and Fantasy
Rating: E10
Spider-Man: Shattered Dimensions 2 is a video game featuring Marvel character Spider-Man. Building atop the first game, Shattered Dimensions 2 includes the four Spider-Men from last game, as well as new Spider-Men across the expansive Marvel Multiverse.
Gameplay
Gameplay is similar to the first Shattered Dimensions. Each universe of Spider-Man includes a different play style. Amazing has the platforming aspect, 2099 is a beat-'em up, Noir is stealth, and Ultimate has the symbiote powers. The other new universes have subtle changes to the gameplay, such as the Assassin's Creed-esque free-run game play of Spider-Man 1602, the werewolf meter for the Marvel Werewolves universe, and even sword play from Camelot Spider-Man.
The first person sequences from SD1 are replaced for first-person shooting segments in 25 Years From Now universe.
Synopsis
Setting
Shattered Dimensions 2 is set in various locations, but more often than not takes place in New York City. Players will also visit a deactivated jungle facility, Honk Kong, and even Outer Space.
Plot
Mysterio once again returns to wreak havoc on the universe looking for the Tablet of Order and Chaos! Amazing Spider-man, Spider-man 2099, Ultimate Spider-man, and a new member of the team, Kid Arachnid, are called into action once again!
Levels
1. The Team Unites
After Amazing Spider-man failed to stop Mysterio from getting away with a fragment of the Tablet of Order, Madame Web tells him that the fragment Mysterio stole is just the one of many of them. Spider-man swings to the location of the first fragment.
Characters
Spider-Men
All the universes of Spider-Man you can play as. While some focus more strongly in the plot than others, and some have more missions than others, each Universe plays a significant role.
Amazing Spider-Man (Amazing)
Ultimate Spider-man (Ultimate)
Spider-man 2099 (2099 Universe)
Kid Arachnid (Ultimate)
Villains
Beetle (Mainstream/Ultimate)
Boomerang (Mainstream/2099)
Carnage (Mainstream/Ultimate/Spider's Reality/The Other)
Chameleon (Mainstream/2099)
Doctor Octopus (All Universes)
Electro (2099/Noir)
Green Goblin (All Universes)
Hammerhead (Noir/25 Years From Now)
Hobgoblin (2099)
Hydro-Man (Mainstream)
Jackal (Mainstream/Ultimate)
Kingpin (Mainstream/25 Years From Now/Larval/1602)
Kraven the Hunter (Zombiverse/Werewolves/India)
Lizard (Mainstream/Noir/1602)
Molten Man (Mainstream)
Morbius (Noir/Zombiverse)
Mysterio (All Universes)
Rhino (Ultimate/Camelot)
Sandman (Mainstream/India/Apes)
Scorpion (Mainstream/Camelot)
Shocker (Mainstream/2099)
Silvermane (25 Years From Now/1602)
Alistair Smythe (Noir/2099)
Spot (Mainstream/Larval)
Swarm (India)
Tinkerer (Mainstream/16-2)
Venom (All Universes)
Vulture (Noir/1602)
Supporting Characters
Aunt May
Mary Jane Watson
J. Jonah Jameson
Harry Osborn
Gwen Stacy
Black Cat
Flash Thompson
Silver Sable
Madame Web
Player Single or Co op
Only 1 Player, 2 Players, 3 Players or 4 Players can play the game
Pegi Rating: 7
Community content is available under
CC-BY-SA
unless otherwise noted.