This idea is a joke.

It is a joke idea made only for fun. It is not meant to be taken seriously.
South Park: TV Party is a action party video game developed and published by Ubisoft, the game is based on the american adult animated sitcom South park created by Trey Parker, and Matt Stone, the game can let you play over 79 characters from the south park franchise, the game was released for Xbox 360, Playstation 3, Wii, Nintendo DS, PlayStation Portable, and Microsoft Windows, in August 2008
Gameplay
Minigames in South Park TV Party are played in a mode know as Channel Quest, which is divided into seven channels of the TV, MTV, BET, Spike TV, E! Channel, TNT, FOX, and the last channel is Comedy Central, each channel has 10 minigames, 5 of which are randomly chosen each time a player begins a channel, Completing a channel unlocks new characters, new costumes, and those minigames, which can later be played individually through Free Play mode, Additionally, players can use a Channel Customization mode where you get to create your own channel using the available minigames
Plot
Cartman, Kyle, Stan, Kenny, are stuck in a world called Channel Universe, where the boys found an old school tv screen at south park, the tv had a note said DO NOT TOUCH!, and their was a dead skeleton body holding the tv, so the boys did not listen to the note, so they decided to plug up the tv at the broflovski residence, sense they plug up the tv their was a big blue light on the tv saying press the power button, kyle pressed the button and the tv was sucking kyle into the tv, cartman, stan, and kenny both got sucked in, the boys are spinning in a giant vortex to the next universe, and now they made it to channel universe. A universe where you get to go into different channels, but a cube named VIC, needs the boys help, vic wants the boys to stop HEX, a bad cube who can destroy other channels, and can bring other enemies to life and good guys back to life, so it's up to the boys to save channel universe, before it is too late, if the boys die in channel universe, they die in real life so they better watch out.
Modes
Story
Free Play
Channel Quest
Channel Customization
Theater
Arcade
Store
Megaclicker
TV Clips
Online Mode
Options
Character Customization
South Park TV Party features an ability to create both south park characters as well as your avatar, these outfits are often parodies or references to famous movies and video games, Inculding, Spider-Man, Superman, Indiana Jones, Batman, Star Wars, Super Mario, Assassin Creed, and more, and also, once you start the game, you can get to pick your own appearance, you can be a 4th Grader, a Fat Person, a Kindergartner, a Adult, A 5th Grader, a 2nd Grader, a 3rd Grader a 9th Grader, A 6th Grader, a 7th Grader and a Canadian.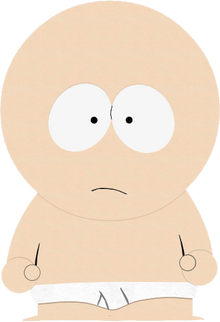 Characters
Bosses
Death

File:Death.png

Barbra Streisand
Hitler Cartman
Coon & Friends
Ginger Kids
TBA
Costumes
Hitler Cartman (Cartman's Costume)
King Cartman (Cartman's Costume)
Fingerbang Cartman (Cartman's Costume)
Dream Fingerbang Cartman (Cartman's Costume)
Hitler Halloween Costume Cartman (Cartman's Costume)
Prototype Cartman (Cartman's Costume)
Formal Cartman (Cartman's Costume)
Cop Cartman (Cartman's Costume)
African American Cartman (Cartman's Costume)
Ginger Cartman (Cartman's Costume)
Metrosexual Cartman (Cartman's Costume)
The Coon (Cartman's Costume)
TBA
Minigames
Shit Happens
In this minigame your character needs to take the biggest shit ever, all you need to do is, once the game starts, tap the button fast to make the shit come out of your ass, after that, move and spin the left & right control stick to make the shit fall out, who ever makes the biggest shit ever wins.
Say Cheese
In this minigame your character needs to smile to the camera, once the game starts, press the left & right triggers to make the chair go up, so your character can see the camera, once your character smile to the camera, press the action button, who ever makes the best picture wins.
OMG We Killed Kenny
in this minigame your character needs to kill kenny, once the game starts, you can select eleven objects to kill kenny with, a Chainsaw, a Crusher, Electricity, Fire, Water, Smoke, Nails, Glass, Mouse Traps, a Rock, and hanging from a rope who ever kills kenny the most wins.
TBA
Community content is available under
CC-BY-SA
unless otherwise noted.