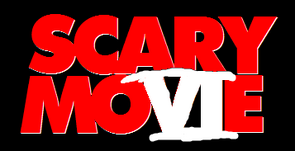 THIS IS ONLY AN IDEA FROM A FAN
Scary Movie 6 is an upcoming 2020 horror comedy parody film. It parodies The Conjuring, Get Out, The Purge series, Poltergeist, The Babadook, Happy Death Day, Lights Out, Split, and Don't Breathe.
Summary
The sixth and final installment of the "Scary Movie" franchise.
Plot
Takes place 6 years after "Scary Movie 5".
Cast
Anna Faris as Cindy Campbell
Regina Hall as Brenda Meeks
Ashley Tisdale as Jody Sanders
Erica Ash as Kendra Brooks
Marlon Wayans as Shorty Meeks
Shawn Wayans as Ray Wilkins
Parodies
The Purge
Annabelle
Get Out
The Conjuring
The Babadook
Poltergeist
The Purge: Anarchy
The Purge: Election Year
The Purge: The Island
Happy Death Day
Lights Out
The Nun
Don't Breathe
Split
It
Transcript
Main Article: Scary Movie 6 (2019)/Transcript
Trivia
This film lasts TBA minutes long.
The final installment of the "Scary Movie" series.
It will be distributed by Dimension Films.