Sandra Delfini

Voiced by:
Grey Delisle Griffin
Occupation:
High School Student
Family:
Samantha Delfini (mother)
Paul Delfini (brother)
Status:
Alive
Alias:
Cause of Death:
Date of Birth:
Abilities:
Water powers
Color:
Blue
Sandra Delfini is a tomboyish girl and a member of the Star Teens group. She's 14 years old and lives in Orlando, Florida with her parents and her little brother Paul. She attends Osceola County Community High School with her friends Ella, Inidra, Felicia, Lisa, Tanya, Sheila, and Kevin. Her surname is Greek for "dolphin".
Appearance and Wardrobe
Sandra wears a blue-grey hoodie with a green-and-orange striped T-shirt inside, a pair of light tan khaki pants, and blue sneakers. Her boy cut hair is light brown, and her eyes are brown. She has freckles on her cheeks. Believe it or not, her voice is a homage to Sam Manson's and Lor McQuarrie's. Plus, as a high school cheerleader, her outfit is red and blue; it resembles a tanktop and skirt, and the pompoms were red and blue. She wears a golden crown on her head with a blue gem in it, her outfit is made out of a blue leotard with a dark blue skirt, her pantyhose is light blue, her shoes are blue, and so are her fingerless gloves and face mask.
Powers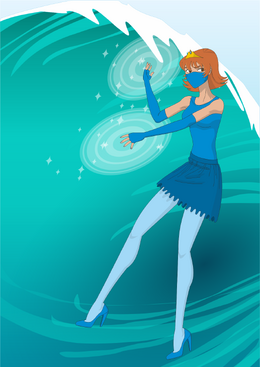 She has the power to control water by creating waves and a water wall and extinguishing wildfires that burn forests.
Gallery
Community content is available under
CC-BY-SA
unless otherwise noted.