WARNING:

This article is a non-fanon page. Non-fanon means if it is not fanmade or it is also canon.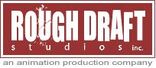 Rough Draft Studios, Inc. is an American/Korean animation production company based in Glendale, California founded by Gregg Vanzo. The company has second studio in located in Glendale and a sister studio, Rough Draft Korea, in South Korea.
List of Projects that they had produced
FernGully: The Last Rainforest (1992)
The Ren & Stimpy Show (1992-1995)
The Simpsons (1992-present)
The Thief and the Cobbler (1992, ink and paint)
Beavis & Butthead (1993-1997, 2011)
Benjamin Blumchen (1993)
RoboCop 3 (1993, Johnny Rehab commercial)
The Critic (1994-1995)
The Brothers Grunt (1994-1995)
The Maxx (1995)
Timon And Pumbaa (1995, 8 shorts)
Eek! Stravaganza (1995, Klutter segments only)
The Twisted Tales Of Felix The Cat (1995-1996)
The Nanny (1995, Oy To The World)
Rocko's Modern Life (1996, Fatal Contraption and Season 4 only)
Dexter's Laboratory (1996-1999, 2001-2003)
Pinky And The Brain (1996-1998)
Jumanji (1996, 6 episodes of Season 1)
What a Cartoon! (1996-1997, "Buy One, Get One Free*" and "The Zoonatiks, in Home Sweet Home" only)
King Of The Hill (1997-2001, 30 episodes)
The Angry Beavers (1997-2001)
Happily Ever After: Fairy Tales for Every Child (1997, 5 episodes of season 2)
Johnny Bravo (1997, season 1)
Cow And Chicken (1997-1999)
I Am Weasel (1997-2000)
Daria (1998, season 2)
CatDog (1998-2001)
Oh Yeah! Cartoons (1998-2001)
Pinky, Elmyra & the Brain (1998)
The Powerpuff Girls (1998-2005)
Futurama (1999-2003, 2008-2013)
Dilbert (1999-2000)
Spongebob Squarepants (1999-present)
Dragon Tales (1999-2005)
Chalkzone (1999-2000, season 1)
Baby Blues (2000)
Family Guy (2000-2001, 8 episodes of season 2)
The Cartoon Cartoon Show (2000-2001)
Sammy (2000)
Jackie Chan Adventures (2000-2002)
The Powerpuff Girls Movie (2002)
Stickfigures: The Series (2002-2005, also did both movies)
Alex Adventures (2003-2009)
Duck Dodgers in Attack of the Clones (2003, animated short)
Star Wars: Clone Wars (2003-2005)
The Whizzard of Ow (2003, animated short)
Drawn Together (2004-2007)
The SpongeBob SquarePants Movie (2004)
A Fairy Tale Christmas (2005)
The Simpsons Movie (2007)
Futurama: Bender's Big Score (2007)
59th Primetime Emmy Awards (2007, opening number)
The Pink Panther 2 (2009)
Sit Down, Shut Up! (2009)
How Murray Saved Christmas (2014)
Cuphead (2017-present)
Bobby's World: The Movie (2020)
Max's Extremely Goofy College Life
Garfield (2021)
Community content is available under
CC-BY-SA
unless otherwise noted.