WARNING:

This article is a non-fanon page. Non-fanon means if it is not fanmade or it is also canon.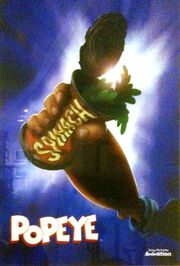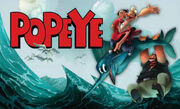 Popeye is an upcoming 2022 American Computer animation family action comedy film produced by Sony Pictures Animation, distributed by Columbia Pictures and developed by King Features Syndicate. The film is loosely based on the comic strip Popeye by E.C. Segar, is scheduled to be released on December, 2022.
The film features the voices of Tom Kenny, Grey DeLisle, Alec Baldwin, Frank Welker, William Baldwin, Billy West and Zac Efron.
Plot
Popeye (Tom Kenny) and Bluto (Alec Baldwin) must put their differences aside to save Olive Oyl (Grey DeLisle) from a tyrannical navy general (Zac Efron) who's threatening to destroy Popeye's village and wage world war, Now with the help of Poopdeck Pappy (Billy West), Eugene the Jeep (Frank Welker) and the entire fleet Popeye and Bluto might have a chance of stopping the tyrannical general and his massive army.
Cast
Tom Kenny as Popeye the Sailor, the main protagonist and navy seal.
Grey DeLisle as Olive Oyl, Popeye and Bluto's love interest constantly fighting over.
Alec Baldwin as Bluto, the deuteragonist that teams up with Popeye and Poopdeck Pappy to save Olive Oyl, the village, the country, the world, the galaxy, and the universe.
Frank Welker as Eugene the Jeep, A mysterious animal with magical abilities and Popeye's loyal pet.
William Baldwin as J. Wellington Wimpy, A soft-spoken, very intelligent, and well educated, but also cowardly, very lazy, overly parsimnious and utterly gluttonous. He is also something of a scam artist and, especially in the newspaper strip, can be notoriously underhanded at times.
Billy West as Poopdeck Pappy, Popeye's 99 year-old dad and navy veteran.(Robin Williams was originally going to voice him, but when Williams died, he was replaced by Billy West.).
Zac Efron as General Jogan Salvegler, a tyrannical navy general and the main antagonist that plans on destroying Popeye's village and wage world war. He's also a kidnapper of Olive Oyl.
Production
In March 2010, it was reported that Sony Pictures Animation is developing a 3-D computer-animated Popeye film, with Avi Arad producing it. In November 2011, Sony Pictures Animation announced that Jay Scherick and David Ronn, the writers of The Smurfs, are writing the screenplay for the film. In June 2012, it was reported that Genndy Tartakovsky will be the director that has been set to direct the feature, which he plans to make "as artful and unrealistic as possible", making this a fantasy film. In November 2012, Sony Pictures Animation set the release date for December, 2015. It will be the second Popeye film to be animated in CGI, first being Popeye's Voyage: The Quest for Pappy, which premiered on FOX on November 9, 2004.
Community content is available under
CC-BY-SA
unless otherwise noted.