PlayStation Flex
, also known as
PSFlex
, is a Japanese-American handheld video game console marketed as part of the
PlayStation
brand, being developed and marketed by
Sony Interactive Entertainment
since December 4th, 2019.
Games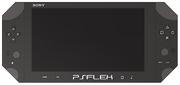 Note: * = digital download only.
Launch games
Published by Sony Interactive Entertainment
Third-party
Mortal Kombat 11
Madden NFL 20
NBA Live 20
FIFA 20
NHL 20
Pro Evolution Soccer 2020
NBA 2K20
WWE 2K20
Post-launch
Published by Sony Interactive Entertainment
Detroit: Become Human: Flex Edition
Death Stranding
MediEvil
Last of Us Part II
Third-party
Activision Blizzard
Crash Bandicoot N. Sane Trilogy
Spyro Reignited Trilogy
Crash Team Racing Nitro-Fueled
Overwatch*
World of Warcraft*
Electronic Arts
The Sims 4*
Madden NFL series
NBA Live series
FIFA series
NHL series
UFC series
Ubisoft
Warner Bros. Interactive Entertainment
Cyberpunk 2077 (North America only)
Capcom
Square Enix
Konami
Pro Evolution Soccer series
Bandai Namco Entertainment
Cyberpunk 2077 (Europe and Oceania only)
Take Two Interactive
Grand Theft Auto V
Borderlands 3
NBA 2K series
WWE 2K series
Bethsesda
Others
Minecraft
Fortnite*
Untitled Goose Game
Showdown Bandit
Bendy and the Ink Machine/Bendy and the Dark Revival
Five Nights at Freddy's series
Bundles
Precursor Bundle (includes the system, Jak and Daxter: The Precusors Rise, a poster and a season pass for DLC)
Fortnite Bundle (includes the system, the Fortnite download code and an exclusive skin pack)
Trivia
This console is PlayStation's third handheld system, being a successor to both PlayStation Portable and PlayStation Vita.
The choice of the word "Flex" was due to its portable use and its originality.
Most games are released through an updated version of the UMD and through digital download at the PlayStation Store.
Community content is available under
CC-BY-SA
unless otherwise noted.