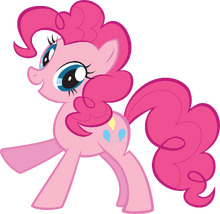 Pinkie Pie is one of the Mane 6 members from My Little Pony. She first debuted in Generation 3.
Family
Pinkie Pie has a mother named Cloudy Quartz, a father named Igneous Rock and about 3 sisters named Limestone, Maud and Marble. Some fans assume that Peachy Pie is Pinkie's youngest sister hence the name "Pie".
Gallery
Pony form
Human form
Community content is available under
CC-BY-SA
unless otherwise noted.