Phoney

Occupation:
Cellphone owner
Voiced By:
N/A
Family:
Knucklehead (father)
Dimwit (mother; deceased)
Dummkopf (sister; deceased)
Unnamed aunt (deceased)
Status:
Deceased
Cause of Death:
Epilepsy
Alias:
Phoney
Date of Birth:
July 13, 1997
Alignment:
Good/Neutral
Abilities:
Cellphone
Other gadgets
Gender:
Male
Age:
11
Inspiration:
N/A
Nationality:
N/A
Race:
N/A
Introduction
Phoney is an exclusive character from Dumb Ways To Die, who died in the print ad, "Jump on the tracks to rescue your phone." He is the son of Knucklehead and Dimwit, the brother of Dummkopf, and the nephew of his aunt.
Role In The Game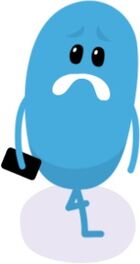 He is seen in the Dumb Ways to Die app, in the Mind the Gap minigame, where three of him are about to board a train - the player taps anywhere on the screen to make him jump. Moreover, he is the minor character of Dumb Ways To Die. He didn't appear in the music video, but he appears in the minigame. But actually, he dies because of the epilepsy. Epilepsy is Phoney's cause of death. His mother, his aunt, and his sister died too. Dimwit, the mother of Phoney had rheumatic heart disease, his aunt, the aunt of Phoney had cardial heart disease, and Dummkopf, the sister of Phoney had coronary heart disease. But, Knucklehead, the father of Phoney is still alive. Dimwit, Dummkopf, Knucklehead, and his unnamed aunt are the family of Phoney. In the game, his father left him.
Physical Appearance
He is blue, 11-years old, with a much more squat bean-like shape than Dunce, and is seen carrying a smartphone. His death is being run over by a train, being diced in thirds, in an attempt to save his phone. His birthday is on the 13th of July.
Portrait
Name: Phoney
Nickname: Phoney
Real Name: N/A
Gender: Male
Age: 11
Alignment: Good/Neutral
Birthday: 7/13/1997
Sign: Cancer
Voice: N/A
Trivia
He is frequently seen at North Melbourne train station and Richmond train and black burn station.
He is the son of Knucklehead and Dimwit.
He is also the deceased character of DWTD.
He has a deceased family except his father, Knucklehead. But, his mother, Dimwit and his sister, Dummkopf are deceased, too.
He has an aunt but, doesn't have a name. However, his aunt died too.
Actually, he is Knucklehead and Dimwit's deceased son, his aunt's deceased nephew, and Dummkopf's deceased brother.
His real name is unknown.
He doesn't have a voice actor but, it was to-be-announced.
His cause of death was epilepsy.
Community content is available under
CC-BY-SA
unless otherwise noted.