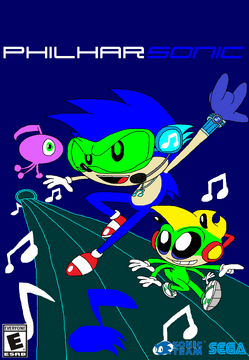 PhilharSonic is an upcoming music rhythm video game developed by Sonic Team and published by Sega for Microsoft Windows, Playstation 4, Xbox One, Nintendo Switch, PSVita, and Nintendo 3DS. An installment in the Sonic the Hedgehog series which the plot focuses on Sonic and Magenta Wisp visiting Music Plant (a stage from Sonic Advance 2). While there, they encounter Dr. Eggman as he drains all the music and rhythm all across the plant, bringing the entire plant into nothing but total silence. joining up with both Sonic and Magenta Wisp is a music-loving Grasshopper named Tempo who hails from Planet Rhythmia. together, they team up to revive the rhythm all across Music Plant and stop Dr. Eggman once again.
Gameplay
The gameplay is different from most Sonic games, in that the player must press buttons and the analog sticks according to the sequence on-screen (it depends on what console the player is playing on), and on the handheld versions, the player must tap the musical notes on the screen. The game also includes a variety of songs from past Sonic titles such as Sonic Colors, Sonic Heroes, Sonic Rush, Sonic Rush Adventure, Sonic Unleashed, Sonic Adventure, Sonic Riders, and Sonic Adventure 2. and various songs from Sonic Cartoons such as Sonic X, Sonic SatAM and Sonic Underground.
List of Songs
Live and Learn (Sonic Adventure 2)
Open your Heart (Sonic Adventure)
Escape From the City (Sonic Adventure 2)
Sonic Heroes (Sonic Heroes)
Sonic Boom (Sonic CD)
Super Sonic Racing (Sonic R)
It Doesn't Matter (Sonic Adventure)
Sonic Speed Riders (Sonic Riders)
A New Day (Sonic Rush)
What U Need (Sonic Rush)
His World (Sonic the Hedgehog)
Endless Possibility (Sonic Unleashed
Let the Speed Amend it (Sonic and the Secret Rings)
I Am... All of Me (Shadow the Hedgehog)
Knight of the Wind (Sonic and the Black Knight)
Seven Rings in Hand (Sonic and the Secret Rings)
Believe in Myself (Sonic Adventure)
A New Venture (Sonic Rush Adventure)
You Can Do Anything (Sonic CD)
Free (Sonic Free Riders)
Reach for the Stars (Sonic Colors)
Supporting Me (Sonic Adventure 2)
What I'm Made Of... (Sonic Heroes)
Fly in the Freedom (Sonic Adventure 2)
Fastest Thing Alive (Sonic SatAM)
Working Together in Harmony (Sonic Underground)
SONIC DRIVE (Sonic X)
Fu-tu-re (Sonic X)
T.O.P. (Sonic X)
The Shining Road (Sonic X)
Community content is available under
CC-BY-SA
unless otherwise noted.