Pharrell Lanscilo Williams[1] (/fəˈrɛl/; born April 5, 1973) is an American rapper, singer, songwriter, record producer, entrepreneur, and fashion designer. Williams and Chad Hugo comprise the record production duo The Neptunes, producing hip hop and R&B music. He is the lead vocalist of the band N*E*R*D, that he formed with Hugo and childhood friend, Shay Haley.
Early life
Williams was born on April 5, 1973, in Virginia Beach, Virginia,[7][8] the oldest of three sons of Pharaoh Williams, a handyman, and his wife Carolyn, a teacher.[9] His roots extend for generations in Virginia and North Carolina, and one of his ancestors journeyed to West Africa in 1831, prompting other relatives to emigrate from America to Liberia in 1832.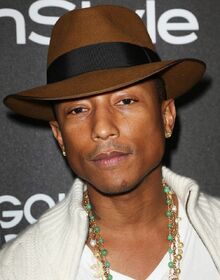 He met Chad Hugo in a seventh-grade summer band camp where Williams played the keyboards and drums and Hugo played tenor saxophone. They were also both members of a marching band; Williams played the snare drum while Hugo was drum major.[11][12]Williams and Hugo attended Princess Anne High School where he played in the school band; there Pharrell got the name Skateboard P.[13] Hugo attended Kempsville High School. In the MTV show When I Was 17, Pharrell stated that he was a nerd and often did things that made him stand out from most of his peers.[14] Williams attended Northwestern University for two years before dropping out.[15]
In the early 1990s, Hugo and Williams formed a four-piece "R&B-type" group, the Neptunes, with friends Shay Haley and Mike Etheridge. They later entered a high school talent show where they were discovered by Teddy Riley, whose studio was next to Princess Anne High School.[16] After graduating from high school, the group signed with Riley.
Community content is available under
CC-BY-SA
unless otherwise noted.