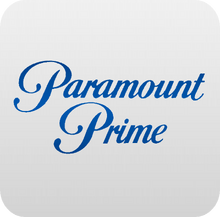 Paramount Prime is a streaming service created for Paramount Pictures as to showcase content for ages 8-15. This includes several pieces of Paramount's known media and franchises, as well as including content from ViacomCBS' television network Nickelodeon (75% from its animated content and 25% from its live-action content), along with some content from the CBS Entertainment library, which includes Star Trek.
Like Disney+, it features content suitable for family audiences (i.e. excluding content that's R-rated or TV-MA-rated).
Content providers:
ViacomCBS
Paramount

Paramount Pictures
Paramount Television Studios
Paramount Animation

Nickelodeon

Nickelodeon Animation Studio
Nickelodeon Productions
Nickelodeon Movies

CBS Entertainment

CBS Television Distribution
CBS Films
Third party
Columbia Pictures (for The Indian in the Cupboard and 2005's The Longest Yard)
Tropes related to Paramount Prime:
Alliterative Name: Paramount Prime.
Content Warning: While the streaming service is family-friendly, it features a range of some suggestive content in some of its movies, so it will have a warning shown before the following movie saying it will contain "brief mild language" or "stylized violence".
Digital Destruction: Averted for the most part. The featured shows, mainly the Nicktoons, are featured in the respective quality they had been introduced in.
Double-Meaning Title: Paramount Prime features many movies from Paramount's past, as well as being a service centered around family-oriented content, if not content for young audiences. Hence the name.
Exiled from Continuity:

While it's featuring various franchises from Paramount, Nickelodeon's film division, Nickelodeon Movies, was only allowed to have only its CGI-animated films featured on the app; excluding all live-action, 2D animated, and live-action/animated hybrid films. Fortunately, there are the live-action shows.
If you're deciding to find Star Trek: Discovery, Star Trek: Picard, the other follow-up Star Trek shows or even the Kelvin Timeline trilogy on Paramount Prime, don't get your hopes up. The streaming service is streaming content only related to Star Trek: The Original Series so CBS All Access can keep at least a reasonable amount.
Nick's original content on Netflix, such as Glitch Techs, is excluded to distance itself from it.

Follow the Leader: It's no guess it's a family-friendly streaming service and presenting suitable content from the studios' film and television library, similar to Disney+.
Network to the Rescue: It features various shows that weren't given a DVD or Blu-ray release. Those being the Nicktoons series nonetheless.

And for those Betty Boop aficionados, it features the Betty Boop short subject filmography from 1932 trough 1939; including the banned ones. Of course, there will be some Content Warning nonetheless.

Orwellian Retcon:

For CBS Films' movies, Lionsgate's logo is removed from the beginning of the opening logos to the selected films The DUFF and Middle School: The Worst Years of My Life.
With the Nicktoons series, their closing logos have the Nickelodeon Animation Studio logo and Paramount Television Studios logo (either a 1975 Blue Mountain version for the 2D-animated shows and the regular one for the CGI series).

Screwed by the Layers:

It's pretty obvious that Paramount won't be able to have the DreamWorks Animation 2006-2012 library due to NBCUniversal now owning the rights to DWA.
Fortunately, there are two aversions:

The Indiana Jones franchise was included since Paramount had distributed back in the day. Also, Paramount still owns the distribution rights to the first four movies and the prequel series.
Through Loophole Abuse, Doug is currently owned by Disney, but its first four seasons are available on Paramount Prime since they were produced by Nickelodeon and are pre-Disney, while its last three seasons are on Disney's streaming service Disney+.
Community content is available under
CC-BY-SA
unless otherwise noted.