Is a first stop motion animation movie of Comic Adventures Animation.
Released:
TBA

</li>

From the Creators (Comic Books): Spy Boys and Mystery Man












Plot:
In Oripolis, City of Origami World. Mr Scissors to destroy the city. Dragon is a ordinary tale,  Lion believed to the wild ride adventure. To stop the villain.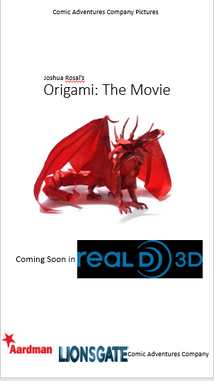 A origami mastermind, to
save the world.
Cast:
Joshua Rosal as Origami Characters, Mr Scissors, Narrator.
Studio:
·         Aardman Presents
·         Comic Adventures Animation
·         Lionsgate Pictures
      Credits:

==Box Office: ====Running Time:==



Trailers:
Quotes:

</li>
·

        

 Characters:
===

​Origami

======

​3D Origami

======

Villains 

=====

Soundtrack:

==

 

</li> </li> </li>






Produced by Joshua Rosal
Models by Satoshi Kamiya, Robert J Lang, Stephen Weiss and more!
TBA!
TBA!
Teaser Trailer, Trailer#1 and Trailer#2 coming soon due in 2018 june! 
Dragon: What code to open the last door? Hurry!
Snake: It's 234510
Horse: Ok! I try 234510! 
Guard: There he is! Get them!

Origami Dragon #6 by Jo Nakashima

Origami Lion by Robert J Lang

Origami Horse by Roman Diza

Origami Snake by Jo Nakashima

Origami White Dragon

Origami Dinosaur by Jo Nakashima

Origami Elephant

3D Origami Swan

3D Origami Buildings

3D Origami Dragon

3D Origami Night Fury 

3D Origami Castle

3D Origami Mini Swan

Mr Scissors

Fire Guards 

Fire Monsters 

Get This Party Started
</li>
​Bouns Features on DVD:
#
Name 
About
1.
Short Film: Swan, Build Someting!
White Swan and Black and White Swan about what build some 3d origami? Should be? 
2. 
Sneak Peek: Paper Muppets
Check out the scene of Paper Muppets Clip out now in theatres! 
3.
Behind the Scenes: Origami: The Movie
Origami: The Movie what behind the paper folding animation story was in Austraila. 
4.
Music of Origami: The Movie
Joshua Rosal made Behind the Music in Soundtrack in this movie. 
5.
Animatics
Origami: The Movie by using storyboard without any sciprts. Here some original storyboards.
6.
Trailers

Origami: The Movie Teaser Trailer

Origami: The Movie Trailer#1 

Origami: The Movie Final Trailer

Paper Muppets Teaser Trailer 

3D Origami: The Movie Teaser Trailer

Early Man Teaser Trailer 
</li> </li>

</li>
Community content is available under
CC-BY-SA
unless otherwise noted.