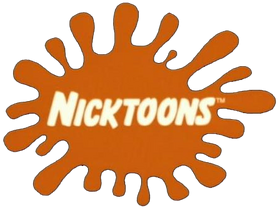 Nicktoons is an American animated television series produced by Nickelodeon. The series featuring the characters from the numerous Nickelodeon shows, such as SpongeBob SquarePants, Danny Phantom, Rocko's Modern Life, Rugrats, Jimmy Neutron, The Fairly Oddparents, My Life As A Teenage Robot, Ren & Stimpy, Doug, Aaahhh!!! Real Monsters, The Loud House, Harvey Beaks, Breadwinners, Oh Yeah! Cartoons, and others.
Premise
Characters
Other characters
Production
Broadcast
Episodes
Season 1
Pilot
The Paradise / Meddle In Middle
Spaghetti Day / The Space Chicken
SpongeBob's The Problem / 11 to 7 to Operation
Chocolate Quest
The Mine Bike / Snow Bound
Nicktoons Vs. Villains
Night of the Living Pizza / Detention
Space Invaders / Stage Nicktoons
The Cosmic Crystals I: Lost Chicken
The Cosmic Crystals II: Jimmy Neutron in Zone
The Cosmic Crystals III: The Lost World
Plankton's Revenge / Left in the House
Squidward in Team / Cats Escapes From The Nicktoons
The Cosmic Crystals IV: The Crystal Finale
Pisnic Truck / Danny Phantom Again Be Revenge
Birds Escapes From The Nicktoons
Too Many Five SpongeBobs / Too Short To Ride
Two Smalls, Double Nicktoons / The Queen of the Timmy Turner
The Big Finale (series finale)
Reception
Films
Trivia
In other languages
Brazil: Nicktoons: O Show (Nicktoons: The Show)
Community content is available under
CC-BY-SA
unless otherwise noted.