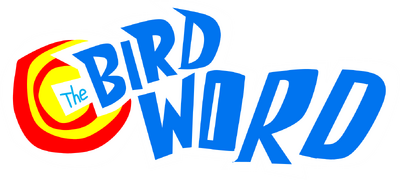 Nerdy Birdie! (renamed The Bird Word) is a Canadian-American animated sitcom produced by DHX Media and Saban Brands. It debuted on Nickelodeon on March 26, 2013, and YTV on April 20, 2013.
The series revolves around a Canadian teenage owl whose family moves to the United States.
On May 1, 2018, Saban sold its current products to Hasbro, which includes The Bird Word.
Broadcast
Nickelodeon (Canada, United States, France, Australia, China, India, Japan)
CITV (UK)
Teletoon (Canada; 2013)
Characters
The Dowse family
"Nerdy" Leonardo Gregory "Birdie" Dowse (voiced by Evan Fong/VanossGaming) is a kid who tries to live the life in America.
Mom Dowse (voiced by Stacey DePass) is Birdie's cheerful mother. She is a professional cook.
Dad Dowse (voiced by Sean Cullen) is Birdie's busy father who always has the time being busy on the computer.
Alex Dowse (voiced by Bryn McAuley) is Birdie's bossy sister.
Sandra Dowse (voiced by Sunni Westbrook) is the twin sister of Fred Dowse.
Fred Dowse (voiced by Kyle Breitkopf) is the twin brother of Sandra Dowse.
Bud Dowse (voiced by Mark Edwards) is Birdie's brother who's also an inventor.
Pets:

Pinky is the pet dog.
Albert is the pet cat.
Fluffy is the pet fish.
Birdie's friends
Butch "Flames" Bills (voiced by Michael Cera)
Frank and Frankie Win (voiced by Brian Froud and Katie Crown) are fraternal twins and best friends of Birdie.
Donny Shoewell (voiced by Colin Dean) is a nervous boy in the school.
Greg Gillman (voiced by Samuel Vincent) is the bully who becomes friends with Birdie.
Popstar Princess Pixel (voiced by Kazumi Evans) is America's famous popstar.
Villians
Benson Bills (voiced by Gage Munroe) is Birdie's enemy.
Queen Bossy (voiced by Julie Lemieux) is the bossy teacher of Birdie's.
Additional voices
Travis Turner
Ian Hanlin
Rebecca Husain
Sabrina Pitre
Lee Tockar
Alessandro Juliani
Matt Hill
Jason Simpson
Peter Kelamis
Mark Hildreth
Andrew Francis
Ty Olsson
Garry Chalk
Adrian Petriw
Giles Panton
Doron Bell Jr.
Ron Halder
Gabe Khouth
Alan Marriott
Guest voices
Episodes
Season One (2013-2014)
Birdie Goes America - Birdie Dowse is just your average nerd. But when his family move from Canmore, Alberta to Goodwater, Alabama, nothing will be the same.
The Cookie Chatters - The siblings fight over a box of cookies.
Break and Loss (and a Beanbag Toss) - Alex, Flames and Birdie break Mom's perfect picture.
My Roommate, a Squirrel - A squirrel refuses to leave the house.
Boredom - The kids use their imaginations on a rainy day.
Sister Knows Best - Alex is forced to become nice for an entire day.
Dragons, Dragons, and More Dragons - A board game leads to a big adventure.
The Crew's Cruise - Saturday mornings, the best place to watch cartoons. But when Birdie, Flames and the Wins accidentally set aboard a cruise trip, they must find a way back home.
Random Nerd - Bud and Birdie switch bodies.
Pups Never Lie - Frank and Frankie adopt homeless pets.
Keeping it Heal - Benson breaks his back.
Magic Backpack: Birdie behelms a magical backpack whose ability is to pull out random objects.
One Regular Boy on One Regular Day - Flames becomes "normal" after seeing his doctor.
S.O.D.A. (Serious Organization of Dangerous Activities) - The teachers make up new rules and become a fun-stopping team.
Freaks Beware! - The gang encounter new foes called the Freaks.
By the Rules - Mom and Dad set up house rules so that their kids would stop having fun.
The Win Twins Go Infinity (…and Beyond!) - The Win twins compete at the Big Fat School Games.
Boys' Day Out - The boys have a fun Saturday...but things don't go as planned.
Duck Dangerous the Dangerous Duck - The kids encounter a duck whose job is to keep children safe.
Nerd-itis - The family has a bad case of bird flu.
Fat Boy and Little Man - Flames becomes fat after eating too much junk food.
Twist the Time - Birdie tries to undo an embarrassing moment, but changes the course of the timeline.
I Ain't Allergic to Oranges - The Wins discover they're allergic to oranges.
Sixteen Little Things - Ned isn't ready to become 16.
All the Goodwater - Fresh air and clean water are ruined by a new evildoer.
Badwater (Season Finale) - Goodwater becomes an apocalyptic wasteland, and chances are Birdie's friends might miss him if he goes back to Canada on his birthday.
Season Two (2014-2015)
Boys' R Us - The boys have a day off...with Frankie and Alex joining on the fun.
Attack of the Nerds: A Halloween Special - Birdie's friends turn into...FREAKS!
Desertin' n' Nerdin': Birdie and Bud get lost in the desert...Until they are saved!
Game and Fortune - Greg and Donny compete to see who gets the highest score.
Birdie's Lazy Legs - Birdie relaxes and takes a swing at the internet.
It's Our Christmas Pleasure - Pinky hides the Christmas presents from the Dowses.
When They Go Rough, They Go Soft - Biff and Buff discover a little sinking feeling.
(Dis)agreements and Arguments - Frankie and Frank have a little dispute just before the Big Fat GamerCon XXVI would begin.
When You Fish Upon A Star - Fishing with dad isn't as what you'd normally expect for Birdie.
The Crazy Dude - Birdie tries to prove that he's cool.
Sweet S.O.D.A. - The S.O.D.A. team return—to plot revenge on the whole town!
Lie Another Day - Telling the truth means trouble for Donny and Greg.
No See, No Do - Birdie loses his glasses.
Dang! The New Nerd's In Town - The new kid named Wyldflower is shy because she thinks her new friends would laugh at her pink hair.
Reality Bites - Flames tries to make an awesome video.
Positive Thinking - Flames becomes smart.
A Nerdy Meltdown - Donny and Greg have a major meltdown.
Ruffin' It- Birdie tries to roughin' things up with Pinky, the family's pet guard dog.
Fashions Don't Do Makeup - Alex tries desperately to change the hair of Popstar Princess Pixel.
My Butt Buddy - Flames injures his rear, and the gang make it more comfortable for him.
The Nerd Word - What's it like if you're the one who has a special move?
Goof Off - The Annual Goodwater Goof-Off has many of Goodwater's goofiest goons getting gratefully grand.
The Nerd Is Inside Ya - Flames tries to solve a math equation.
Goodwater Day - Birdie is overwhelmed that the town's water is polluted.
Animal Behavior - Things go out of hand when a monkey heads into the house.
The Summer Starts Now! (Season Finale)
Season Three (2015-2016)
Popstar Nerd - Popstar Princess Pixel returns to Goodwater...and Birdie is in L-O-V-E.
Nerd Time Crime
Dojo Donuts
II Cool IV School - Birdie's dad butts him out when he fails to solve a quiz and has to attend school.
Freaks vs. Nerds: The Maximum Super-Mecha Kaiju Flow-Go Super-Sized Robot Episode - The Nerd Birds rival with the Neat Freaks...This time with giant robots!
Journey to the Center of the Nerd - When the Freaks take control of Frankie, the Nerd Birds take a fantastic voyage inside her body.
The Good, the Bad and the Nerd
The Glasses Don't Make the Nerd - Frankie must prove that she's officially a nerd.
Little Do Frank and Frankie Know...
Big Is Better, Small Is Not
Saints of Canada - Birdie recalls back where he hanged out with his old friends from Canada.
King of Mount Marshmallow - The boys camp out at Mount Marshmallow
Donny and Greg Do Nothing - Donny and Greg are stuck in another dimension alongside a van.
From Dumb to Smart - Frank becomes smarter and abandons his friends as a result.
Plain Nerd Bird
The Bacon-Nator - Bud creates an invention that would make any food taste like bacon. But there's also side effects.
Hope to Say Hello
Confessions of a Teenage Nerd - Pixel learns that she is a nerd on the inside.
Dawn of the Nerd - Wrestling professional Donny competes with sumo wrestlers.
A Nerd's Greed for Gold (Flames and Misfortune in other countries) - It's St. Patrick's Day, and Greg has good luck all around him. The others, not so much.
A Man or a Nerd? - Birdie proves that he is a "manly nerd"
Good vs. Great - Birdie's baseball team is rivaled with baseball robo-rookies from another planet.
Felt Like I'm Five
Buddy Be Gone - Birdie and Flames spend a weekend apart.
Respect-A-Pal
Banana Montana (Season Finale) - Pixel is rivaled by an old foe.
Season Four (2016-2017)
Goose Go Loose
Just Sea Me - Donny fears of going to the sea.
Lil' Nerd
Close Encounters of the Nerd Kind 
Brainy to Beat the Bird
Internet Nerd
L-ICE-nce to Drive,
Chili Doug / The Two Gregs
Get Cra-Z!
Orange S.O.D.A.
The Nerd Generation
Das Nerd
Pot Wheels
I Likey Mikey
Nerd Burger
Ice Popstar - Pixel returns with a chance at ice skating.
Tastes Like Nerd
Fizz Frizz
Black-n-Yellow - Everything stings when bees go savage on Bee Day.
Kick It To The Max
Nerd's Best Friend
The Snack-n-Stack Hack - Someone stole all the snacks from the Snack-n-Stack. This is a big mystery for Birdie....
When Good Things Get Bad
Oh, Boy, Oh, My!
To Love or Not to Love
Birdie's Fourth of July Special (Season Finale)- Birdie learns all about the exploits of the Fourth of July.
Season Five (2017-2018)
What's the Buzz, Birdie?
Nerd Birds of a Feather
Showdown at St. Sherman's
Roadies!
You Can't Spell Fraction Without Action
Under the Knees of a Bird
One Flu Over the Canadian Nest
It's Not Easy Being Flames
Elementary, My Dear Birdie
Blind Ties
Make It Pretty
Holobird
Legends of the Meat-Mutton Mellow
When a Bird Gives You Apples, Make Apple Juice
Teeth Are Forever
Dude, Where's My Nerd?
Work the Attitude, Dude
Knot the Best Time - Birdie
Easy Cheesy
The Last Uni-Tron
Lawn Gone Dog
Don't Do, Dance
The Lousy Lunch
Cupcake Escapade/Goodwater News at 5
The Penultimate Episode Where You Don't Get to Know Any Secrets Until the Next Episode (This Is the Second-to-Last Episode, Right?) - It's almost summer, and Birdie is ready for school to let out. The only problem is, he gets stuck in a time loop.
Graduation Anticipation (or, The Grand Finale Episode Where All Secrets Will Be Revealed...Really!) (Series Finale) -
Home media
DVDs are released through Lionsgate.
The Big Move (released October 21, 2013)

Episodes: Birdie Goes America, S.O.D.A., Keeping It Heal, I Ain't Allergic to Oranges, Nerd-itis, Boys' Day Out
Special Features: Printables, Meet Birdie and Friends featurette, bonus Power Rangers Megaforce, Digimon Fusion, and Julius Jr. episodes

Discover Your Inner Boy! (released April 8, 2014)

Episodes: Boys' R Us, Boredom, Dragons, Dragons and More Dragons, Twist the Time, Magic Backpack, Duck Dangerous the Dangerous Duck
Special Features: Meet the Parents and Teachers, bonus Power Rangers Super Megaforce episode

A FREAKY Halloween (released November 21, 2014)

Episodes: Attack of the Nerds - A Halloween Special, Freaks Beware!, Random Nerd, Fat Boy and Little Man, When They Go Rough, They Go Soft, (Dis)agreements and Arguments
Special Feature: Bonus Power Rangers Super Megaforce episode

Frank and Frankie's Super Best Win Twin Bits! (released December 3, 2016)

Episodes: The Win Twins Go Infinity (…and Beyond!), Pups Never Lie, Little Do Frank and Frankie Know..., (Dis)agreements and Arguments, I Ain't Allergic to Oranges, Dojo Donuts
Movie
Nerdy Birdie: The Post-Graduation Movie - Summer's just begun, and Birdie and the gang are having a great time. But there's one difference: Professor Abraham threatens to ruin Goodwater by having safety robots everywhere. Join Birdie, Frank, Frankie, Donny, and Greg Gillman on a super-sized quest to find true heart in friendship, freedom, and best of all, themselves.
Community content is available under
CC-BY-SA
unless otherwise noted.