WARNING:

This article is a non-fanon page. Non-fanon means if it is not fanmade or it is also canon.
Kamala Khan is a fictional superhero appearing in American comic books published by Marvel Comics. Created by editors Sana Amanat and Stephen Wacker, writer G. Willow Wilson, and artists Adrian Alphona and Jamie McKelvie, Khan is Marvel's first Muslim character to headline her own comic book. Khan made her first appearance in Captain Marvel #14 (August 2013) before going on to star in the solo series Ms. Marvel, which debuted in February 2014.
Within the Marvel Universe, Khan is a teenage Pakistani American from Jersey City, New Jersey with shapeshifting abilities who discovers that she has Inhuman genes in the aftermath of the "Inhumanity" storyline and assumes the mantle of Ms. Marvel from her idol Carol Danvers after Danvers becomes Captain Marvel. Marvel's announcement that a Muslim character would headline a comic book drew widespread attention, and the first volume of Ms. Marvel won the Hugo Award for best graphic story in 2015.
Iman Vellani is set to portray Khan in the Marvel Cinematic Universe streaming television series Ms. Marvel (2021) on Disney+. Vellani will reprise the role in the film Captain Marvel 2 (2022). The character was voiced by Sandra Saad in the 2020 action-adventure video game Marvel's Avengers.
History
Early Life
Kamala Khan was born and lived an ordinary life in Jersey City, New Jersey. Her mother and father were Pakistani immigrants and practicing Muslims, Muneeba and Yusuf Khan. While Kamala was proud of her heritage and faith, many of her peers used this difference to ostracize and bully her. Kamala found solace from this in her passions for video games, fan fiction, and in particular costumed superheroes. She especially admired Captain Marvel and the Avengers.
Terrigenesis
One evening, far away from Kamala, Terrigen Mist was dispersed across the entire globe, including Kamala's hometown as the girl was walking home. Kamala began to feel disoriented by the mist's effects before she fell unconscious on the sidewalk and engulfed into her Terrigen cocoon.
Ms. Marvel
When Kamala emerged from her Terrigenesis, she discovered that she had gained shape-shifting abilities. She soon met Inferno, who told her about her Inhuman DNA. Shocked but excited by their new powers, the two teenagers decided to use them to become heroes. Kamala adopted her idol Captain Marvel's former code name "Ms. Marvel".
Powers and Abilities
Since Kamala is a human with latent Inhuman heritage whose powers were activated by the Terrigen Bomb, causing her to become a polymorph, which grants her the following abilities:
Shapeshifting: Kamala's most prominent power is her ability to stretch, expand, contract, shrink, enlarge, or compress any part of her body into any shape or size the situation demands of her, such as enlarging her hands to spank a villain or effectively changing herself into a living grappling hook to rescue Captain America and Iron Man. She also gains the proportionate strength, speed, durability, and agility of any shape or size she is in.
Size Alteration: Kamala can through unknown means, adjust her height and stature adding upon her already impressive physical abilities. Either shrinking to the size of an action figure to growing as tall as a building structure, such as Skyscrapers and Mansions.
Accelerated Healing Factor: Kamala can heal very quickly when injured. She simply brushed off Inferno's fire, which under normal circumstances would have left a lasting burn mark. However, the more she heals, the less access she has to her polymorph abilities, so she has to return to her true form to recover completely.
Weaknesses
Electricity: Electric shocks weaken her body's elasticity.
Healing Factor: Kamala can only heal her injuries when in her true form, leaving her vulnerable as she heals. In addition, the more she heals, the less malleable her cells become, and as a result she must be careful with this power.
Paraphernalia
Equipment
Biokinetic Polymer Suit: Invented by Bruno as part of his scholarship application to Rutgers University, when the polymer (or "super snot") is applied to a flexible substance, the substance becomes extremely malleable. The increased elasticity allows Ms. Marvel to focus less on transforming her clothing during her metamorphoses. Unfortunately, the suit is highly susceptible to damage by exposure to water.
Compartment Bracelet: A series of bangles with hollow compartments inside, modified by Bruno into a single bracelet worn on Kamala's left arm to hold her cell phone and other small items. They were originally used by Kamala's great-grandmother Aisha to smuggle money out of Bombay during Partition, and had since been passed down to her daughter and granddaughter, Muneeba.
Locator Pendant: A gift from Captain Marvel during the incursion, this necklace allowed Kamala to signal Carol in an emergency with just the push of a button.
Stormranger Nanosuit: A special costume worn by Kree Stormranger 20-14, a member of the Kree whom the Saffans claimed as their "Destined One". The suit was left behind on a special space station used by the former slave masters of the Saffans with the intent of another Stormranger to retrieve. While it is designed for those with Kree blood, this seems to also extend to Inhumans. The full extent of the suit is of yet unknown.
Comics
Films and TV Shows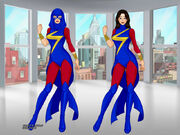 Video Games
Ms. Marvel also appears as a playable character and supporting protagonist in Marvel/DC Heroes Unite!, voiced again by Kathreen Khavari. She along with the other Marvel heroes team up with the DC Universe superheroes to stop Thanoseid from destroying their both dimensions. She is also shown to be best friends with Stargirl and the Rookie hero.
Ms. Marvel is a playable character in Marvel's The Avenging Spider-Man, voiced again by Kathreen Khavari. She plays a role in the story in which she is a friend to Miles Morales and (like him) one of Spider-Man's most dedicated fans. Also, as in the comics, she writes fan-fiction about her heroes (including Captain Marvel) in internet. And her stories consequently ruin J. Jonah Jameson's career as a conspiracy theorist when she indirectly causes a mob of citizens to protest against Jameson's attempts to discredit Spider-Man. She and her friends Gwen Stacy and Anya Corazon become targets of his revenge until they are saved in public by Spider-Man, leading Jameson to be removed from his podcast and arrested and the Webslinger to be praised as a greater hero and to be elected as a member of the Avengers. Later on, she becomes one of the many Inhuman descendants who are affected by the Terrigen Mist and she manifests her Size/Shapeshifting powers. Taking on her idol Captain Marvel's old alias of Ms. Marvel, Kamala begins her own crime-fighting campaign with Mary Jane Watson (as Firestar) becoming her mentor. She is also among the superheroes who help Spider-Man stop Thanos' invasion of Earth and Attilan.
Comic books
Films and TV shows
Video games
Films, TV Shows and Comics
Films, TV Shows and Comics
A version of Kamala appears in Marvel Spies. She appears as one of the leaders (with Peter Parker) of M.A.R.V.E.L.
Joint Ideas
Comics
Kamala Khan / Ms. Marvel also appears in Metagirls as a supporting character. She and her fellow Champions visit an remote island where they spend a bit of their summer holidays. While in the beach, Kamala and her friends soon have an unexpected encounter with the Metagirls, who own the island as their safe heaven. The girls soon become friends with Kamala and the Champions noneless.
TV Shows
Gallery
Images
Videos
Community content is available under
CC-BY-SA
unless otherwise noted.