WARNING:

This article is a non-fanon page. Non-fanon means if it is not fanmade or it is also canon.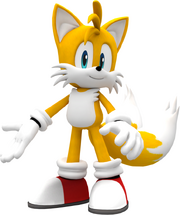 Miles Prower, better known by his nickname, Tails is Sonic's best friend and sidekick. Tails was born with two twin tails which allows him to fly; when Tails was young, he was a victim of being bullied due to the fact he has two tails. One day, he met Sonic and he was inspired to be as cool as him after seeing him run like the wind. Tails soon after began following Sonic on his adventures thus becoming his best friend and sidekick. Tails is able to fly at high speeds and uses his twin tails like helicopter rotors; Tails is also a mechanical genius and an aerial pilot. Tails is a gentle hearted, sweet natured, highly intelligent, and loyal fox with a positive attitude. He used to be timid and quiet until he met Sonic and started going on adventures along with him which causes him to become much more outgoing as time went by. Tails never grabs the spotlight for himself but instead enjoys to help out others without asking anything in return. Tails has a love for mechanics and he spends most of his time at his workshop working on his next creation.
Physical Appearance
Tails is an 8 year old yellow orange fox with two tails with white ends, blue eyes, he is 2'6" (80cm) tall, weighs 20kg (44lbs), he wears white gloves with white sock like cuffs, white socks, and red shoes with white ends at the tips.
Appearances in Idea Wiki
Joint ideas
Portrait
Name: Miles Prower
Nickname: Tails
Gender: Male
Age: 8
Alignment: Good
Birthday:
Favorite food:
Friends: Sonic the Hedgehog (best friend), Knuckles the Echidna (second best friend), Amy Rose (sister figure), Sally Acorn (mentor and sister figure), Cream the Rabbit, Nicole the Holo-Lynx, Bunnie Rabbot, Antoine D'Coolette, Rotor the Walrus, Sticks the Badger, Princess Elise III (Sonic the Hedgehog 2006 game), Chip (Sonic Unleashed), Sabrina Spellman (Archie Comics co-star), Kevin Hunt / American Knight (Marvel's Spider-Man: Webbed Champion) Anya Corazon / Spider-Girl (Marvel's Spider-Man: Webbed Champion)
Allies: Team Chaotix (Vector the Crocodile, Espio the Chameleon, Charmy Bee), Big the Cat, Rouge the Bat, Shadow the Hedgehog (sometimes), Blaze the Cat, Silver the Hedgehog, Justice League (Justice League: Rings of the Force)
Rivals: Wave the Swallow
Enemies: Dr. Eggman, Metal Sonic, Chaos (formally), Eggman Nega, Black Doom, Erazor Djinn (Sonic and the Secret Rings), Dark Gaia (Sonic Unleashed), Time Eater (Sonic Generations), The Deadly Six, Infinite, Augustus Roman / The Regent (Marvel's Spider-Man: Webbed Champion)
Voice actors
Official media
Fanon projects
Gallery
Trivia
Community content is available under
CC-BY-SA
unless otherwise noted.