Masked Rider Solar is a American/Canadian Series based On Kamen Rider Agito. it ran from February 11, 2008-December 8, 2008.
Story
A man named Brian Walters has no memory of who he was, where he came from, or how he came upon his peculiar circumstances to transform into a powerful superhuman, Masked Rider Solar, whenever in the presence of the beings referred by the police as the "Unknown". Known as the Lords, these powerful monsters perceived themselves as humanity's defenders and kill certain people in a series of murders that force the police department to make Fred Daniels, the user of the Masked Rider G3 powersuit which was modeled after Masked Rider Neo. Brian and Fred, both initially hesitant of the other at first, are joined by Jerry Connors, who becomes a pre-Solar known as Masked Rider Gills and seeks the truth behind his father's suicide. These mysteries and many others collide as the true nature of The Light would ultimately determine the fate of humanity.
Cast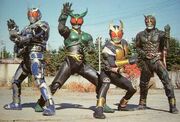 Cole Howard as Brian Walters/Masked Rider Solar
Brandon Jay McLaren as Fred Daniels/Masked Rider G3
Bill Switzer as Jerry Conors/Masked Rider Gills
Alicia Dea Josipovic as Venessa Wilson
Christopher Jacot as Zack Henry/Kamen Rider G3-Mild
Meredith Hagner as Samantha Evans
Dean Redman as Benjamin Allan/The Shadow Warrior
Michael Adamthwaite as The OverLord
Jarred Blancard as Charlie Thomas
Gabe Khouth as Jim Banks
Alex Ferris as Dan Banks
Jorgito Vargas Jr. as Mark Dillion
Guest Stars
Hayden Christensen as Carl Ian/Masked Rider G4
Episodes
Episode 1: The Golden Light (Aired 2-11-2008)
Episode 2: Storm Mode (Aired 2-19-2008)
Episode 3: Brian's Idenity (Aired 3-26-2008)
Episode 4: The Third Warrior (Aired 3-3-2008)
Episode 5: Flame Mode (Aired 3-17-2008)
Episode 6: The Two G3 Warriors (Aired 3-24-2008)
Episode 7: Crash In The Lake (Aired 3-31-2008)
Episode 8: The Flying Machine (Aired 4-7-2008)
Episode 9: Capture Plans (Aired 4-14-2008)
Episode 10: Breakup (Aired 4-21-2008)
Episode 11: Rampage (Aired 4-27-2008)
Episode 12: Showdown (Aired 5-5-2008)
Episode 13: V1 (Aired 5-12-2008)
Episode 14: The Machine (Aired 5-20-2008)
Episode 15: Another Fight (Aired 5-26-2008)
Episode 16: Jerry's Death (Aired 6-2-2008)
Episode 17: Mystery (Aired 6-9-2008)
Episode 18: Power (Aired 6-16-2008)
Episode 19: Gills's Arise (Aired 6-23-2008)
Episode 20: Souls Coming (Aired 6-28-2008)
Episode 21: Another Rider (Aired 9-1-2008)
Episode 22: The Fourth Hero (Aired 9-8-2008)
Episode 23: The Armored Warrior (Aired 9-15-2008)
Episode 24: Gills's New Mode (Aired 9-22-2008)
Episode 25: United Front (Aired 9-29-2008)
Episode 26: Between Light & Darkness (Aired 10-6-2008)
Episode 27: The Day Of The Dead (Aired 10-13-2008)
Episode 28: Power's Stolen (Aired 10-20-2008)
Episode 29: The 3 Warriors (Aired 10-28-2008)
Episode 30: Project G4 (Aired 11-4-2008)
Episode 32: Project G4 (Aired 11-10-2008)
Episode 33: The Red Sky (Aired 11-17-2008)
Episode 34: Leader Of The Stars (Aired 11-24-2008)
Episode 35: Footsteps Of Doom (Aired 12-1-2008)
Episode 36: Final Battle (Aired 12-8-2008)
Episode 37: Final Battle (Aired 12-8-2008)
Community content is available under
CC-BY-SA
unless otherwise noted.