Manu & Keanu




Theatrical Release Poster

Directed by
Sam Sturtridge
Produced by
Sam Sturtridge
Josh Lipman
Davey Towers
Written by
Sam Sturtridge
Starring
Noah Johnston
Timothy Olyphant
Auli'i Cravalho
Claire Ryann
Mark Rylance
Janel Parrish
Caleb Hyles
Tia Carrere
Jemaine Clement
Jason Scott Lee
Music by
Lin-Manuel Miranda (songs and score)
Edited by
Hermann H. Schmidt
Studio
Walt Disney Animation Studios
Martinez Marina Productions
Walt Disney Pictures
Distributed by
Walt Disney Studios Motion Pictures
Release date
July 16, 2019
Country
United States
Language
English
Running time
92 minutes
Budget
Box office
Manu & Keanu is a 2022 animated musical adventure drama film produced by Walt Disney Animation Studios and Martinez Marina Productions, written and directed by Sam Sturtridge, and distributed by Walt Disney Pictures.
Plot
Two orphaned siblings, Keanu Aikau and her little brother Manu live on the small Hawaiian Island of Kamuei, where not one member of the island people are constantly at war with each other, considerubg one side of the population "outsiders" as caused by a pestilence on the land.
Credits
See them here.
Cast
Noah Johnston - Manu - A small boy living with his older sister, who is chief of the small Hawaiian Island of Kamuei, where no one is getting along at all, the cruelty hurts him deeply.
Timothy Olyphant - Likeke - Leader of the Spirits of the ancestors of the people of the island.
Auli'i Cravalho - Keanu - Manu's older sister, who is struggling with the pressure of her position, chief of the small Hawaiian Island of Kamuei and the harsh brutality caused by her people, inflicting upon some who are considered "outsiders" by a majority of the people.
Claire Ryann - 
Mark Rylance - 
Janel Parrish - 
Caleb Hyles - 
Tia Carrere - 
Jemaine Clement - Noa
Jason Scott Lee - 
Production
Music
The songs and score for the film will be composed and conducted by Lin-Manuel Miranda of Hamilton and Moana fame, performed by the London Symphony Orchestra, featuring choral performances by the London Voices and featuring piano solos by Yiruma.
Track Listing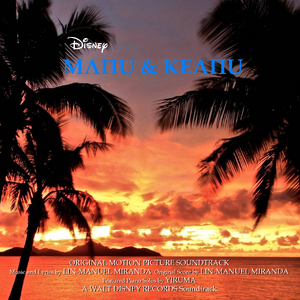 Main Title/ʻO kā lākou moʻolelo kēia - Choir
Outsiders, Begone! - The People of Kamuei
Noa - Instrumental - Miranda
When Two Siblings Fight - Instrumental - Miranda
A Plea From the Spirits - Choir
I'm Really Sorry - Instrumental - Miranda, piano solo by Yiruma
Beneath these Palm Trees - Keanu and Manu
A Not-As-Expected Meeting - Instrumental - Miranda
Why Did I Listen To That Man? - Pennywise
Meanwhile, Back In The Sewer... - Instrumental - Miranda
Tell Her I Love Her - Little Sally and Bobby
The Final Showdown - Instrumental - Miranda
Goodbye - Instrumental - Miranda, piano solo by Yiruma
Peace At Last - Choir
Beneath These Palm Trees (End Title) - Enya
Release
The film will be released to theaters by Disney on July 16, 2022.
Reception
Trivia
In other languages
Community content is available under
CC-BY-SA
unless otherwise noted.