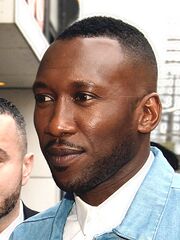 Mahershalalhashbaz Ali
(né Gilmore; born February 16, 1974), known professionally as
Mahershala Ali
(/məˈhɜːrʃələ/), is an American actor who is a recipient of several awards, including two Academy Awards and a Golden Globe Award.
After pursuing a MFA degree from New York University, Ali began his career as a regular on television series, such as Crossing Jordan (2001–2002) and Threat Matrix (2003–2004), before his breakthrough role as Richard Tyler in the science fiction series The 4400 (2004–2007). His first major film release was in the David Fincher-directed fantasy The Curious Case of Benjamin Button (2008). He gained wider attention for his supporting role in the Netflix political thriller series House of Cards (2013–2019). He featured as Boggs in the final two films of The Hunger Games film series and as Cornell "Cottonmouth" Stokes in the Netflix superhero series Marvel's Luke Cage (2016).
For playing a drug dealer in the drama film Moonlight (2016), Ali won the Academy Award for Best Supporting Actor, becoming the first Muslim actor to win an Oscar for acting. He won a second Academy Award and the Golden Globe Award for Best Supporting Actor for portraying Don Shirley in the comedy-drama Green Book (2018). This made him the first black actor to win two Academy Awards in the same category. In 2019, he played the lead role of a troubled police officer in the third season of the HBO anthology crime series True Detective.
Roles in Idea Wiki
Community content is available under
CC-BY-SA
unless otherwise noted.