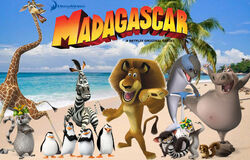 Madagascar: The Series or simply Madagascar, is a series based on the Madagascar film series created by Dreamworks in collaboration with Netflix.
The series also makes the inclusion of original characters from The Penguins of Madagascar to the main canon with some minor changes in their backstory.
Plot
The series took place after the events of Madagascar and prior to Madagascar: Escape 2 Africa, following the adventures and misadventures of Alex the Lion and his crew on their attempt to go back to New York as they deal with many situations in the Madagascar island.
Characters
Main Characters
Alex
Marty
Melman
Gloria
King Julien XIII
Maurice
Mort
Skipper
Secondary Characters
Kowalski
Rico
Private
Mason
Phill
Stevie
Minor Characters
Villains
Dr.Blowhole
Hans the Puffin
Parker
Rhonda
Lobsters
Uncle King Julien
Clemson
Fossas
Savio
Harriet the Rabbit
Chuck the Gorilla
Diggs the Dingo
Episodes
Season 1
Pizza Delivery
Sneaky Snake
Cuddly Catastrophe
The Return of Uncle King Julien
The Trouble Comes from Australia
One Big Problem
Home Sweet Home
Naughty Neighborn
Melman's Melancholy
Big Ape from Big Apple
Kingdom Survival
Madagascar Lacks Talent
Dr.Blowhole
Season 2
Season 3
Season 4
Trivia
Community content is available under
CC-BY-SA
unless otherwise noted.