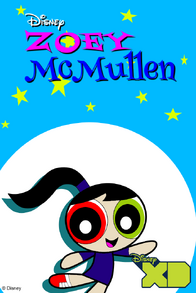 The following is a list of episodes from the Disney XD Original Series Zoey McMullen, created by Craig McCracken (also the creator of The Powerpuff Girls and Foster's Home for Imaginary Friends for Cartoon Network).
Each season has 20 episodes, 60 episodes in total.
Overview
| Season | Episodes | First aired | Last aired |
| --- | --- | --- | --- |
| 1 | 20 | September 17, 2009 | March 14, 2010 |
| 2 | 20 | March 25, 2010 | January 29, 2011 |
| 3 | 20 | November 11, 2011 | July 26, 2012 |
Episodes
Season 1 (2009-2010)
Title card
Title
No. overall
No. in season
Plot
Air date

One Girl Band/Bowling Fever
1
2
1
One Girl Band: Zoey attempts to raise money for an orphanage by becoming a one-man band, or in that case, a one-girl band!

Bowling Fever: Zoey and Jackie are spending quality time at the Theodore Street Bowling Alley. However, Jackie seems to be terribly bad at bowling than Zoey, who is surprisingly skilled for her age.

September 17, 2009

Beatbox Zoey/Chocolate Chaos
3
4
2
Beatbox Zoey: Zoey agrees to act as a beatboxer at the Theodore Street Club.

Chocolate Chaos: In a similar plot to The Garfield Show episode "From the Oven" , Zoey's attempts to bake a chocolate cake for the Theodore Street Buffet turns into a calamity when she unintentionally puts some monstrous ingredients without even realizing it, creating a monster that threatens to destroy Theodore Street. Now it's up to Zoey to destroy the cake monster and save everyone, including her friends.

September 19, 2009

Melissa's Trumpet/A Gluey Situation
5
6
3
Melissa's Trumpet: Melissa starts waking up everybody in the morning with a trumpet, since she believes it is a substitute for an alarm clock. However, Zoey, Conrad and Jackie aren't amused.

A Gluey Situation: A driving truck drops a glue bottle on the sidewalk, which results in Zoey getting stuck when she steps on it and it's contents. Her attempts to deal with it only make it worse, as it also affects her friends and the town. Zoey is then forced to think of an idea to unglue herself and everything else.

September 25, 2009

Girl vs. Machine/Conrad and the Lost Disc
7
8
4
Girl vs. Machine: Dr. Slithers, a snake scientist, accidentally loses his robot, which escapes onto Zoey's front yard. When she turns it on, it seems to do good things for her, such as doing her errands, and more. But when it tries to take a drink from Zoey's fridge, it malufunctions and starts going insane! So Zoey must stop it before it gets onto the whole town!

Conrad and the Lost Disc: Conrad Howlington finds a mysterious disc in his house that is not supposed to be at the Theodore Street Club. He shows it to Zoey, and then plays it. The disc contains songs from a band of grizzly bears called The Bad Bears, infamous for making songs that insult people, and it even has a song about Zoey! Offended, Zoey tries to find The Bad Bears and teach them a lesson about respect.

September 29, 2009

The Theodore Theft/Elephant Earwig
9
10
5
The Theodore Theft: Someone has been stealing everybody's possessions in Theodore Street, including Zoey's! So Zoey poses as a detective to look for clues, find the culprit and bring him to justice.

Elephant Earwig: Melissa is unable to sleep yesterday because there is an earwig in her ear - and it's a very, very, VERY clever one! Zoey then tries to get it removed, but the pesky insect outsmarts her at every turn.

October 6, 2009

Bend it Like Zoey/Sneaky Beaky
11
12
6
Bend it Like Zoey: Zoey tries out for a soccer game, but her lack of confidence gets the better of her.

Sneaky Beaky: When the police cannot capture a crafty toucan criminal named Sneaky Beaky (voiced by Tom Kenny), Zoey volunteers and is then given the task of arresting the feathery fiend.

October 6, 2009

No Shirt Day/For the Love of Pancakes
13
14
7
No Shirt Day: Zoey is annoyed with Melissa's habit of being shirtless when ever she sunbathes, and bets her she can go through a whole day without even wearing her shirt.

For the Love of Pancakes: Zoey invites her friends over for breakfast and tries to make her favorite food, pancakes. But there are no more ingredients needed to make the pancakes, so Zoey sets off to get more.

October 11, 2009

Zoey's Multi-Trouble/Haunted Zoey
15
16
8
Zoey's Multi-Trouble: Zoey faces a huge dilemma: she has to be with Jackie at the arcade, with Conrad at the club, and with Melissa at the cinema, all on time! Since there's only one of her, Zoey seeks help from Dr. Slithers, who's just invented an ice-powered clone machine. After getting three clones, Zoey has her dilemma solved in no time. But things get out of hand when she and her clones start arguing.

Haunted Zoey: Zoey, Melissa, Conrad and Jackie take vacation at a spooky-looking house, since all of the hotels are temporarily closed. At first, Zoey gets freaked out by the house's scary features, but soon gets used to them. But when her friends start mysteriously disappearing at the shutoff of the lights, Zoey must solve the mystery and rescue them.

October 26, 2009

Coyote Cream/Invisible Zoey
17
18
9
Coyote Cream: Zoey tries to get Conrad's favorite lotion, Coyote Cream, at the Theodore Mall.

Invisible Zoey: Zoey accidentally gets hit with Chameleon Paint and must figure out how to get back to normal.

November 4, 2009

Zoey Talks Backwards/Welcome To Miami
19
20
10
Zoey Talks Backwards: Dr. Slithers tests out his Reverse-A-Ray on Zoey, causing her to do things backwards.

Welcome to Miami: Zoey and her friends take vacation in Miami.

December 17, 2009
Merry Christmas, Zoey McMullen!
21
22
11
Zoey has to save Christmas when Santa Claus breaks his leg. Along with that, she also has to be in the Christmas mood.

NOTE: This episode is split into two segments.

December 30, 2009

Ready, Set, Zoey!/Conrad's Understudy
23
24
12
Ready, Set, Zoey!: Zoey competes in the Annual Theodore Marathon.

Conrad's Understudy: Zoey has to fill in for Conrad as a disc jockey at the Theodore Street Club after the coyote breaks his body.

January 10, 2010

Melissa's Got Talent/Jackie in the Woods
25
26
13
Melissa's Got Talent: Melissa unintentionally irritates her friends with her horrendous singing, but Zoey is her worst victim, who starts going very insane after hearing it one too many times.

Jackie in the Woods: Zoey and her teenage best friend Jackie go out camping in the woods, but an accident leaves them having to deal with the horrors of camping in the wild.

January 10, 2010

Coolephant/Zoey in a Box
27
28
14
Coolephant: Feeling that she needs to be less clumsy to be more well-liked by her friends, Melissa misinterprets a piece of advice from Jackie and starts dressing and acting like him, much to Zoey's annoyance and the confusion of Conrad and Jackie.

Zoey in a Box: While Zoey and Dr. Slithers are in a junkyard searching for scraps of metal for the scientist snake to make into his new invention, Zoey accidentally falls into a car crusher and comes out trapped in a car cube with only her head sticking out. Now Zoey has to get used to being stuck in the car cube while her friends drag her into their favorite activities. But little does she know that the metal scraps she gave to Slithers is going to be made into the solution to her problem.

January 25, 2010

Ageplay Zoey/The Runaway Wheels
29
30
15
Ageplay Zoey: Zoey has to deviate from her precocious and responsible demeanor when she is cast as a bratty kid in a play by a determined bear director named Mr. Hairy (voiced by Kevin Michael Richardson). Since she is a nice girl, Zoey can't help but do her parts badly. Fortunately, her friends try to help her land the part.

The Runaway Wheels: When the wheels on Melissa's car fall off and roll away, it's up to Zoey to retrieve them.

January 27, 2010

Peace and Quiet/Zoey the Go-Getter
31
32
16
Peace and Quiet: Zoey tries to get 24 hours of sleep, but is continuously disturbed by loud noises like the traffic, heavy rain, babies bawling loudly next door, etc.

Zoey the Go-Getter: Zoey will stop at nothing to get Jackie to the hospital after he breaks his leg courtesy of a car crash.

February 5, 2010

Zoey Goes Viral/Nightmare Frightmare
33
34
17
Zoey Goes Viral: While trying to clean the roof of her house from inside, Zoey ends up buried by the roof's tiles after they somehow go loose. Unbeknownst to her, the epic fail is caught on camera by a neighbor and posted to the internet. Soon, that video gains a billion views and Zoey is surrounded by dozens of her "fans", who love the video.

Nightmare Frightmare: In her sleep, Zoey experiences a bizarre and surreal dream of Salvador Dali proportions that gets more freakier as it goes on.

February 19, 2010

Funfair Unfair/Lightning Girl
35
36
18
Funfair Unfair: Zoey and her friends go to the fun fair. Zoey then notices a pair of headphones as one of the prizes in a Balloon and Dart game, and tries to win them so she can give them to her best friend Jackie, even if it means failing all over and over again.

Lightning Girl: On a stormy day, while trying to return to her house, Zoey gets electrocuted by an unexpected lightning bolt, but instead of being killed, she is now granted the power to produce jolts of electricity. Her friends are amazed and impressed with the tricks Zoey can do with her power. But calamity soon arises when Zoey loses control of her power and starts accidentally destroying stuff around town.

February 19, 2010

The Treasure Map/All Hail Zoey!
37
38
19
The Treasure Map: Zoey loses control of her bike during a peaceful bike ride and falls down a canyon. There, she finds a treasure map in a tree trunk, and after getting back up, she shows it to Jackie. Soon they both try to follow the map to find some possible treasure.

All Hail Zoey!: Zoey is cast in the role of a young queen in an epic fantasy movie.

March 7, 2010

Zoey Who?/The Vase
39
40
20
Zoey Who?: Zoey gets hit on the head by several falling objects on a shelf and gains amnesia. As a result, she is unable to remember anything and recognize her animal friends. So Jackie, Conrad, Melissa and Dr. Slithers have to find ways to restore her memory.

The Vase: Melissa accidentally breaks Zoey's old vase. Thinking that Zoey will make her into a hunting trophy out of anger if she finds out, Melissa tries to hide it from Zoey, unaware that Zoey was actually wanting to get rid of it.

March 14, 2010
Season 2 (2010-2011)
The last episode to air on Disney XD was "Club Zoey", then the show began to also air on Disney Channel starting with "Big Girl Zoey".
Title card
Title
No. overall
No. in season
Plot
Air date

The Pimple/Zoey at the Bat
41
42
1
The Pimple: Zoey gets a pimple on her face and tries to hide it from her friends.

Zoey at the Bat: Zoey and her friends try out for a baseball team, but are constantly being bossed around by the cocky tiger coach.

March 25, 2010

Bye Bye Skateboard?/No More Mr. Mice Guy
43
44
2
Bye Bye Skateboard?: While skating around downtown, Jackie slips on a banana peel and his skateboard lands in the yard of a grumpy gorilla named George Gordon, who then claims it as his property. When Zoey hears of the bad news from her best friend, she tries to speak to Gordon politely, only to be whacked straight onto the sidewalk by him. So she and Jackie try to sneak into the yard and get his skateboard back without getting caught.

No More Mr. Mice Guy: A bully street mouse named Alex Cheeseman makes his home in Melissa's house and takes great pleasure in terrorizing the poor elephant. So Zoey tries to give the bully a taste of his own medicine, in an attempt to teach him why it isn't a good idea to pick on her friends.

April 7, 2010

Snoozy Head/Stage Plight
45
46
3
Snoozy Head: In the night, Zoey notices her elephant friend Melissa sleepwalking down the street, and must try to guide her back home before she gets hurt in her sleep.

Stage Plight: When some theater workers are rushed to the hospital courtesy of an accident, Zoey and her friends volunteer to finish setting up the stage play, known as "The Flight of the Swans".

April 15, 2010

Zoey In The House/Trip to Toronto
47
48
4
Zoey in the House: In this parody of a Cory in the House episode, Zoey and her friends visit the White House in the United States and treat President Barack Obama like a roommate.

Trip to Toronto: While strolling down the sidewalk, Zoey sees a billboard for Toronto on a building. Since she's a Canadian who moved to Theodore Street, she decides to take a vacation to the country where she came from. But she soon regrets it when she misses her friends.

April 19, 2010

Hockey Puck'd/Jackalope Romance
49
50
5
Hockey Puck'd: Zoey and her friends compete in an ice hockey challenge.

Jackalope Romance: While having lunch at a diner with Zoey, Jackie notices an attractive female rabbit entering the diner. He tries to ask her out, but gets nervous, pointing out to Zoey that he is a jackalope and she is a regular rabbit. Wanting to help her best friend, Zoey teaches him how to go on a date with his would-be girlfriend.

April 26, 2010

Zoey's Bad Day/Andrew the Aardvark
51
52
6
Zoey's Bad Day: When Zoey sees a black cat crossing the sidewalk, she dismisses it as a superstition, believing that bad luck doesn't exist. However, she is then proven wrong when she gets put through humiliating accidents.

Andrew the Aardvark: An aardvark named Andrew (voiced by Brian Stepanek) visits Zoey and bores her to death with possibly dozens of fun facts.

May 8, 2010

What's the Small Idea?/Swimming Cool
53
54
7
What's the Small Idea?: Zoey gets sick and tired of being short and starts walking around on stilts, much to the bemusement of her friends and the citizens of Theodore Street.

Swimming Cool: While having some quality time at a public pool with her friends, Zoey tries to show off some great diving skills, but fails miserably.

May 17, 2010

Babyslither/Club Zoey
55
56
8
Babyslither: While going for a stroll on the sidewalk, Zoey accidentally bumps into Annieconda Slithers (voiced by Tara Strong), an anaconda who happens to be Dr. Slithers' wife. When Zoey apologizes to the snake for bumping her, Annieconda accepts her apology and tells her to look after her baby while she goes to the Theodore Laboratories to meet her husband. Zoey finds it a piece of cake and takes care of the little snake egg. Things seem to go well until the hyperactive baby snake emerges from his egg and causes trouble.

Club Zoey: It's Pick-A-Club Day in Theodore Street, and it's being held at the Theodore City Hall. However, Zoey can't seem to think of a club to go to.

May 24, 2010

Big Girl Zoey/Abracadorable
57
58
9
Big Girl Zoey: When a new brand of donuts comes to town, Zoey develops eating habits, which a month later effects her weight, making her morbidly obese.

Abracadorable: Zoey has to fill in for the rabbit magician Abracalvin (voiced by Rodger Bumpass) after he gets his outfit dirty.

June 9, 2010

Zoey McCougar/Conrad's Lament
59
60
10
Zoey McCougar: Zoey sees a sad cougar (voiced by Jim Cummings) crying to himself because he can't seem to find a proper girlfriend. The 6-year old girl feels sympathetic for him and gets the idea to disguise herself as a cougar and pose as his girlfriend.

Conrad's Lament: Conrad makes a new album called "Conrad's Lament", which contains sad songs. Zoey, Melissa and Jackie cry because of how beautiful and sad the songs are.

June 17, 2010

First Kid on the Moon/Scary Sunday
61
62
11
First Kid on the Moon: Zoey agrees to volunteer to fly to the moon and be labeled "the first kid on the moon."

Scary Sunday: Zoey is annoyed with Melissa's carelessness and wishes she would just get better. But the next morning, Zoey wakes up to discover out of terror that she is in Melissa's body, and Melissa is in her body! Now they have to spend the entire nightmare day walking in each other's shoes.

June 25, 2010

One Friend Is Better Than Three/Goin' Coconuts
63
64
12
One Friend Is Better Than Three: Zoey plans to go engage in some friend-bonding with her friends, but they're too busy. Thinking that they're not interested with her anymore, Zoey decides to invent her own imaginary friend, called "Christie".

Goin' Coconuts: Zoey gets involved in Theodore Street's hit prank show, "Goin' Coconuts", and she does NOT enjoy one bit of the pranks she is put through.

July 31, 2010

A Fright to Remember
65
13
When Zoey and friends go trick-or-treating, Zoey ventures by herself to the rich people's houses for the more interesting candy. Upon accomplishment, she gets herself lost.

NOTE: When this episode is viewed in 4:3, the title card is shifted so that one can clearly see the text.

October 25, 2010

Doggone Zoey/A Slithery Surprise
66
67
14
Doggone Zoey: Zoey is hired by a cat woman at a dog park to walk her pet dogs, but the hyperactive pooches refuse to cooperate.

A Slithery Surprise: Zoey learns that it's Dr. Slithers' birthday today and helps Annieconda set up the party, while at the same time keeping it a secret from Slithers.

November 6, 2010

Funky Zoey/Gnatastrophe
68
69
15
Funky Zoey: Zoey creates a disco-styled music video that she posts on the internet, and soon becomes famous for it.

Gnatastrophe: Zoey's house gets infested with stubborn gnats that refuse to leave.

November 14, 2010

Driving Me Crazy/Don't Get Crabby with It
70
71
16
Driving Me Crazy: When Zoey learns that Jackie has failed his driving test dozens of times, she tries to help him.

Don't Get Crabby with It: Conrad can't stand his new neighbor, a grouchy crab named Mr. Snappypants (voiced by Ed Asner).

November 19, 2010

Coyote Ugly/Safe Cracker Zoey
72
73
17
Coyote Ugly: After Conrad gets the fur on his face shaved off thanks to an inept barber, he gets made fun of by Zoey, Jackie and Melissa. At first, he is slightly humiliated, but soon goes into a spiraling depression isolating himself in his bedroom and refusing to talk to anyone.

Safe Cracker Zoey: Zoey is forced by a duo of literal cat burglars to help them crack a really important safe in a bank. Zoey has no choice but to do as they say, since they would threaten to kill her should she say "no". However, she finds a way to be let off the hook by playing tricks on the burglars.

November 29, 2010

The New Friend
74
18
Zoey bravely stands up to a weasel crook who is attempting to rob someone of their purse and drives him away. When Zoey for the name of the person she saved, the person in question (a 13-year old cabbit) replies by saying that her name is "Cindy". Zoey then bonds with Cindy and includes her as one of her new friends. The 6-year old girl then invites Cindy to meet her other friends and they soon have the time of their lives.

NOTE: This episode is one long 22-minute segment.

December 25, 2010

Cleaner by the Dozen/Game Girl
75
76
19
Cleaner by the Dozen: Zoey notices how much of a mess her house is, and tries to clean it up, with a few difficulties getting in her way.

Game Girl: Zoey almost steps on a Game Boy-like console on the sidewalk. At first, when she picks it up, she thinks the game in the console is quite hard, but after giving it a try she becomes used to the game. Unfortunately, this also causes her to be addicted to it and neglecting her friends.

January 14, 2011

Zoey the Comedian/Cabbit on a Hot Tin Roof
77
78
20
Zoey the Comedian: Zoey proves to be terrible at telling jokes when she gets her try at the Theodore Comedy Club.

Cabbit on a Hot Tin Roof: Zoey becomes fascinated by Cindy's hobby of reading books and attempts to write a novel starring her, hoping that Cindy will love it.

January 29, 2011
Season 3 (2011-2012)
Title card
Title
No. overall
No. in season
Plot
Air date

Lost in Theodore Street/Cheddar Off Dead
79
80
1
Lost in Theodore Street: Zoey and Jackie get lost in the streets of Theodore Street and must find their way home.

Cheddar Off Dead: Dr. Slithers unveils his new invention to Zoey: the Cheese Maker 5000. But he remembers that he built in a battery compartment, and it requires four 9-volt batteries! But he doesn't have any, so that means his machine won't work! So Zoey sets off to find four 9-volt batteries before it's too late.

November 11, 2011

Girls' Night Out/Never Judge a Cook by It's Cover
81
82
2
Girls' Night Out: Zoey, Melissa and Cindy have a girl's night out.

Never Judge a Cook by It's Cover: Zoey enrolls in a cooking class.

November 29, 2011

Snowy McMullen/Candy Cane Capers
83
84
3
Snowy McMullen: Zoey attempts to escape her house after it gets covered in a huge pile of snow.

Candy Cane Capers: Zoey, Jackie and Cindy sell candy canes all around Theodore Street on Christmas.

December 26, 2011

A Shot in the Dark/Out on a Limb
85
86
4
A Shot in the Dark: When all of the electricity in Theodore Street goes out, it results in a total blackout. Zoey and her friends now must deal with the darkness, even if it means bumping into things.

Out on a Limb: Zoey is in the hospital with a broken leg from an unexplained accident. Her friends, Dr. Slithers and Annieconda then try to cheer her up while she gets better.

January 18, 2012

Zoey's Fashion Club/Speechless
87
88
5
Zoey's Fashion Club: Zoey forms a fashion club along with Cindy and Jackie, but no one seems to be interested in their club.

Speechless: Zoey loses her voice after repeatedly singing her favorite pop song, so her friends try to guess what she's saying.

February 22, 2012

Battle of the Bands/Hip Hip Hiccup!
89
90
6
Battle of the Bands: Zoey and her friends compete in a battle of the bands concert against The Bad Bears.

Hip Hip Hiccup!: Zoey suddenly gets uncontrollable hiccups from drinking milk rapidly, so she gets help from her friends.

February 22, 2012

Maple Monday/Just Flu and Me
91
92
7
Maple Monday: Zoey, Jackie and Cindy try to make their own recipe for maple syrup.

Just Flu and Me: Zoey gets sick from bird flu and Jackie tries to make her feel better.

February 28, 2012

Zoey the Model/Bewitched
93
94
8
Zoey the Model: Annieconda attempts to buy a perfect birthday gift for her husband, but every item she sees in the mall is just too expensive. But she then gets the idea to make a painting, and hires Zoey as her role model.

Bewitched: When Zoey overhears Cindy stating that it would be nice to experience magic as seen from her favorite novel Samuel the 16-Year Old Warlock, she decides to make her wish come true by borrowing a spellbook from the library and attempting to do some simple spells. It doesn't work, so she secretly enlists the help of Dr. Slithers to create some believable magic.

March 9, 2012

The Revenge of Sneaky Beaky/Where Did Everybody Go?
95
96
9
The Revenge of Sneaky Beaky: Sneaky Beaky breaks out of prison and tries to get revenge on Zoey for defeating him back in the Season 1 episode "Sneaky Beaky". Upon hearing the news from TV, Zoey must stop him before it's too late.

Where Did Everybody Go?: Zoey has a nightmare where she wakes up to find all of Theodore Street empty.

March 16, 2012

Cindy's Blog/Gettin' Hissy with It
97
98
10
Cindy's Blog: Cindy starts up her own blog website about her hobby of reading novels.

Gettin' Hissy with It: Dr. Slithers accidentally consumes some liquids from beakers that cause him to get trippy and see things that don't even exist in the real world. Zoey now must take care of the situation before it gets out of hand.

March 27, 2012

Boobysitter/Jackie Moves In
99
100
11
Boobysitter: Zoey discovers a seemingly abandoned and slightly injured booby chick on the sidewalk, so she takes it into her house and nurses it back to health. Then, she tries to find the parent(s) of the booby chick.

Jackie Moves In: When Jackie's house gets fumigated, he moves into Zoey's house for a few days. Zoey apparently likes the idea of having her best friend as her roommate and hangs out with him. But when Jackie moves back to his house, Zoey misses having him as a roommate.

April 1, 2012

All Sketched Up/Zoey of the Opera
101
102
12
All Sketched Up: In a funny homage to the Looney Tunes cartoon "Duck Amuck", Zoey suddenly finds herself and her environment changed and manipulated by a giant moving pencil.

Zoey of the Opera: Zoey catches the attention of her friends when she sings Largo al factotum while showering, but she tries to hide and deny it. However, her conscience gets the better of her and she films herself in her room singing the aria so that she can tell the truth to her friends.

April 9, 2012

Stuck Together/The New Skateboard
103
104
13
Stuck Together: Jackie and Cindy accidentally get their hands super-glued together and Zoey has to unstick them.

The New Skateboard: When Zoey accidentally destroys Jackie's skateboard, she tries to earn enough money so she can buy a replacement.

April 25, 2012

Conrad's Love Interest/Party Planners
105
106
14
Conrad's Love Interest: Spring is in the air, and Conrad catches his eyes on an attractive fox named Violet Vixen (voiced by Catherine Taber). However, he worries he might fail at wooing her, so Zoey helps her coyote friend out.

Party Planners: Jackie's birthday is coming soon, and Zoey, Cindy, Conrad and Melissa are deciding what the party would be like. While Melissa first suggests a traditional birthday party with party games and a cake, Zoey decides against that idea and suggests a more teenage-style party.

May 14, 2012

Bad Wear Day/Leave It to Zoey
107
108
15
Bad Wear Day: When Zoey's usual dark blue shirt shrinks in the washing machine, Jackie suggests that she should buy a cool outfit like a jacket that Jackie also wears. When Zoey purchases the jacket and wears it, her other friends begin to adore her new attire.

Leave It to Zoey: It's Helping Day in Theodore Street, and Zoey tries to get all the credit by doing as much helping as possible. However, she soon learns that she doesn't have to be on top all the time.

May 30, 2012

A Star is Corn/Book Hooked
109
110
16
A Star is Corn: Zoey shows off her slightly subpar filmmaking skills when she tries to create a homemade short film starring walking and talking corn, which are (obviously) brought to "life" by Zoey using just her hands to move them and her voice to voice them.

Book Hooked: When Zoey finds an old book in Melissa's attic, she and her elephant friend decide to read it despite how worn out it has become.

June 13, 2012

Pancake Record/Rock and Roll Zoey
111
112
17
Pancake Record: Zoey, with a little help from her friends, tries to break the record for most pancakes cooked in one day.

Rock and Roll Zoey: Zoey is astonished when she discovers that her best friend Jackie is the lead singer in a band called The Jackalope Jive. She then tries to become a guest singer when he and the band appears onstage at tonight's concert.

June 19, 2012

Under the Thunder/Once in a Blue Prune
113
114
18
Under the Thunder: Zoey tries to make Cindy overcome her fear of lightning.

Once in a Blue Prune: Zoey discovers a rare blue-colored prune in the middle of the park and informs the discovery to everyone in town.

July 4, 2012

Hep Cabbit/Proposal Day
115
116
19
Hep Cabbit: When Jackie discovers an old photo of Cindy, she tells him about her time when she was "The Hep Cabbit", who sang country music at late-night entertainment clubs.
Note: This is the first and only episode to not feature Zoey.

Proposal Day: Jackie decides to propose to Cindy, but is uncertain if he can do it.

July 13, 2012

Volley Girl/Good Ol' Memories
117
118
20
Volley Girl: Zoey and her friends take part in a volleyball game at the beach.

Good Ol' Memories: Zoey reminisces her past adventures and experiences in her life, with clips from older episodes used.

July 26, 2012
Community content is available under
CC-BY-SA
unless otherwise noted.