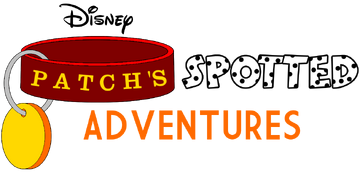 The following is a list of episodes from the Playhouse Disney series, Patch's Spotted Adventures.
Overview
| Season | Episodes | First aired | Last aired |
| --- | --- | --- | --- |
| 1 | 28 | September 9, 2008 | January 14, 2009 |
| 2 | 28 | April 12, 2009 | August 10, 2009 |
Episodes
Season 1 (2008-2009)
Title
No. overall
No. in season
Synopsis
Air date
Patch and the Missing Eggs/Spots and Stripes
1
2
1
Patch and the Missing Eggs: When Lucy's recently laid eggs go missing, Patch volunteers to find them and bring them back.

Spots and Stripes: Patch decides to pretend to be a tiger after watching a tiger documentary on TV.

September 9, 2008
A Game of Hide and Spot/Krunchies Factory
3
4
2
A Game of Hide and Spot: An innocent game of hide-and-seek for the puppies goes awfully wrong when Lucky gets lost in the forest.

Krunchies Factory: Wanting to know what Kanine Krunchies are made of, Patch, Rolly, Freckles and Lucky run off to the factory where they are made. Unfortunately, Cruella secretly finds them and tries to kidnap them and make a profit, so they have to watch out.

September 12, 2008
Collar Blind/Pongo's Puzzles
5
6
3
Collar Blind: Patch loses his collar to a magpie and tries to get it back.

Pongo's Puzzles: Pongo makes up a series of puzzles for the puppies so that they will have some bonding together.

September 15, 2008
Thunderbolt's Big Feat/Cruella's Car-tastrophe
7
8
4
Thunderbolt's Big Feat: When Thunderbolt is too scared to do a really dangerous stunt he did on one episode of his show, Patch tries to motivate him.

Cruella's Car-tastrophe: When the Dalmatians get left behind after Roger and Anita's picnic, they have to get back home on foot as Cruella chases them on her car.

September 18, 2008
Patch Goes the Weasel/Captain Patch
9
10
5
Patch Goes the Weasel: Patch befriends a shy weasel who is hiding from a bullying bear.

Captain Patch: Patch and his siblings imagine themselves as pirates after looking at Anita's model of a pirate ship.

September 21, 2008
Rolly-Poly/Purty Perdy
11
12
6
Rolly-Poly: Pongo and Perdita, worried that Rolly might be eating too much, decide to put him on a diet, much to his horror.

Purty Perdy: Nanny buys a collar made out of diamonds and jewels for Perdita and the puppies soon start admiring their mother for it.

September 24, 2008
Dalmatian Carnation/Lucky's Lucky Day
13
14
7
Dalmatian Carnation: Patch and his siblings try to round up the best flowers they can find so that they can give them to Nanny, who is planning to make a splendid flower hat.

Lucky's Lucky Day: Lucky comes across a four-leaf clover and starts to believe he's getting good luck.

September 27, 2008
Home Sweet Kennel/Puppies Go Fishing
15
16
8
Home Sweet Kennel: Nanny builds kennels for the puppies to rest outside, which delights Patch and his siblings.

Puppies Go Fishing: Towser goes out fishing with his "pet" and invites Patch, his siblings, Pongo and Perdita to come along.

September 30, 2008
The Bow-Wow Bop/Patch Goes Kiting
17
18
9
The Bow-Wow Bop: The Dalmatians' constant barking gives Roger the idea to write a song called "The Bow-Wow Bop".

Patch Goes Kiting: Patch borrows Roger's homemade kite and has fun flying it outside. Things take a turn for the worst, however, when it lands and gets stuck in a thorny bush.

October 3, 2008
Patch's Blue Ribbon/Jackie Russell
19
20
10
Patch's Blue Ribbon: Roger enrolls Patch and the puppies in a dog show, but Patch keeps losing at many games because he has never prepared for a dog show before. Fortunately, motivation from his parents and siblings keeps him ready and hopeful.

Jackie Russell: Patch and his siblings meet a Jack Russell Terrier named Jackie Russell (voiced by John Cleese), who says that he got lost from his "pet" and needs their help.

October 6, 2008
Panic in the DeVil Mansion/Hiccup Pup
21
22
11
Panic in the DeVil Mansion: Cruella De Vil kidnaps Rolly, Lucky and Freckles to put them up for sale and it's up to Patch, Pongo and Perdita to rescue them.

Hiccup Pup: Rolly gets a case of the hiccups when he eats his food too fast, so Patch and the others try to cure him of his hiccups.

October 12, 2008
Patch Gets Coned/No Nuts About It
23
24
12
Patch Gets Coned: Patch comes back from the vet with an Elizabethan collar around his neck after Roger has him ready for surgery. While the other puppies laugh at this, Pongo and Perdita console their son and tell him that it's okay to have a cone, whether it looks silly or not.

No Nuts About It: When a family of squirrels lose their nuts to a horrible storm, Patch helps them gather new ones to store for the upcoming winter.

October 14, 2008
Colonel Thunderbolt/Patch and the Beanstalk
25
26
13
Colonel Thunderbolt: When the Colonel is unable to fulfill his duties due to a broken leg from an unexplained accident, Thunderbolt steps in for the job and proves to be just as good at his temporary job as the Colonel is, much to the awe of Sergeant Tibbs and the puppies.

Patch and the Beanstalk: Patch is intrigued by Anita's plant starting to grow and imagines himself in the role of Jack in the story of Jack and the Beanstalk, with Cruella De Vil as the giant.

October 18, 2008
Puppy Tales/A Bone to Pick
27
28
14
Puppy Tales: Patch and his siblings decide to make up their very own and one-of-a-kind fairy tale after looking at a book of fairy tales.

A Bone to Pick: One day, Patch is digging up a hole and unexpectedly unearths a huge bone. When he tells the news to his siblings, all of them then decide to dig up more bones so they can show them to Pongo and Perdita.

October 22, 2008
Bow-Wow Halloween/Spooky Ghosts of London
29
30
15
Bow-Wow Halloween: Halloween is coming, but Patch and the puppies don't know what Halloween is and what it's all about. Fortunately, Pongo and Perdita explain the concept of the eerie holiday to their children.

Spooky Ghosts of London: Roger, Anita and the Dalmatians drive to London to attend a Halloween fair. There, Patch has the time of his life watching the people playing the fair games and trying out several spooky foods. But when Lucky hears an ominous noise somewhere, he believes there is a ghost on the loose and ends up causing himself and the other puppies to panic and eventually get lost. Knowing that there isn't such a thing as ghosts, Pongo and Perdita try to find their puppies.

October 28, 2008
Patch the Painter/Puppies Go Camping
31
32
16
Patch the Painter: Patch is fascinated when he sees Anita painting a picture of Pongo and Perdita, and tries to make a painting of his own.

Puppies Go Camping: Roger and Anita decide to go camping in the woods with their Dalmatians, but when night comes, Lucky starts to feel scared, because he is afraid of the animal noises.

November 1, 2008
Thunderbolt and the Runaway Train/Ring Around the Rolly
33
34
17
Thunderbolt and the Runaway Train: Patch watches the latest episode of The Thunderbolt Adventure Hour where Thunderbolt tries to stop Dirty Dawson from robbing a train.

Ring Around the Rolly: When Rolly gets stuck in a rabbit hole, Patch, Lucky and Freckles have to help him out, with additional help from the rabbits living in the hole.

November 5, 2008
Cruella's Cats/Patch on the Moon
35
36
18
Cruella's Cats: When Cruella De Vil learns that Roger is allergic to cats, she concocts a scheme to steal the puppies and sell them by rounding up lots of cats and unleashing them into the Dalmatian Plantation, causing Roger to sneeze uncontrollably. During this, she stealthfully steals the puppies (including Patch) with the help of Jasper and Horace and puts them up for sale at her mansion. Can Pongo and Perdita save their puppies and relieve Roger of his allergies?

Patch on the Moon: The Dalmatians are gazing at the sky, complimenting the stars and the moon. Patch is fascinated by the moon and imagines being the first pup to land on the moon.

November 7, 2008
Home Alone Patch/The Pup Who Cried Wolf
37
38
19
Home Alone Patch: Patch is unknowingly left behind by his family and "pets" when they decide to go on a trip to the mountains, which gives Cruella the perfect opportunity to steal him and put him up for sale... and she succeeds! Can Patch escape before his family realizes he's gone when they get home?

The Pup Who Cried Wolf: When a hungry wolf arrives near the Dalmatian Plantation, Patch tries to warn his family about it, but the wolf escapes before they can see him, and think he's just playing tricks on them.

November 15, 2008
Lucy Lays a Golden Egg/X Marks the Spot
39
40
20
Lucy Lays a Golden Egg: Lucy is bewildered when she believes she has laid a golden egg, which in reality has fallen out of a boy's Easter basket and rolled into her nest.

X Marks the Spot: Patch, inspired by a treasure map, decides to make a treasure map for his own by burying a bone far away and drawing the map that leads to it. Soon, he and his siblings are having a fun time, but trouble begins when Patch seemingly forgets where he buried the bone.

November 20, 2008
Patch's Finest Hour/Baseball Puppies
41
42
21
Patch's Finest Hour: When Thunderbolt and some of the crew responsible for his TV show pay a visit to the Dalmatian Plantation, Patch is delighted to see his idol. But during a series of bonding activities, Thunderbolt almost falls off a cliff and is left clingling onto a branch for dear life, so it's up to Patch to rescue him.

Baseball Puppies: After Roger watches a baseball game on TV, he decides to set up a baseball field outside the Dalmatian Plantation. Anita gets in on the fun too, and so do Nanny and the Dalmatians!

November 28, 2008
Patch's Wriggly Friend/Patch's Three Wishes
43
44
22
Patch's Wriggly Friend: Patch finds a caterpillar near Nanny's garden and decides to adopt him, giving him the name of Wiggle. But Patch is soon in for a surprise when, after several days, Wiggle turns into a cocoon and starts developing into something else inside...

Patch's Three Wishes: When Roger brings in a box full of antiques, Patch finds an old oil lamp resembling a genie lamp amongst them, and imagines himself as a bedouin who has his three wishes granted by a genie portrayed by Pongo.

November 31, 2008
We're Off to Meet the Queen!/No More Kanine Krunchies
45
46
23
We're Off to Meet the Queen!: Roger, Anita and the Dalmatians drive to Buckingham Palace to meet Elizabeth II. Meanwhile, Patch and the puppies have a fun time playing with the queen's Corgis.

No More Kanine Krunchies: When Roger and Anita realize they've run out of Kanine Krunchies to feed the puppies, they drive off to get more. Unfortunately, Cruella De Vil sees that Roger and Anita are gone and gives herself the chance to nab almost all of the puppies, so the remaining puppies have to rescue their siblings.

December 5, 2008
Spots in the Snow/Puppies Go Sledding
47
48
24
Spots in the Snow: The Dalmatians discover that it's snowing outside the Dalmatian Plantation and begin to have fun outside.

Puppies Go Sledding: Patch discovers the sled that Roger used to have when he was a kid, and uses it to give himself and the puppies a good old slide down a snowy hill.

December 9, 2008
Mr. Fluff/What's That Sound?
49
50
25
Mr. Fluff: During a wonderful snowy day, Patch creates a snowman, names him "Mr. Fluff" and makes him his new imaginary friend.

What's That Sound?: The puppies find a strange noise coming from an unknown part of the Dalmatian Plantation and try to locate it.

December 13, 2008
Santa Pup is Coming to Town/Puppy Christmas
51
52
26
Santa Pup is Coming to Town: When Patch sees that the animals living outside the Dalmatian Plantation and in London are having a not-so-merry Christmas, he takes on the alter-ego of "Santa Pup" and sets off to bring the stuff to make their Christmases jolly.

Puppy Christmas: The Dalmatians help Roger and Anita with preparing for Christmas.

December 29, 2008
Tibbs and the Lost Kitten/Let's Hop to It!
53
54
27
Tibbs and the Lost Kitten: The Colonel and Sergeant Tibbs find a lost kitten looking for his mother, so they have to bring him back home with help from Patch.

Let's Hop to It!: Patch sees a family of bunnies hopping in the meadow, and decides to be one himself by taking bunny lessons from them.

January 7, 2009
Towser's Nose Knows/Sherlock Patch
55
56
28
Towser's Nose Knows: Cruella De Vil kidnaps the puppies again and this time drives to a far away place where she can sell them with no one to stop her. Since Roger and Anita are out for a while with their dogs, Towser decides to come to the rescue by using his wonderful sense of smell.

Sherlock Patch: Patch imagines himself as a hard-boiled detective after watching Roger read Sherlock Holmes, and soon must put his detective skills to the test when Roger loses the music sheet of his newest song.

January 14, 2009
Season 2 (2009)
Title
No. overall
No. in season
Synopsis
Air date
Vain Vendella/Puppy Tricks
57
58
1
Vain Vendella: Cruella boasts about her pet dog Vendella's beauty to Roger, so he tries to make the puppies and their parents look as pretty as possible.

Puppy Tricks: Roger and Anita decide to train their puppies to do dog tricks like sit, roll over, spin, speak, etc.

April 12, 2009
Bath Time for the Puppies/The Patch Show
59
60
2
Bath Time for the Puppies: The puppies have to take a bath after playing and rolling in the mud where the pigs lie, but Rolly is too afraid to go into the bathtub and tries to hide where he can't be found. Fortunately, Patch and the other puppies tell their overweight sibling that baths can be fun in all ways.

The Patch Show: When a thunderstorm ruins the cable of the television, the puppies find a huge box and decide to make a TV out of it where they can act out several TV programs.

April 16, 2009
Lucy's New Nest/Through the Mirror
61
62
3
Lucy's New Nest: Lucy's nest gets destroyed after a violent storm, so the Dalmatians and Towser offer to make her a new one.

Through the Mirror: Patch has a dream where he enters a mirror and ends up in a dimension where everything is topsy-turvy.

April 18, 2009
The Great Patch-dini/Jackie Russell Returns
63
64
4
The Great Patch-dini: After watching a magic show on television, Patch decides to become a magician and calls himself "The Great Patch-dini". But can he handle the more difficult magic tricks?

Jackie Russell Returns: Jackie Russell and his "pet" pay a visit to the Dalmatian Plantation.

April 24, 2009
Sick as a Dog/Pup in Shining Armor
65
66
5
Sick as a Dog: Patch comes down with a case of pyrexia and is unable to engage in the fun the other puppies have, so Pongo and Perdita tell him that he has to stay in bed until he gets better.

Pup in Shining Armor: Patch imagines himself as a knight in the Middle Ages after taking a look at a huge painting of a knight battling a monster.

April 27, 2009
Patch the Fire Pup/Kanine Krunchies Star
67
68
6
Patch the Fire Pup: When Patch learns that Dalmatians are not only household pets but also firehouse dogs, he imagines what it's like to work along with a group of firefighters.

Kanine Krunchies Star: Roger brings the puppies to the company where Kanine Krunchies are made, where they are soon arranged to be featured in their newest commercial.

May 1, 2009
Lost and Found/Saving Sergeant Tibbs
69
70
7
Lost and Found: Patch obliviously leaves behind his squeaky toy in the bushes when he is called for supper, and when he comes back, he is anxious and has to get help from the other puppies to find it.

Saving Sergeant Tibbs: While rescuing some kittens from a loose tree near a cliff, Sergeant Tibbs himself gets stuck in that tree and is unable to climb down since he fears that will budge the tree and send him falling to his death. Upon hearing the news concerning the Sergeant's predicament, the Colonel, Patch, Rolly, Freckles and Lucky jump in to the rescue and try to find a way to help Tibbs out of the tree.

May 7, 2009
Patch the Sheepdog/Mother's Day
71
72
8
Patch the Sheepdog: When the sheep suddenly run loose from their pen, Patch tries to get them back in, but to no avail. He seeks help from the Colonel, who agrees to teach him how to herd sheep since he used to be a useful sheepdog in his youth.

Mother's Day: Patch and the puppies try to think of a lovely gift to give to Perdita on Mother's Day.

May 10, 2009
What Goes Up, Must Come Down/Eggsitter
73
74
9
What Goes Up, Must Come Down: Freckles is curious as to why a ball thrown in the air suddenly falls down, so Pongo, consulting an encyclopedia, tells him all about gravity and the person who pioneered it, Sir Isaac Newton.

Eggsitter: Patch finds a chicken egg which has rolled away from the coop and decides to look after it while waiting for its mother to come.

May 19, 2009
Race for Your Life/In the Garden of Nanny
75
76
10
Race for Your Life: The Dalmatians and their "pets" go to a greyhound race to watch the greyhounds race, but when Patch accidentally falls in the racing field, he must run for his life to avoid getting hit by the greyhounds - unaware that he's participating in the race himself!

In the Garden of Nanny: Nanny is horrified when she sees that all of the plants in her garden have died, so Roger and Anita decide to help her improve her garden... with a little unwanted help from the Dalmatians.

May 23, 2009
Teamwork Makes Perfect/The Patch Adventure Hour
77
78
11
Teamwork Makes Perfect: To set an example of teamwork and cooperation for their puppies, Pongo and Perdita take them to an ant hill outside the Dalmatian Plantation, where they observe how the ants work hard together to achieve their desired result. The puppies now must put their teamwork to the test when all of the farm animals run loose.

The Patch Adventure Hour: After watching an episode of The Thunderbolt Adventure Hour, Patch imagines what it's like to have his very own adventure TV show.

May 29, 2009
Busy Bees/Happy Birthday to the Puppies!
79
80
12
Busy Bees: Patch and his siblings are afraid to go near the honeybees' hive because they fear they will get stung. Pongo and Perdita then decide to teach the puppies all about the importance of bees, and not just their nasty stinging.

Happy Birthday to the Puppies!: Roger and Anita discover that today is the birthday of Pongo and Perdita's main 15 puppies, so they, with the help of the adult dogs, try to set up a big surprise and keep it a secret from the puppies.

June 9, 2009
Happiness is a Warm Patch/A Visit to the Vet
81
82
13
Happiness is a Warm Patch: Patch is feeling down in the dumps, so the other puppies try to figure out why he's sad - and make him happy!

A Visit to the Vet: Today is the puppies' monthly checkup, so Roger and Anita drive them to the vet to have their checkups taken. However, all of the puppies then hide in fear when they discover the most dreaded part of a checkup: a needle!

June 12, 2009
Green Paw/A Really Cloudy Day
83
84
14
Green Paw: Patch finds a discarded flower pot near the farm and puts a plant in it so he can take care of it.

A Really Cloudy Day: Loads and loads of clouds come and cover up the sky and the sun, making the puppies wonder why the sky looks so different.

June 16, 2009
Prehistoric Patch/Patch Goes for a Balloon Ride
85
86
15
Prehistoric Patch: Patch unearths a really huge bone from the ground, and when he learns from his parents that it's a dinosaur bone, he imagines life where there are still dinosaurs roaming the Earth.

Patch Goes for a Balloon Ride: Roger and Anita attend a hot air balloon festival with their Dalmatians, and Patch is soon in for a great surprise when he accidentally stows away in a hot air balloon and has to be rescued when it flies very high into the sky.

June 19, 2009
The Pied Puppy/Crow-tastrophy
87
88
16
The Pied Puppy: Interested with the idea that mice can be controlled by someone playing a flute, Patch imagines himself as The Pied Piper of Hamelin, who drives away a horde of mice using his trusty flute.

Crow-tastrophy: A murder of crows arrive in Nanny's garden and begin stealing the vegetables she's grown. Since Roger and Anita don't have the materials required to make a scarecrow, Pongo, Perdita and the puppies decide to make sure that the crows never bother Nanny's garden again.

June 23, 2009
Sibling Break-Up/Sergeant Patch
89
90
17
Sibling Break-Up: Patch and Lucky quarrel over something which makes them decide to declare that they're not brothers anymore. After a long day of refusing to talk to or play with each other, Freckles, Rolly, Pongo and Perdita decide to figure out what caused them to fight and end their friendship.

Sergeant Patch: After Patch saves the Colonel from getting hit by a falling tree, the sheepdog returns the favor by making Patch his co-sergeant along with Sergeant Tibbs. Soon, Patch is enjoying his new job as co-sergeant since it gives him a chance to pull off heroic deeds, but soon realizes he misses his family.

June 25, 2009
Lots of Patches/Things That Go Bark in the Night
91
92
18
Lots of Patches: Deciding that they all want to be like their sibling Patch, Lucky, Rolly and Freckles decide to paint black patches over their right eyes and begin to mimic everything he does, and the other puppies get in on the fun too, which drives Patch crazy.

Things That Go Bark in the Night: The Dalmatians and their "pets" are sleeping, but are soon awaken by the sound of dogs barking far away. Pongo and Perdita then later realize that it's the Twilight Bark and bark back to spread whatever news is going on.

June 30, 2009
Foggy Day/Rock 'n Rolly
93
94
19
Foggy Day: Everyone is unable to see outside when a giant fog plagues the Dalmatian Plantation.

Rock 'n Rolly: Rolly suddenly finds a new favorite song when he plays an old rock-and-roll song on the record player.

July 4, 2009
Patch Takes to the Sky/To Bee or Not to Bee
95
96
20
Patch Takes to the Sky: Patch imagines himself as the pilot of a biplane when he watches old footage of a pilot in flight on TV.

To Bee or Not to Bee: Patch accidentally destroys a beehive hanging from the branch of a tree, which angers the bumblebees so much that they chase him, Lucky, Rolly and Freckles all over the Dalmatian Plantation. Fortunately, Roger comes to the rescue by preparing an artificial bee hive.

July 9, 2009
The Great Canine Race/Where the Woodpeckers Peck
97
98
21
The Great Canine Race: Roger and Anita take their Dalmatians to the Annual London Dog Racing Competition, where the prize for reaching the finish line first is a lifetime supply of Kanine Krunchies. Determined to get that prize, Patch participates in the race and tries to run as fast as he can. Unfortunately, Cruella De Vil also enrolls her dog, Vendella, in the race, who is also keen on the prize.

Where the Woodpeckers Peck: While Roger and Anita are walking the Dalmatians in the forest, Freckles finds an acorn woodpecker drilling a hole in a tree, and when he asks why he pecks trees, the woodpecker and his fellow woodpeckers give him the answer he needs.

July 14, 2009
The Good, The Bad and the Cruella/A Tale of Two Puppies
99
100
22
The Good, The Bad and the Cruella: After watching a wild west movie, Patch fantasizes himself as a cowboy in the Wild West, where he goes into a sunset showdown with vile outlaw Cruella the Kid, played by Cruella De Vil.

A Tale of Two Puppies: Roger finds two lost Labrador Retriever puppies at the doorstep and, although they're not Dalmatians, takes them in and takes care of them until he can find who they belong to, which makes Patch feel jealous.

July 17, 2009
101 Veggies/Polar Pups
101
102
23
101 Veggies: Nanny plans to make a splendid vegetable salad using exactly one-hundred and one vegetables, so Roger, Anita and their dogs offer to help her. But will there be enough vegetables to meet Nanny's needs?

Polar Pups: Patch and his siblings imagine themselves as Eskimos in the Arctic when they come upon a polar bear rug in the hallway.

July 21, 2009
Thunderbolt Braves the Thunder/Puppies in a Pumpkin Patch
103
104
24
Thunderbolt Braves the Thunder: Patch finds out that Thunderbolt has (ironically considering his name) astraphobia, which makes him unable to get his acting right in filming of his latest episode, which takes place during a thunderstorm. The little Dalmatian puppy then tries to get his German Shepherd idol to overcome his fear of lightning so that the new episode will run as planned.

Puppies in a Pumpkin Patch: The puppies discover a pumpkin patch outside the Dalmatian Plantation and treat it like a playground of sorts.

July 26, 2009
I Spot With My Little Eyes/Doctor Patch is In!
105
106
25
I Spot With My Little Eyes: During a ride to Brunswick Park, Patch and the puppies, with a little encouragement from Pongo and Perdita to avoid feeling bored, indulge in a fun game of I spy.

Doctor Patch is In!: When some of the farm animals accidentally get themselves injured, Patch dons the identity of "Doctor Patch" and treats every single one of them.

July 29, 2009
Community content is available under
CC-BY-SA
unless otherwise noted.