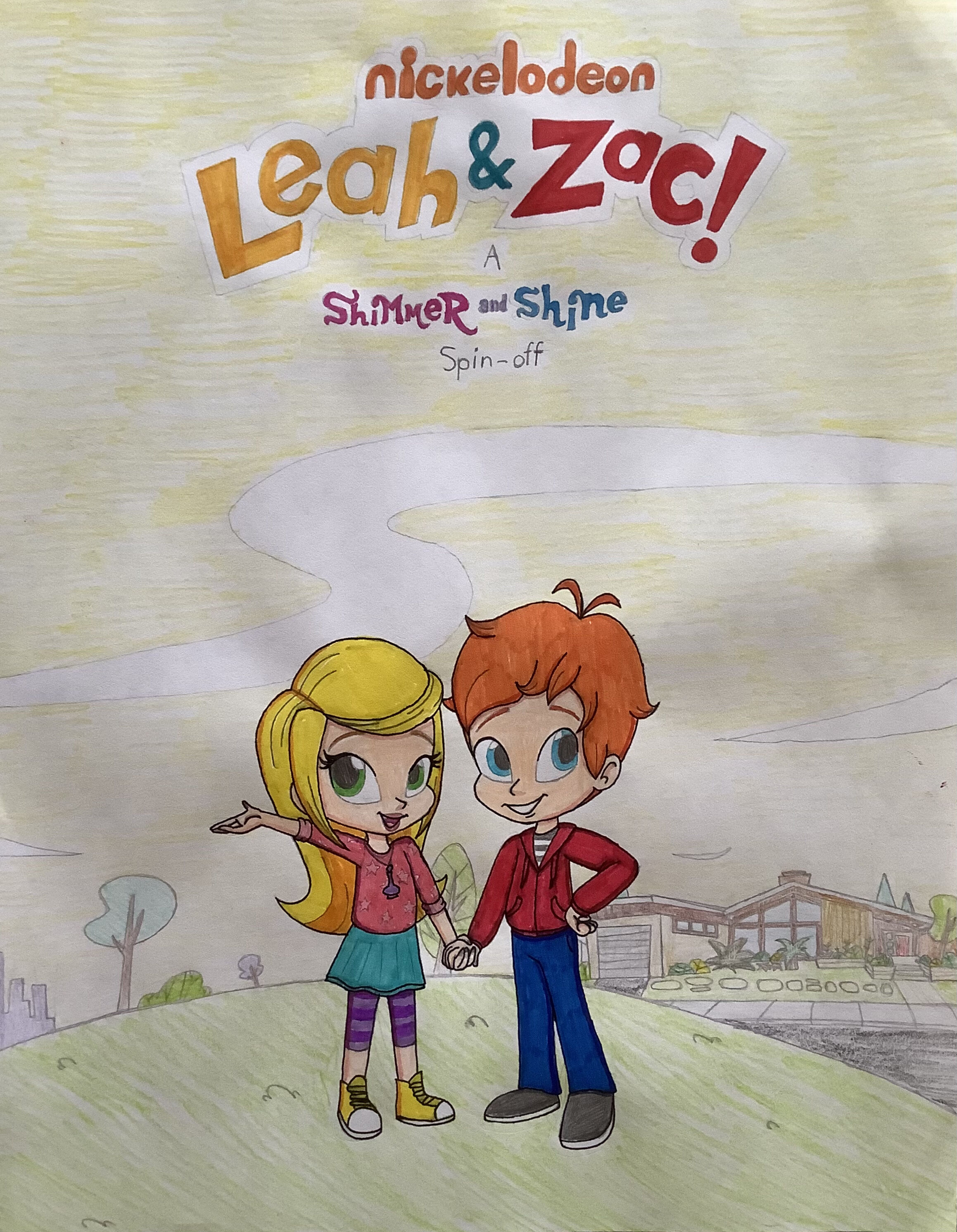 Leah and Zac is an American-Canadian television animated series, created by Farnaz Esnaashari-Charmatz. It airs on Nickelodeon and Del Mar Network in the United States. It first premiered on Nickelodeon on January 10, 2021.
This along with Genie Tales were the two spin-offs first ordered by Nickelodeon in February of 2020.

Series overview
Season
Segments
Episodes
Originally aired
First aired
Last aired
1
37
20
January 10, 2021
May 16, 2021
2
20
August 29, 2021
Episodes
Season 1 (2021)
The first season was entitled as Leah's Life.
No. overall
No. in season
Title
Original airdate
1
1
"New Day, New Home"
January 10, 2021
After moving into a new home in a little town called Greenwood, Leah Anne Marie Thompson, a young girl, settles into her new house to live in with her parents, John and Jane Thompson. But on her first day at her new school of which her parents transferred her to, she meets some new friends, and suddenly bumps into one new rival who challenges her to a baking contest. With Leah accepting the challenge, she gets a little help from her new best friends to help her win the competition at the school's bake-a-thon.
2a
2a
"Leah In Dodgeball"
January 17, 2021
Leah attends gym class at Greenwood Elementary. But, when she and Zac gets involved in a dodgeball game, she wishes she never had enrolled for such a class.
2b
2b
"Making Amends"
January 17, 2021
Feeling ashamed of what she did to humiliate her, Leah tries to make amends with Susan in hopes of being friends with her.
3a
3a
"Safety First"
January 24, 2021
After an accident on the swings, Leah helps her adrenaline-fueled friend Jaqueline the meaning of taking safety percautions.
3b
3b
"Leah's Scooter"
January 24, 2021
Leah's dad John promised her a scooter for her upcoming birthday, but since he can't afford the new scooter that she wants, he decides to make her one instead.
4a
4a
"Surfer Dude Zac"
January 31, 2021
Zac takes notes from a local surfer legend to help improve his surfer skills. Meanwhile, Leah and Susan participates in a sand castle building contest.
4b
4b
"Ribbon Dancing"
January 31, 2021
Leah practices a new form of dancing using a ribbon to prep herself for the talent show at her school.
5a
5a
"The Splinter"
February 7, 2021
After Leah gets a splinter injected into her thumb, she tries to get it out before her parents finds out about it.
5b
5b
"Leah's Skating Safety Tips"
February 7, 2021
Leah gives the viewers a few tips on how to provide safety while skating.
5c
5c
"Ponytail"
February 7, 2021
Leah shows to her friends a new hairstyle to be a little more fresh to her style.
6a
6a
"Lucky Leah"
February 14, 2021
After Leah finds a four-leaf clover, Susan begins to get jealous of her luck of improvement. But, Susan attempts to steal the clover in order to gain good luck. However upon stealing it, Susan's luck begins to turn, but not in a very good way.
6b
6b
"Paint, Leah, Paint!"
February 14, 2021
Leah learns how to paint traditionally from an art expert.
7a
7a
"Broken Leah"
February 21, 2021
Leah breaks her ankle while trying to pick the apples from a tree for Zac, but now he has to take care of her while her ankle heals up.
7b
7b
"Birthday Breakfast"
February 21, 2021
While her mom is in bed resting, Leah and her dad prepares a special breakfast for her on her birthday.
8a
8a
"The Dragon Princess"
February 28, 2021
Leah and Zac watches a movie called "The Dragon Princess"
8b
8b
"The Telling of Genies"
February 28, 2021
When Leah gets assigned by her school to write an essay about genies, she begins to question about whether or not they exist.
9a
9a
"The Milk Challenge"
March 7, 2021
When Samantha's attempt to drink an entire carton of milk goes haywire, the gang helps her overcome her fear of gulping the entire thing in one go.
9b
9b
"Cousin of Leah"
March 7, 2021
Leah's annoying cousin Christine comes by her house for a little visit.
10a
10a
"Susan's Revenge"
March 14, 2021
After Leah accidentally humiliates her at school, Susan gets her back with a prank. But when the prank goes too far over the line, Susan realizes her mistake and tries to apologize to Leah.
10b
10b
"Kitty Sitting"
March 14, 2021
Leah is placed in charge to watch Susan's pet cat for the day.
11a
11a
"Zac's Assistant"
March 21, 2021
When Leah gets picked to be Zac's assistant for an upcoming magic show, Leah must practice her assistant skills in order to get the role.
11b
11b
"Baller-Leah"
March 21, 2021
With no skills of being a ballerina dancer, Leah turns to Samantha to help her out.
12a
12a
"Chef Leah"
March 28, 2021
Leah helps her mom prepare a special soufflé for her dad.
12b
12b
"House of Cards"
March 28, 2021
Leah attempts to build a house out of cards.
13a
13a
"Fetch, Rocket!"
April 4, 2021
Zac plays fetch with his pet dog Rocket.
13b
13b
"Never Give Up"
April 4, 2021
After Samantha gives up her hopes and dreams of becoming a professional ballerina, Leah and co helps her get her gear together and get back into the swing of things.
14a
14a
"Imagination Land"
April 11, 2021
Leah, Zac, and Samantha shows Susan how to use her imagination.
14b
14b
"Leah's Necklace"
April 11, 2021
Leah shows off her new necklace, but when Susan steals it away from her, she and her friends will have to get it back.
15a
15a
"Samantha Says!"
April 18, 2021
Samantha invents a new game that is basically like "Simon Says" only her game gets a little crazy.
15b
15b
"Leah, Zac, and the Egg"
April 18, 2021
For a special school project, Leah and Zac will have to take care of an egg like as if it was their own child.
16a
16a
"A Pirated Video Game"
April 25, 2021
After the gang discovers that the video game they are playing is pirated, they try to track down the person who sold the pirated game to them by mistake.
16b
16b
"Leah and Susan"
April 25, 2021
Leah feels a little ashamed after the last two times she humiliated Susan in front of the school. To attempt to make things up, she and Susan tries to become friends, but with no avail.
17a
17a
"Samantha's Moves"
May 2, 2021
Samantha learns a different variety of dance moves after she discovers that her ballet dancing abilities have become a bit redundant.
17b
17b
"Toy Store of Terror"
May 2, 2021
Leah and Jaqueline gets locked in a toy store after Jaqueline gets an idea of staying at the place for the night.
18a
18a
"Leah's Kite"
May 9, 2021
After her parents buys her a kite, Leah attempts to test it out, but fails with the lack of wind speed.
18b
18b
"Dance, Dance, Dance!"
May 9, 2021
Susan challenges Leah, Samantha, and Zac to a dance contest at the school gym.
19
19
"My Secret Genies: Before It Happened"
May 16, 2021
20
20
Part 1: Leah, Zac, and her parents takes a trip to the carnival to have fun, but with a few surprises that Susan will have in store when she follows them there.


Part 2: After knocking the bottles down, Leah wins a genie bottle necklace. It looks a little ordinary at first, but will be surprised to find that her prize comes with a bonus, her genie friends Shimmer and Shine.


NOTE: This episode marks the 2-part season finale.
Season 2 (2021-22)
Starting with this season, the remainder of the series will no longer serve as a prequel, but will now focus on Leah's time on earth inbetween her adventures in Zahramay Falls, akin to Genie Tales. Plus, the show was retooled into its original name Leah and Zac complete with a new intro and theme song.
No. overall
No. in season
Title
Original airdate
21a
1a
Samantha's Fear
August 29, 2021
Samantha develops a fear of spiders, and only Zac can help her overcome her fear.
21b
1b
Lemonade Stand
August 29, 2021
Leah and Zac opens up their very own lemonade stand to compete with that of her newly-found rival, Annie Baxter.
22a
2a
Dancing Buddies
September 5, 2021
Leah, Zac, and Samantha meets a new friend who loves to dance as much as she does.
22b
2b
A Boy of Comedy
September 5, 2021
Leah and Zac meets a boy named Michael and helps do his comedy skills to their other friends at a backyard performance.
23a
3a
A Fearful New Friend
September 12, 2021
A girl named Bianca accidentally bumps into Leah during her run from a swarm of bees. But, after saving her from the bees, she and Leah becomes fast friends. But, when in an attempt to show her to her new friends, Leah helps Bianca with her fear problem.
32b
3b
Extreme Hopscotch
September 12, 2021
When playing a game of hopscotch with Leah and June, Jaqueline decides to spice up the game and make it more "extreme".