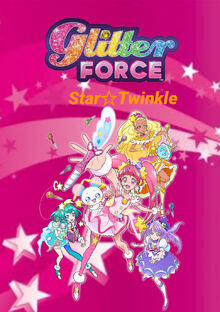 This is a List of Glitter Force Star☆Twinkle Episodes
Episodes
A Star is Born
We Call For Milkyway!
Taurus Star Pen is Found!
Sunrise has Arrived on the Scene!
Lady Moonglow is Here.
A Dark Time
Time for Rocket Repair!
Planet of the Dogs!
Let's Have Star Donuts!
Bad Luck for Aries.
Aid of the Southern Cross
Alien Movie Magic
Luna's First Day
Hola! Daisy's Family Meetup
The Mysterious Blue Kitty.
Mabel's Archerry Tournament
The Blue Kitty and The Treasure!
Comic Book Troubles
Meowna's Secret!
Yay for Glitter Cosmic!
Glitter Cosmic's Power
A Family Reunion!
A Musical Melody.
Sabrina's Star Festival
A Sleepover Mystery
Mermaid Land
Teamwork with the Flaming Heart
Welcome Home, Luna.
Luna's Accusion!
The Last Princess Pen!
The Ultimate Power
Fluffy Lends a Hand
Daisy and the Cactus
The Vote Contest!
The Return of Blue Kitty!
The Halloween Costume Competition!
Sabrina's Power
Daisy's Speech Trap
Luna's Identity Feelings!
The Power Within Mabel
Daisy's Future Choice!
Daisy Unlocks Her Power
A Christmas Mission!
Helen's Power
Battle at the Princess Palace!
Rescue Fluffy!
The Final Battle!
Draw My Own Constellations!
Community content is available under
CC-BY-SA
unless otherwise noted.